Miami Beach on Wednesday voted to change the cutoff time for alcohol sales in South Beach ahead of spring break.
City commissioners voted to move the time from 5 a.m. to 2 a.m. between March 7 and March 21. The new rule affects all businesses that allow alcohol consumption on site south of 16th street, the Miami Herald reported.
Thousands of spring breakers annually head to the area from early March to mid-April for the warm weather and world-class beaches. The increase in tourism is great for local businesses but can bring additional crime. While some are concerned the alcohol ban could affect the nightlife, others think it's the right call.
Some local businesses were against the proposal, explaining that having an earlier cutoff time for selling alcohol would cost them money and create unfair advantages for the other areas. Despite their pleas, the proposal was approved in a 4-3 vote, the Miami Herald reported.
"The bartenders and late-night club owners are very unhappy with me," Miami Beach Mayor Dan Gelber told Newsweek, adding that he believes his residents "realized we had to do it, so they're probably more supportive."
The change comes after last year's spring break, when the city imposed an 8 p.m. curfew due to public disorder and clashes with police. In March, police arrested about 100 people in one weekend, and two officers were injured as a result of unruly crowds.
During the second night of the curfew, about 500 people gathered in a residential area just west of Ocean Drive. People were stomping on top of cars, causing the windshields to break and the roofs to cave in, police said.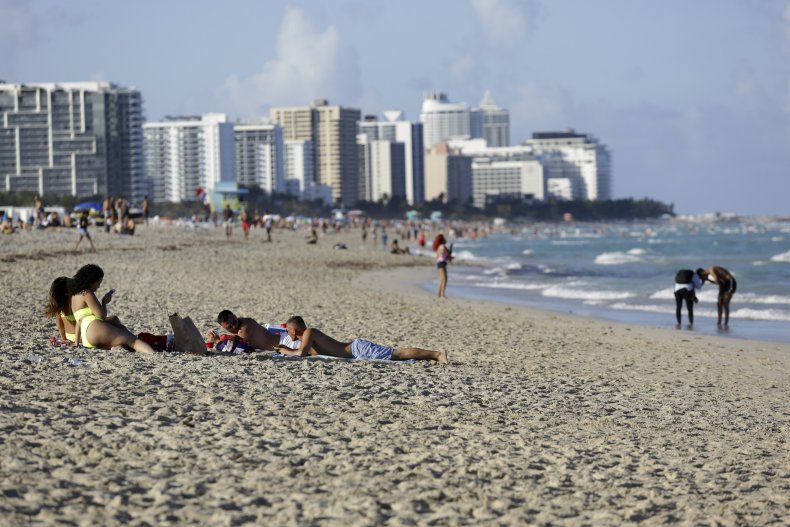 Several restaurants were destroyed and fistfights broke out in the streets, triggering several dangerous stampedes. The situation got so out of hand that Miami Beach police had to bring in law enforcement officers from four other agencies. They called in SWAT teams who used pepper bullets to help disperse the crowds.
Police made more than 1,000 arrests and almost 100 guns were confiscated during the 2021 spring break season.
"When we have an influx of thousands and thousands of people, anything can happen, and we don't want a repeat of last year," Miami Beach Police Assistant Chief Paul Acosta said, WSVN-TV reported.
The number of people visiting the area in recent years have been "enormous," said Gelber, who hopes the new restriction will provide some relief to the police department and improve safety.
"Our spring break has simply been too chaotic and disorderly over the last few years," he said. "Too many people are coming here and too many of [those] coming are acting out in ways that create public safety hazards."
Gelber added that he hopes the new rule will temporarily bring down the number of people in the "party zones" and make it easier for police officers to do their jobs. Having the department work around the clock with large crowds is "very challenging," he said.
A permanent rule banning alcohol sales after 2 a.m. could be approved in April or May.
Update 2/25/22, 12:58 p.m. ET: This article was updated with comments from Miami Beach Mayor Dan Gelber.