Michael Andrew Set to Pass Ryan Lochte, Michael Phelps as the Best Ever in 200 IM
The only way that the "old" Ryan Lochte can make a fifth Olympic team is to become the old Ryan Lochte. That is, he has to find a new way to rev up his engine Friday night in the 200-meter individual medley final at the Olympic Team Trials.
Lochte is the world record holder in this event. The top 12 all-time finishes in this race are held by either him or Michael Phelps. If Lochte wants to make the Olympic team this summer, he'll have to push 22-year-old Michael Andrew, who threatened Lochte's world record Thursday night during the semifinals.
Andrew will line up against Lochte and six other finalists Friday, and the winner will be guaranteed a spot on the team for Tokyo while the non-winners will get consideration for the Games.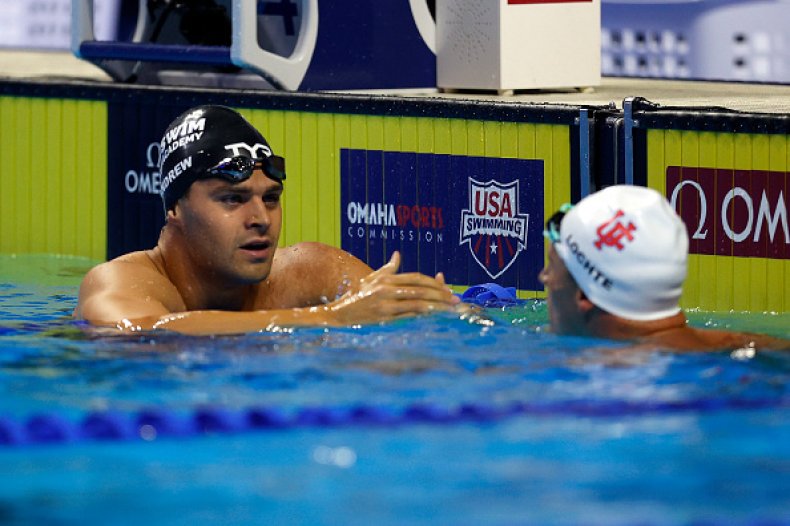 If Lochte, 36, finishes in the top two on Friday night in Omaha, Nebraska, he'll wear the red, white and blue next month in Tokyo as the oldest American male swimmer to ever compete in an Olympic Games. If he doesn't make it, he'll still go down as one of the best swimmers in this country's decorated history.
Michael Andrew, 22, touched first on Thursday with a time of 1 minute, 55.26 seconds, which was the best overall time in the semifinals. Andrew's time is 1.26 seconds behind Lochte's world record of 54.00 seconds set in Shanghai, China on July 28, 2011.
Andrew's time Thursday night in Omaha was on pace to break the world record, but a slowed-down freestyle leg in the final 50 meters was enough to hold back his potential record.
Lochte finished third in the first heat Thursday night when he touched in 1:58.65. Lochte actually touched fourth in his heat, but Abrahm Devine disqualified, making Lochte third in that heat and sixth overall for the finals.
Lochte will not start in the middle two lanes on Friday, but he will not start in either of the outside lanes, either. Should he have a chance to finish in the top two on Friday, he'll need to out swim the quad of Andrew, Chase Kalisz (1:57.19), Kieran Smith (1:57.61) and Carson Foster (1:57.77).
The final will be Friday night on NBC, with the broadcast starting at 8 p.m. ET.
After a race in early 2016 while leading up to the Team Trials for the Rio de Janeiro Summer Olympics, Lochte was a 31-year-old who said he was digging into his "old-man strength" while swimming against the up-and-coming youngsters hoping to knock him off the proverbial swimming blocks.
"As you get older you find different ways to get better. You definitely listen to your body a lot more," Lochte said. "You take care of your body also. I think that's one of the biggest things I'm doing. I'm doing a lot more recovery than I've ever done.
"I never did recovery. But I'm definitely taking care of my body outside the pool. It shows as we get older. I guess you could say we're finding our old-man strength."
Friday night could be his last dash to make an Olympic team, but it seems like he won't have regrets in the pool.
"I enjoy waking up every day and doing something that I just love doing," Lochte said. "I'll quit swimming when I stop having fun, and I'm having a blast right now."