Michael Avenatti Says Dr. Christine Blasey Ford 'Not Alone' Days Before Testimony Against Kavanaugh
Attorney Michael Avenatti suggested Sunday that Dr. Christine Blasey Ford may not be "alone" in her accusations against Supreme Court nominee Brett Kavanaugh.
Update: Avenatti responded to The New Yorker report Sunday night from Ronan Farrow and Jane Mayer adding Deborah Ramirez to the list of Kavanaugh's accusers. Ramirez's new allegations date back to the 1983-84 academic school year at Yale University.
Avenatti took to Twitter Sunday about the latest accuser outside of Ramirez and Dr. Ford, reiterating his demand to push back the nomination hearings on Kavanaugh. "My e-mail of moments ago with Mike Davis, Chief Counsel for Nominations for U.S. Senate Committee on the Judiciary. We demand that this process be thorough, open and fair, which is what the American public deserves. It must not be rushed and evidence/witnesses must not be hidden.​"
Earlier Sunday evening Avenatti tweeted, "I represent a woman with credible information regarding Judge Kavanaugh and Mark Judge. We will be demanding the opportunity to present testimony to the committee and will likewise be demanding that Judge and others be subpoenaed to testify. The nomination must be withdrawn."
However, in a follow-up tweet, Avenatti denied that his client was Deborah Ramirez, a second classmate of Kavanaugh's who came forth this week.
Avenatti tweeted a cryptic message Sunday morning that Ford, who has accused Judge Kavanaugh of assaulting her in the early 1980s, could be joined by other accusers. He specifically referenced Kavanaugh's close friend Mark Judge, who was also a student at the elite Georgetown Prep High School and who Ford says was in the room during the attempted sexual assault from Kavanaugh. Judge has denied the allegations but Avenatti insisted to CNN earlier in the week that President Donald Trump "immediately" pull Kavanaugh's nomination.
"All indications are that Dr. Ford is not alone. Buckle up -- that includes you Mark Judge. #Basta," Avenatti, the attorney for Stormy Daniels, tweeted Sunday.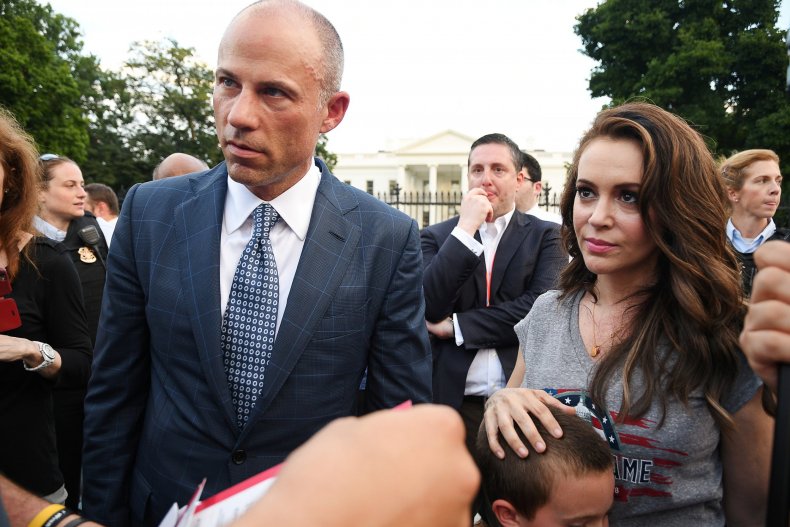 Later in the day, Avenatti tweeted out an op-ed from actress Alyssa Milano, in which she described why she didn't tell anyone about an alleged sexual assault for 30 years.
Dr. Ford is set to testify Thursday in front of the Senate Judiciary Committee. Avenatti appeared on CNN several days before with host Chris Cuomo because the attorney is "no stranger to cases that harken back more than a decade."
"We're talking about a lifetime appointment to the U.S. Supreme Court," Avenatti said, stressing that Americans should understand how SCOTUS judges are basically made "kings" given the amount of power and length of time in which they have massive influence. He noted that such judges have power "for decades" after being appointed to the court. He suggested twice that Trump "immediately" pull Kavanaugh's nomination and start the process over with another candidate.
"My understanding is that Dr. Ford already passed a lie detector test," Avenatti said. "And my view is, Chris, that if the president was smart, and he's not not, he would pull the nomination and he would move to the next nominee on the list and start over."