Michael Avenatti: Jacob Wohl a 'Complete Fraud,' Should Be Incarcerated for Domestic Assault, Mueller Allegations
Attorney Michael Avenatti called out conspiracy theorist Jacob Wohl and claimed he would be prosecuted to the fullest extent of the law.
On Friday, Avenatti tweeted that Wohl was a "complete fraud" that would be prosecuted for fabricating allegations against the lawyer and special counsel Robert Mueller. Avenatti added that Wohl deserves to be "incarcerated to the fullest extent of the law."
Avenatti's issue with Wohl began after the lawyer was arrested following an alleged domestic violence incident on November 14. In a confrontation at an apartment building in Los Angeles, a woman allegedly ran out of the building and said, "I can't believe you did this to me." Avenatti allegedly said the woman hit him first and called the situation "bulls***."
The woman was later identified as Estonian actress Mareli Miniutti, who sought a restraining order against Avenatti after the alleged incident. Miniutti wrote in a sworn statement that she and Avenatti got in an argument, during which the lawyer told her she was "ungrateful" and hit her in the face with pillows, according to the Associated Press. She claimed that Avenatti grabbed her by the arm and dragged her out of bed.
Avenatti was booked on a felony domestic violence charge and his bail was set at $50,000. Avenatti denied the allegations and criticized TMZ, who first reported the arrest, for becoming the new standard for news reporting.
"I have never struck a woman. I never will strike a woman. I have been an advocate for women's rights my entire career, and I'm going to continue to be an advocate," Avenatti said according to ABC News.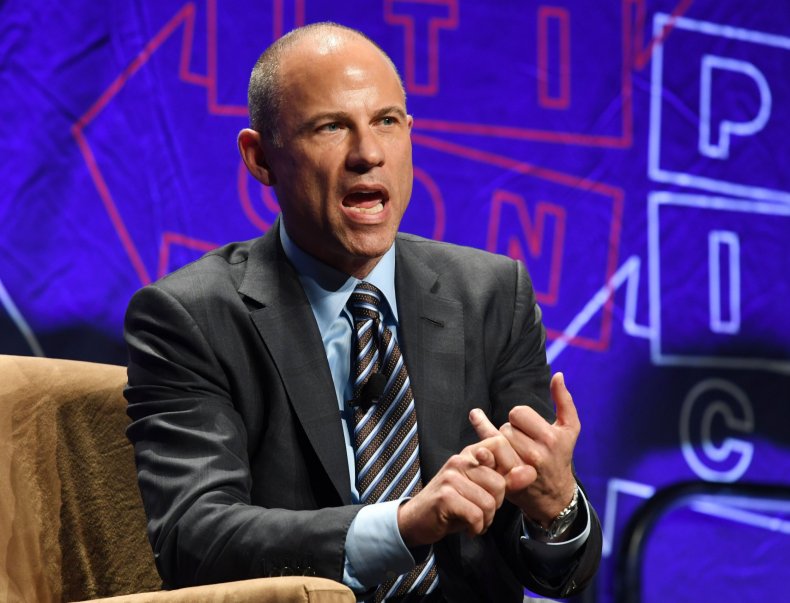 Following his arrest, Surefire Intelligence, a company that NBC News reported was linked to Wohl, tweeted, "Surefire Intelligence strikes again."
As a response to the Surefire tweet, Avenatti tweeted on November 15 that once he and Mueller are fully exonerated, the lawyer would come for Wohl.
On Wednesday, the Los Angeles District Attorney's office announced that Avenatti would not be charged with a felony in connection to the arrest. Instead, the case would be sent to city prosecutors to decide if any misdemeanor charges would be filed.
In a statement to USA Today, Avenatti said he was "especially grateful for justice" on Thanksgiving and said he's maintained his innocence since he was arrested.
Avenatti also floated the possibility of taking legal action against TMZ for the story, which originally identified the woman involved as the lawyer's estranged wife, Lisa-Storie Avenatti. He tweeted that the person who wrote and approved the article "better get their checkbook ready" because the story was "purposely malicious and false."
"It was designed to harm Lisa, me and my family and we are going to expose TMZ for what they did," he tweeted. "No journalist should rely on or defend garbage like that."