Michael Avenatti Channels Bill Clinton When Asked If He'd Slept with Stormy Daniels: 'I've Never Had Sexual Relations With This Woman'
Michael Avenatti, Stormy Daniels's lawyer, is used to answering questions about his client, but he was forced to respond more personally when he was asked if he had ever had sex with his adult film star client.
While Avenatti chose to answer this intimate question posed by SiriusFX host Karen Hunter, he used a phrase similar to the one made famous by former President Bill Clinton in his denial of an affair with White House intern Monica Lewinsky, The Daily Beast reported.
Responding to a question about whether he'd enjoyed any "wares" of his client, whose real name is Stephanie Clifford, Avenatti said he had not even seen any of the adult films she stars in.
"So I've been at this about six months in connection with this case, and I have to hand it to you. Because as you and some of your listeners may know, I've done probably more than two or three interviews. No one has ever asked me this question so, I'm going to answer the question as cleanly as possible," he said.
"Here's the answer: Absolutely not. I've never had sexual relations with this woman," he said, in a cheeky reference to what Clinton said when questioned about his intern—which, in Clinton's case, did not turn out to be true.
"I have never viewed her work and I have never had any intimate contact whatsoever with her at all. In fact, the way that I view her is really as more of a sister than anything else. I mean, that's the relationship that we have. I'm her lawyer," Avenatti added, saying he did not judge people who did enjoy his client's work.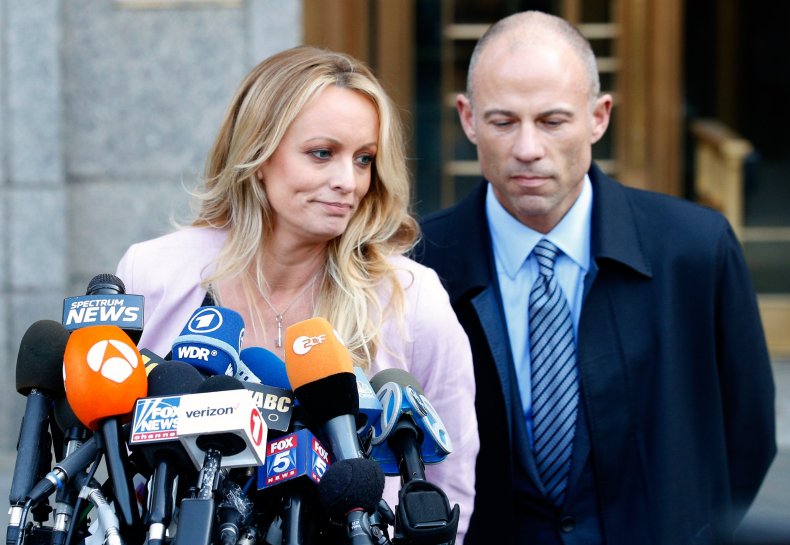 Stormy Daniels hit headlines earlier in the year when she claimed to have had an affair with President Donald Trump in 2006, shortly after the birth of his youngest son, Barron, with wife and first lady Melania Trump. And Daniels's lawyer has just as frequently appeared in the spotlight ever since.
Indeed, Avenatti has been outspoken about what he thinks of Trump, suggesting he would consider running for office in 2020 to beat him. He has also recently suggested that the president should be subjected to an IQ test.