Michael Avenatti Denies Domestic Abuse Allegation: 'I Did Not Strike My Ex-wife… I Am a Decent Man'
Michael Avenatti denied, through his Twitter account, a domestic violence allegation by an unnamed woman, saying he is a "decent man."
The attorney, who is considering a run for the Democratic nomination in 2020, was arrested by Los Angeles Police Department (LAPD) on suspicion of domestic violence.
He was booked Wednesday afternoon and his bail was set at $50,000 before he was released. The LAPD said the case will be presented to the Los Angeles County District Attorney for prosecution.
"I want to be clear: I DID NOT commit domestic violence nor have I ever committed domestic violence," Avenatti wrote on Twitter.
"I did not strike any woman nor have I ever. I did not strike my ex-wife in the face nor did I hit anyone else in the face. I am a decent man & I look forward to being exonerated."
In a statement soon after he was released, Avenatti thanked the "hard working men and women of the LAPD for their professionalism" because "they were only doing their jobs in light of the completely bogus allegations against me.
"I have never been physically abusive in my life nor was I last night. Any accusations to the contrary are fabricated and meant to do harm to my reputation."
Avenatti's former wives denied that they made the allegation against him.
"I have known @MichaelAvenatti for over 26 years we met when he was 21 years old and we were married for 13 years," his first wife, Christine Avenatti Carlin, tweeted.
"Michael has ALWAYS been a kind loving father to our two daughters and husband to me. He has NEVER been abusive to me or anyone else. He is a good man."
Lisa Storie-Avenatti, who was married to Avenatti from 2011 to 2017 before she filed for divorce, released a statement through her attorney denying that she was involved in the alleged domestic violence incident after her name was linked to it by TMZ.
"My client states that there has never been domestic violence in her relationship with Michael and that she has never known Michael to be physically violent toward anyone," the statement said, BuzzFeed News reported.
While it hasn't revealed many details about the arrest and alleged attack, Officer Tony Lam, an LAPD spokesman, said the victim, as reported by The Washington Post, had "visible injuries."
Cpt. Patricia Sandoval of the LAPD told Newsweek: "We do not have any additional information."
Avenatti rose to prominence as the attorney for adult film actress Stormy Daniels, whose real name is Stephanie Clifford, who alleged she'd had a brief affair with President Donald Trump in 2006. Daniels was paid $130,000 before the 2016 election to keep silent about the affair by Trump's former personal attorney and "fixer" Michael Cohen.
The president denies the affair and any contemporaneous knowledge of the hush payment or that it had anything to do with his campaign. But Cohen pleaded guilty in federal court last August to multiple fraud charges, including unlawful campaign contributions stemming from the "hush" money he paid to Daniels and antoher woman, Karen McDougal, which Cohen testified was paid at Trump's direction for the benefit of the election campaign.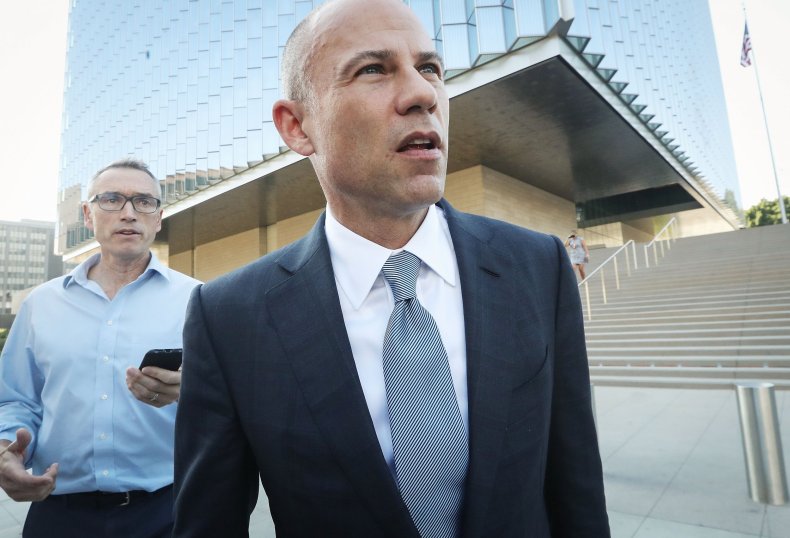 This article was updated with more background information.