Michael Avenatti: Donald Trump Is Not 'Intelligent' Enough to Debate Me, Would Be 'Completely Outclassed'
Michael Avenatti, who came to fame as the lawyer for Stormy Daniels, continued to tout his credentials as a candidate for president in 2020, claiming Sunday, August 19, that President Donald Trump would avoid debating him because the president is not that intelligent.
Avenatti is representing Daniels, an adult film star whose real name is Stephanie Clifford, in a legal case against the president and Michael Cohen, his former personal attorney. Amid a blitz of media appearances, he is attempting to leverage his newfound notoriety to take Trump on more broadly, even portraying himself as the best person to topple the president in two years' time.
After a recent visit to Iowa, Avenatti made a trip to New Hampshire, another key early primary state, over the weekend. There, he was asked about the possibility of going face-to-face with Trump on the major issues facing the country.
"Donald Trump doesn't want to debate me on a national stage, that's for sure. There's no question about that," he told Fox News. "I think he's a bully, and I think he doesn't like people that punch back, and I think I would be incredibly effective against him. I don't think he's very quick on his feet, I don't think he's that intelligent, and I think he'd be completely outclassed."
Headlining a Democratic Party event, Avenatti reiterated his message about how to tackle the current White House incumbent.
"I believe that our party, the Democratic Party, must be a party that fights fire with fire," he said. "I believe we cannot be the party of turning the other cheek."
Avenatti's message was a contrast to that of former first lady Michelle Obama, who famously said of Trump during the 2016 election, "When they go low, we go high."
Instead, Avenatti has repeatedly urged Democrats, "When they go low, we hit harder."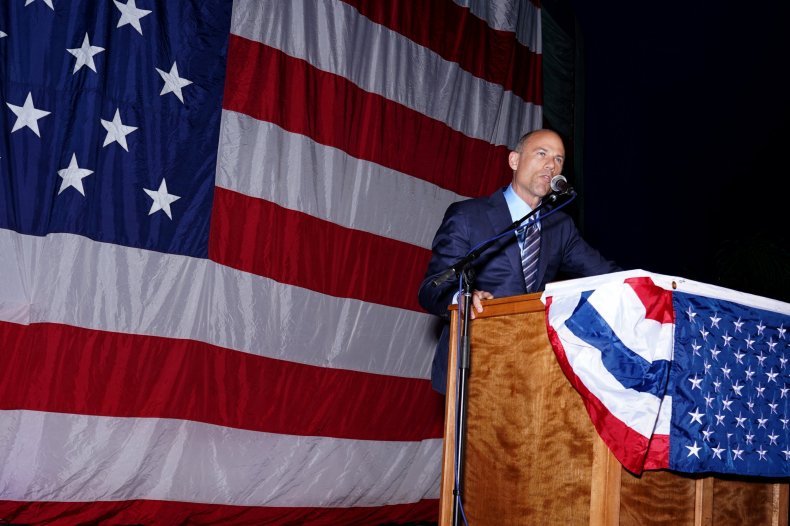 The Los Angeles attorney, who has also represented immigrant families separated as a result of the Trump administration's "zero tolerance" immigration practice, argued that the Democrats needed a fresh outsider in order to tackle the unique challenge of Trump.
On Sunday, Avenatti said that Hillary Clinton "was the most qualified individual to ever run for the White House in the history of our nation." But, he added, "all the experience in the world, all the qualifications in the world, all of the policy positions in the world, they don't mean anything if you can't beat Donald Trump in the general election, period."