Michael Avenatti Slams Donald Trump as 'Disgusting Misogynist' in Scathing Melania Cheating Tweet
Stormy Daniels lawyer Michael Avenatti fired back at President Donald Trump on Tuesday after the president took to Twitter to call him a "3rd rate lawyer" and his client a "Horseface."
"You are a disgusting misogynist and an embarrassment to the United States. Bring everything you have, because we are going to demonstrate to the world what a complete shyster and liar you are," Avenatti wrote in his tweet. "How many other women did you cheat on your wife with while you had a baby at home?"
Just 10 minutes earlier, Trump had mocked Avenatti and his client in reference to a federal judge's dismissal on Monday of a defamation lawsuit by Daniels, an adult film star whose legal name is Stephanie Clifford. Trump misspelled Clifford's stage name in his tweet.
"'Federal Judge throws out Stormy Danials lawsuit versus Trump. Trump is entitled to full legal fees.' @FoxNews Great, now I can go after Horseface and her 3rd rate lawyer in the Great State of Texas," Trump tweeted. "She will confirm the letter she signed! She knows nothing about me, a total con!"
Daniels filed her defamation suit after the president tweeted on April 18 that a man she claimed threatened her not to disclose her alleged affair with Trump was "nonexistent" and that it was "a total con job."
The dismissal of Daniels's suit does not affect another lawsuit she has lodged against Trump over a nondisclosure agreement on their alleged affair, which came with a $130,000 hush payment. Avenatti rose to national attention representing Daniels in that case.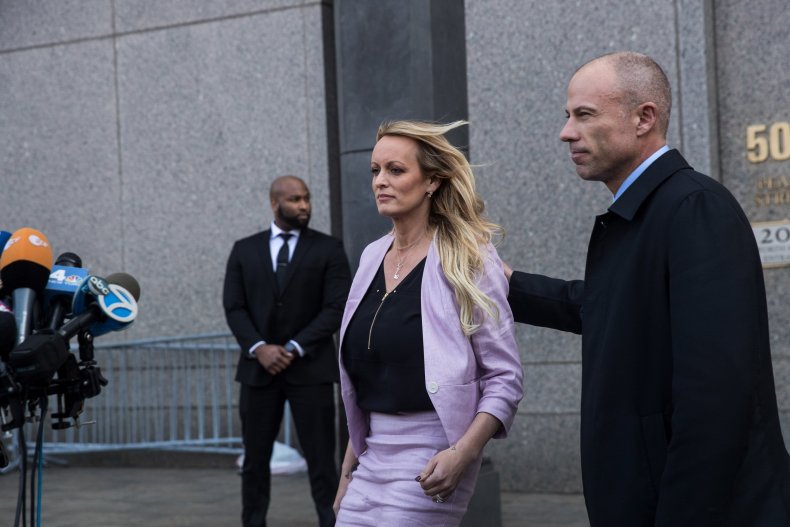 On Tuesday, Avenatti also tweeted at Trump: "Tens of millions of Americans are tired of your fraud, lies, and corruption. They are equally tired of your attacks on women, especially the ones who you have had sex with while cheating on your wives. We (and the UN) are laughing AT YOU, not with you. #Basta."
Trump's alleged sexual affair with Daniels apparently took place in July 2006, four months after Melania Trump gave birth to their son, Barron. Donald and Melania Trump had wed the prior year.
Avenatti continued to fire attacks at the president on Tuesday. The lawyer wrote, "Don't mess with @Stormy Daniels" and quoted his client's tweet on Trump stating, "Ladies and Gentlemen, may I present your president. In addition to his...umm...shortcomings, he has demonstrated his incompetence, hatred of women and lack of self control on Twitter AGAIN! And perhaps a penchant for bestiality. Game on, Tiny."