Michael Avenatti Gloats About Donald Trump Jr. Reportedly Telling Friends He's About to Be Indicted
Stormy Daniels's lawyer Michael Avenatti went after Donald Trump Jr. on Thursday in regards to the first son possibly being indicted in special counsel Robert Mueller's investigation of Russian interference and possible collusion.
Avenatti quote tweeted a report stating that Fox News legal analyst Andrew Napolitano said Trump Jr. has told his friends he expects to be indicted.
".@DonaldJTrumpJr - this is what I predicted a long time ago as you know. I asked you to deny it but you never did," Avenatti tweeted. "Is it true (asking for about 100 million friends)?"
Napolitano revealed Trump Jr.'s apparent admission on Wednesday's episode of The Dan Abrams Show, when Mediaite founder and ABC News chief legal analyst Dan Abrams asked if he thinks anyone in President Donald Trump's inner circle will get indicted.
"Yes," Napolitano said. "I don't know who, but I do know that Donald Jr. has told friends he expects to be indicted."
"Do you expect he'd be indicted?" Abrams followed up.
"Yes," Napolitano replied.
Trump Jr. did not immediately respond to Avenatti's tweet on Thursday.
Avenatti has been badgering Trump Jr. on his possible indictment for some time. In October, he tweeted at Trump Jr.: " Bif: If I were you, the last thing I would be doing is referencing other people getting out of federal prison. Because after you are indicted, you will likely be passing them on your way in."
The lawyer added: "BTW, they don't have silver spoons or gold toilets in the joint. Buckle up Buttercup."
Avenatti's tweet was in response to Trump Jr. posting on Twitter, "Who else is excited about Avanetti/Weiner 2020?!? It's gonna be Carlos Dangerous."
Trump Jr. was proposing a mock 2020 presidential ticket with Avenatti and former Democratic congressman Anthony Weiner, who was sentenced to 21 months in jail for sending sexually explicit text messages to an underage girl under the alias "Carlos Danger."
Avenatti on Tuesday announced he would not run for president in 2020 "out of respect for my family."
"But for their concerns, I would run," stated Avenatti, adding that he would continue representing Daniels, real name Stephanie Clifford, in her lawsuit against the president over a nondisclosure agreement she was paid to sign in exchange for her silence regarding her alleged affair with Trump.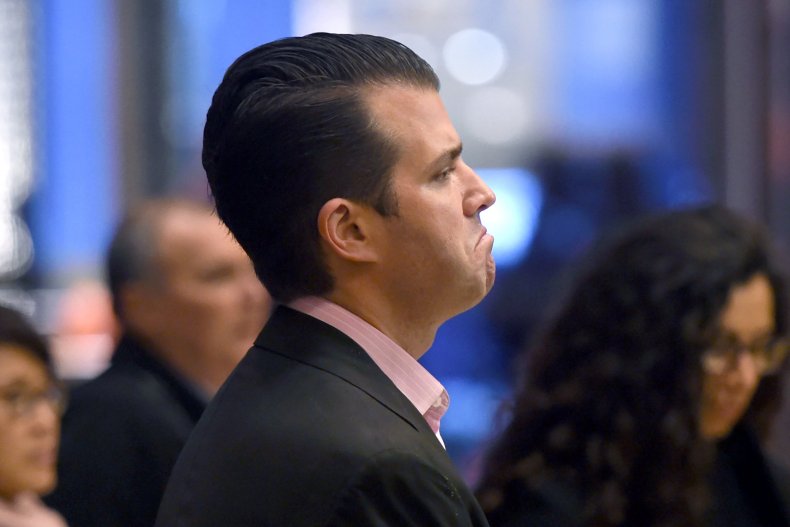 Trump Jr. participated in a June 2016 Trump Tower meeting with a Russian lawyer who promised damaging information on Trump's election opponent Hillary Clinton. The meeting has been a focus of Mueller's investigation.
The first son in late October told USA Today that he was "not worried about anything I actually did" regarding the meeting Mueller is probing. But Trump Jr. admitted, "That doesn't mean they don't totally fabricate all of this stuff at this point."