Michael Avenatti Reveals Who's Paying for His Stormy Daniels Work After Questions About Anti-Trump Financing
Michael Avenatti on Thursday afternoon issued a statement in response to an opinion piece by a former adviser for President Bill Clinton questioning who was paying him to represent Stormy Daniels, the adult film star legally named Stephanie Clifford who has alleged she had an affair with President Donald Trump.
"Once again (for at least the 20th time)–ALL fees and expenses of this case have either been funded by our client, Ms. Stephanie Clifford, or by donations from our crowdjustice.com page," Avenatti wrote in a statement he linked to a tweet through Dropbox.
Related: Michael Cohen 'selling access' to Trump and should release bank statements, Michael Avenatti says
"Further, no political party or PAC is funding this effort. No left wing conspiracy group is behind this. And no big fat cat political donors are leading the charge," Avenatti added. "Get over it."
He later told The Daily Caller that any claim he was being funded by the left or other political interests was "utter bullshit, and you can quote me on that."
Avenatti earlier tweeted that Mark Penn, a pollster and adviser to Clinton from 1995 to 2000, "didn't do any basic research for his ridiculous piece in The Hill. Had he merely bothered to review google or this feed, he would know exactly who is paying me."
In his piece, Penn wrote that Avenatti, who had slammed the millions of dollars deposited into a bank account set up by Trump's personal attorney Michael Cohen, had some questions of his own to answer about his financing.
"He wants to make the discussion all about where Michael Cohen, President Trump's personal attorney, got his money but, to have clean hands, Avenatti needs to come forward with exactly who is financing his operation."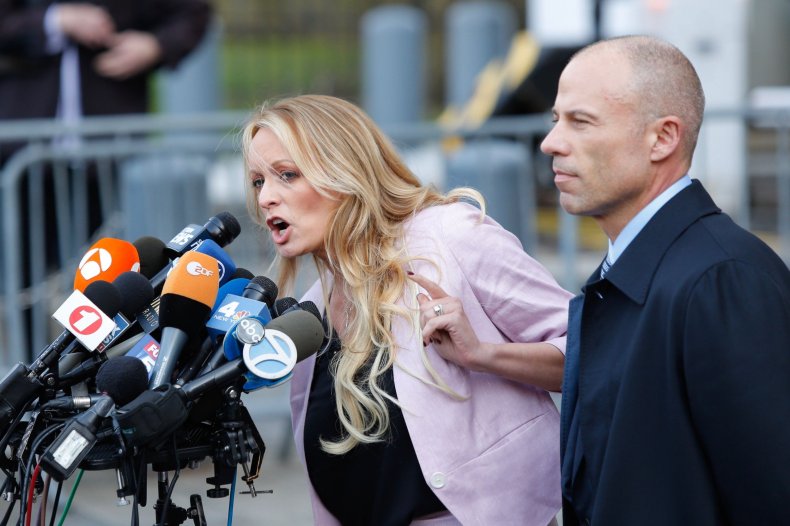 The crowdjustice page for Daniels as of Thursday afternoon had received more than $428,000 in donations for her lawsuit against Trump to void a nondisclosure agreement that he did not sign and that she alleges is being used to intimidate her into not telling her story.
Gerald Kelly, a Maryland-based tax attorney, told Newsweek Thursday that Avenatti's legal fees in the six-figure range "would be reasonable."
"The fees could go up exponentially, if there's substantial litigation and courtroom time," Kelly said.