Michael Avenatti Says Sarah Huckabee Sanders Is Afraid of Donald Trump's 'Wrath' Over 'Enemy of the People'
White House press secretary Sarah Huckabee Sanders's fear of President Donald Trump's "wrath" is the reason for her failure to declare that the media is not "the enemy of the people," Michael Avenatti, the attorney representing Stormy Daniels, claimed Friday.
Appearing on ABC's The View as a fill-in for regular co-host Whoopi Goldberg, Avenatti commented on the recent controversy involving the president's increased attacks against the media and Sanders's refusal on Thursday to explicitly renounce Trump's vitriol.
"She's a mouthpiece for the president and she doesn't make the statement that Jim [Acosta] asked her to make because she doesn't want to face the wrath of Donald Trump," Avenatti said when it was asked why Sanders has not quit.
Avenatti explained why he believed Trump and the administration frequently harped on the press's coverage.
"There's a message the administration wants to continue to deliver and that is that you can't trust the news," he said. "And the reason why they want to deliver that message is because they are worried about the facts that are reported relating to what's gone on with Donald Trump and the administration and they want to undercut that in the minds of the American people."
Avenatti has repeatedly levied blows against Trump and his administration, including representing immigrant families recently separated at the southern border due to the administration's "zero-tolerance" policy.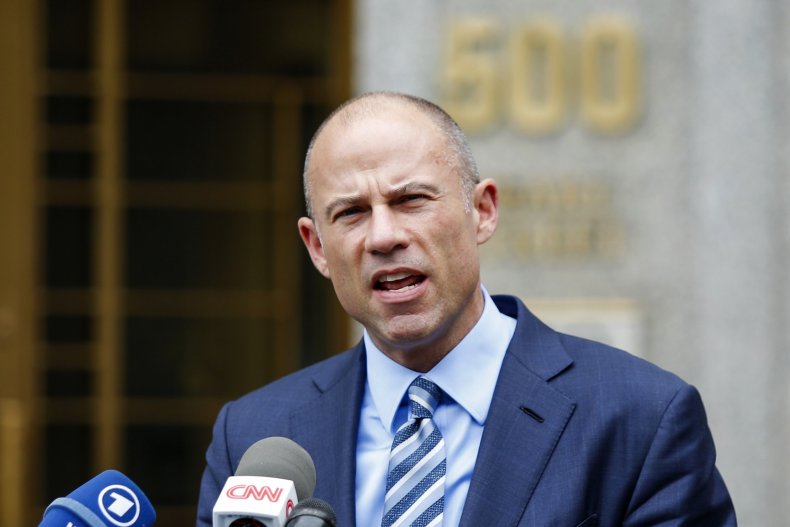 Sanders was called out by CNN's Jim Acosta Thursday during a press briefing, and specifically asked if she would denounce Trump's labeling of the media as "the enemy of the people." She noted perceived personal attacks from the press against herself, including jokes made at the White House Correspondents' Dinner earlier this year.
"I appreciate your passion. I share it. I've addressed this question. I've addressed my personal feelings," Sanders said. "I'm here to speak on behalf of the president. He's made his comments clear."
Similar claims about Sanders's alleged fear of the president were made earlier Friday on MSNBC's Morning Joe.
Trump returned to his criticism of the media Thursday night during a rally in Pennsylvania, during which he pointed to members of the press and said they are "fake, disgusting news.
The president took umbrage with how his summit with North Korea's Kim Jong Un was portrayed in the media, as well as his meetings with Russian President Vladimir Putin together with the ongoing special counsel probe into Russia's interference in the 2016 election.
"Now we're being hindered by the Russian hoax," Trump said. "It's a hoax, OK. I'll tell you what: Russia's very unhappy that Trump won. That, I can tell you. But I got along great with Putin. And everybody said, Wow that was great.
"Couple of hours later, I started hearing these reports that they wanted me to walk up...and go like this. They wanted me to go up and have a boxing match. I said, Whatever happened to diplomacy?"
While the president has repeatedly denied collusion and said he's been harder on Putin than any other commander-in-chief before him, the Russian leader said during their summit press conference last month that he wanted Trump to win the election.