Michael B. Jordan on 'Creed II,' Working with Good Rewards and Outlier Society's Inclusion Rider Adoption
Michael B. Jordan isn't your average celebrity. The actor has become a hot commodity as he adds more projects to his plate, whether it's related to his primary field of work, a charitable effort, or so on. One of his upcoming projects includes the highly anticipated feature Creed II.
Creed II, out Wednesday, is Jordan's first-ever sequel. The 31-year-old actor returns as Adonis Creed, a boxing champ who begins training for a match against the son of Ivan Drago. The fight would serve as a form of revenge on Adonis's end since his father, Apollo Creed, was killed by Ivan during a 1985 match. Jordan said "it's been great" to return as Adonis for the beloved franchise since audiences will see how the sequel will "build those characters that we started in the first movie."
"Fatherhood is really big in this film as well and a little bit of revenge with the Dragos being reintroduced into the story," Jordan explained to Newsweek. "Adonis goes through this emotional rollercoaster and on this path and journey to figure out what kind of man he wants to be. I think that becoming a father and all the reasons I just named kind of helps him mature throughout the movie. He comes out a better man because of it."
Jordan also elaborated on why he's thrilled for fans to see "everything" within the sequel, adding: "It's a love story, you know? I think boxing is the backdrop of that. You have these great characters that go on this amazing journey. The Dragos are coming back. There's a lot of action. It's emotional. It'll make you laugh, cry, happy, sad. I think it will send you through all the emotional notes. I think fans are going to enjoy and dig all of that."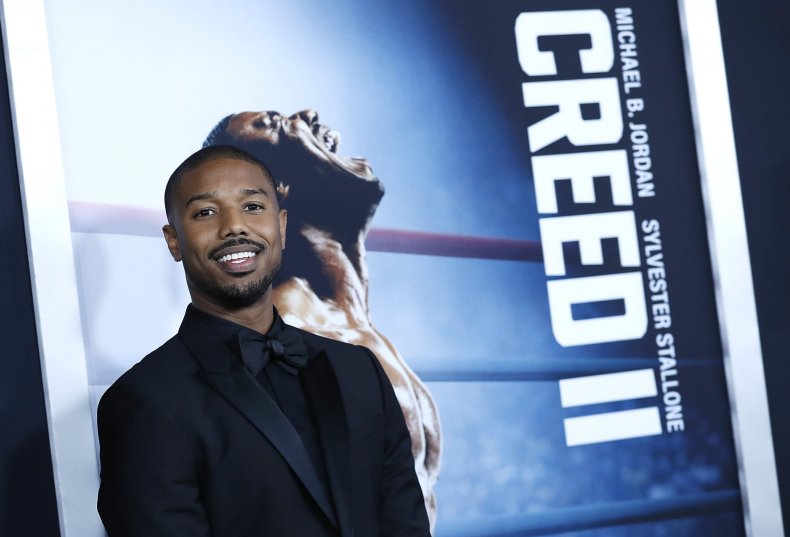 Creed II isn't the only project on Jordan's plate. The multi-hyphenate teamed up with Honey Nut Cheerios for its newly launched Good Rewards program.
Good Rewards allows for families to easily get into the charitable spirit while teaming up with top celebrities, like Jordan in addition to actress Lucy Hale and NFL player Rob Gronkowski. Families simply scan the Buzzcoin symbol present on any Honey Cheerios box to earn points for their team before the April 2019 cut off. The winning star will earn money for their charity of choice, with Jordan's being Feeding America—a nonprofit with food banks nationwide that feed over 46 million people. He chose this organization because of his "own personal experience with food banks." His father also managed one.
"I wanted to get involved. I wanted to give back," Jordan said. "I'm constantly looking for ways to kind of give back to the people and to the community. This was the perfect kind of program."
Jordan continued, "Sometimes when people want to donate and they want to give back, they don't know how. They think, 'Oh, this is too small' or 'This is not enough.' [Then] they don't do anything at all. This [program] is low-commitment. … I'm super competitive. So I'm trying to beat Gronk and Lucy because I really want the $100,000 for Feeding America."
Aside from his work with Good Rewards, Jordan's continuing to grow his company Outlier Society Productions. He notably announced that his company would adopt "Inclusion Riders," a contractual requirement an actor can add to enforce a certain level of diversity among staffers on set. Jordan said the process has "worked out great" for Outlier Society. It was first put to use on biographical drama Just Mercy, which he stars as defense attorney Bryan Stevenson alongside Jamie Foxx and Brie Larson.
"I play a defense attorney who got this wrongly convicted man off of death row. It really focuses on the criminal justice system," he said. "That was the first movie that I got under the inclusion rider. Being able to work with Warner Bros. and help write their inclusion policy with my team and their team was a huge win for us also."