Michael B. Jordan Fans Turn on Classmate After Confrontation
Fans of Michael B. Jordan have turned on one of the actor's former high school classmates, who teased him about his dedication to his craft.
On Thursday, Jordan, 36, attended a fan screening of his latest film, Creed III, in Atlanta, Georgia, when he came face-to-face with The Morning Hustle host Lore'l, who was waiting to interview him on the red carpet.
"We know each other. We go all the way back to Chad Science [Academy] in Newark [New Jersey]," said Lore'l, whose real name is Monica Torres.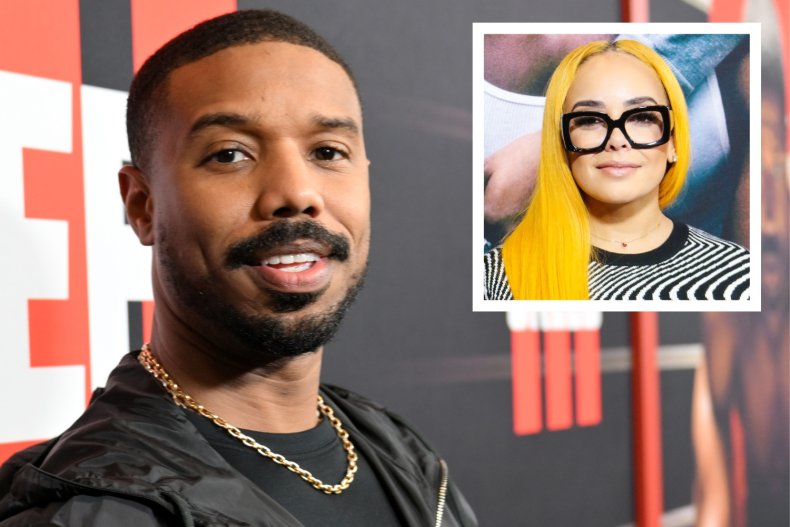 "Oh yeah, I was the corny kid, right?" onetime People's Sexiest Man Alive Jordan shot back, prompting Lore'l, 37, to deny having referred to him as such—though she admitted to making fun of his name.
Attempting to move things on, Lore'l praised her former classmate for "killing things" in his career as the seconds-long viral clip came to a close.
In another clip, Lore'l told Jordan that he was "not corny anymore" as their interview concluded, prompting the apparently unimpressed actor to glare at her.
The video was shared on the Instagram account of The Morning Hustle over the weekend, alongside a caption that referenced the Creed franchise's boxing theme: "Ding Ding. ROUND 1 #MichaelBJordan VS @starringlorel."
Fans soon flooded the comments section to blast Love & Hip Hop: New York alum Lore'l for her comments about Black Panther and Wakanda Forever star Jordan.
"Why not apologize if you may have said anything hurtful?" one Instagram user wrote. "The fact that she ended with 'you are not corny anymore.' Was rude and offensive. His body language showed that he either hurt or offended by what was said in the past and then she says it again to conclude the interview."
"Sis he did not forget how you made him feel, own it and apologize," said another. "You never know how your wires can hit someone. People never forget. Look at brother now. He had a purpose and a plan and it paid off him doing what he did. It's called having a dream and determination."
Opined another: "She should have simply addressed it, right then and there, a simple, 'I apologize for any prior comments, we have both grown up and matured since then, and you sir, have surely grown...' lead to the next interview question, rather than gaslight and dismiss him, AND STILL expect an interview."
"U called him corny. Now you gotta call him actor, director, producer. Movie mogul. Living legend," another said. "Gotta eat them words. I know that taste bitter on the tongue."
Meanwhile, another wrote that Lore'l's comment to Jordan that they "go way back" is "vastly different than you saying you used to make fun of him back then."
Following her awkward reunion with Jordan, Lore'l shared photos and video of herself at the event, alongside the caption: "I always come with receipts... Godspeed @michaelbjordan but y'all go see Creed III tho directed by my old 'pal.'"
The post was met with further backlash from fans, who slammed her for repeating the insult, though very few defended the podcaster.
"Wow, he was really emotional...meanwhile, [Lore'l is] like WHATEVER CHAMP!! I love her... [Lore'l is] from NEW YORK... and I'm not talking about 2023 NYC," wrote one of her defenders.
"Back in the day cracking jokes on each other was the thing to do, it was survival of the fittest," another said.
While Lore'l insisted that she had been misquoted in her comments about Jordan, he was referred to as "corny" during a 2021 episode of The Undressing Room podcast that she appeared on.
During the conversation, Lore'l and podcast hosts Eva Marcille and Dominique da Diva spoke about his then relationship with model Lori Harvey, referring to The Wire star Jordan as a "nice, corny guy."
Also on the podcast episode, Lore'l admitted that she used to tease the actor due to him having the same name as legendary NBA star Michael Jordan.
"We went to Chad Science [Academy] together in Newark, and to be honest with you, we teased him all the damn time because his name was Michael Jordan," she said at the time. "Let's start there, and he was no Michael Jordan.
"And he also would come to school with a headshot. We lived in Newark. That's the 'hood. We would make fun of him like, 'What you gonna do with your stupid headshot!?' And now look at him!"