2020 Candidate Michael Bennet Trolls Mitch McConnell with Russian Meme Book
Colorado Senator and 2020 presidential candidate Michael Bennet released an e-book on Wednesday that highlights a number of memes which were allegedly posted to social media by Russian trolls during the 2016 presidential election to create political divisiveness amongst Americans.
"The propaganda Russia drove into our social media feeds is shocking, but what's even more frightening is that we didn't recognize these divisive images as distinct from our own political rhetoric for over a year," said Bennet in a statement.
"This book makes crystal clear what Russia did and how they did it. The 2020 election is around the corner, yet the Trump administration has done nothing to protect our democracy from these attacks again. We must demand that Mitch McConnell see these disturbing images and act now."
The book, which includes a lot of meme imagery, pieces of Robert Mueller's report about Russian meddling in the election and multiple sections penned by Bennet, is largely intended as a way to raise campaign funds while pressuring Senate Leader McConnell to act on election security. For each donation, the Bennet campaign said they would send McConnell's office a printed copy of the book in the donor's name.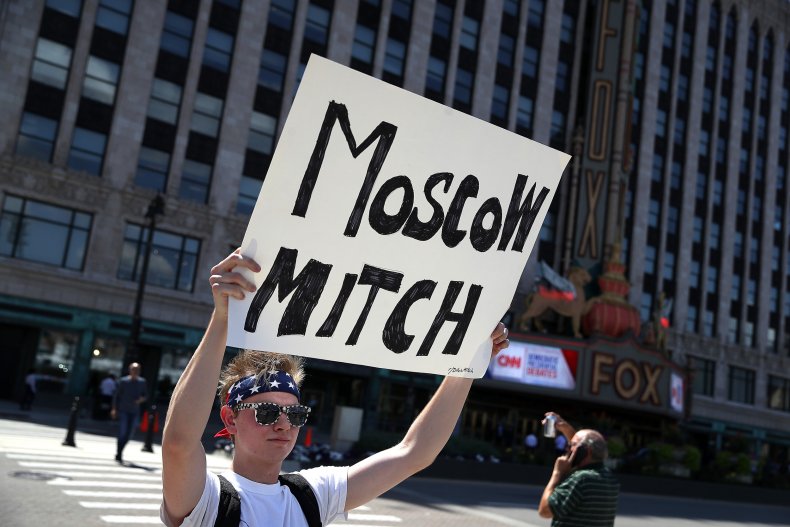 Bennet's plan has also garnered some support from Obama-era national security figures.
"Senator Michael Bennet's book on 2016 Russian electoral interference is powerful and sobering," said Susan E. Rice, former U.S. national security adviser. "It makes clear that these social media attacks continue to distort our democratic processes."
McConnell blocked two election security bills from coming to the Senate floor prior to the legislative body's August recess.
The block came just one day after Mueller told the House that Russian agents were currently trying to influence future elections. "They're doing it as we sit here and they expect to do it during the next campaign," he said. Mueller also noted that future political campaigns may ask foreign adversaries for dirt on their opponents. "I hope this is not the new normal, but I fear it is," he said.
McConnell said that the bills were highly partisan and that Democrats were just trying to gain some "political benefit" from them.
Senate Minority Leader Chuck Schumer took to Twitter to admonish McConnell at the time. "I just went to the floor to demand the Senate pass a commonsense bill to protect our elections," he wrote. "Because Mueller was clear that Putin is seeking to undermine our elections. ButMcConnell stood in the way."
McConnell's refusal to budge caused some on the left to begin using the nickname "Moscow Mitch" to refer to the leader.