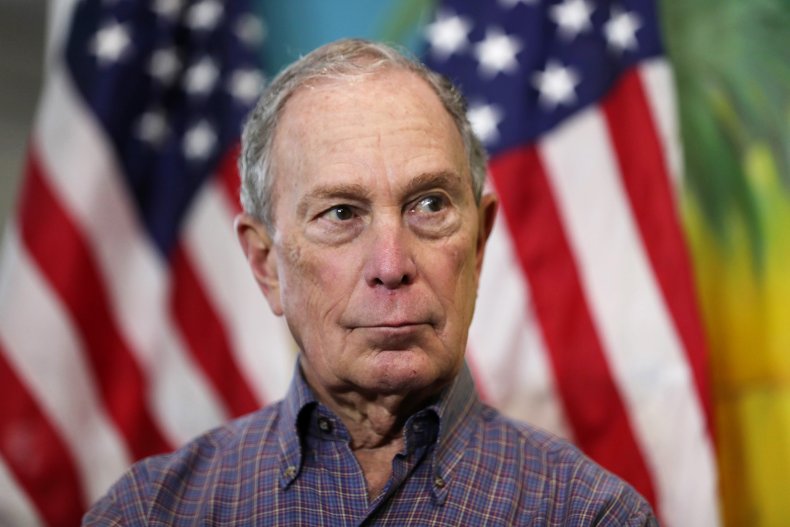 Michael Bloomberg, who folded his campaign on Wednesday after a disappointing Super Tuesday finish, spent about $136 for each vote he earned in key primary states—a record-setting amount that left little in return for the former New York City mayor who set his sights on the presidency.
Bloomberg sank more than $234 million into Super Tuesday advertising expenditures that included television, radio and digital ads, according to data collected by the media analytics firm Kantar and analyzed by CNN. By Wednesday afternoon, he had counted a little more than 1.7 million votes, ringing in at more than $136 for each one he brought in. The figure does not include other campaign spending, such as for staff or transportation.
Although the figure could change slightly because vote totals are not final in every state, that's more than a dozen times more for Democratic primary front runners Joe Biden and Bernie Sanders, as well as 2016 presidential candidates Hillary Clinton and Donald Trump—who won that election.
About $44 million of that was spent in five states—Texas, Alabama, North Carolina, Vermont and Virginia—that were dominated by his opponents. He spent the most in powerhouses California and Texas, more than half of his overall Super Tuesday budget.
By contrast, Vermont Senator Sanders spent about $4.32 for each vote he earned in these states. For former Vice President Biden? Just 42 cents for each vote, or 344 times less than Bloomberg spent—and he won all five states.
"He's really putting his thumb on the scales for ad buying. It's incredible to have one campaign have that much impact," Sheila Krumholz, the executive director for the Center for Responsive Politics, told Newsweek.
As the vote totals were still being reported, it became clear Bloomberg would finish with only a small fraction of the 1,357 delegates awarded on Tuesday across 14 states and American Samoa, the only jurisdiction where he pulled off a win.
Bloomberg's spendthrift presidential campaign echoes his three mayoral bids in New York. When in 2001 he mounted a run on the Republican ticket to succeed Mayor Rudy Giuliani, Bloomberg spent a record $69 million. He also chose a strategy much like the one in play Tuesday: flooding the field with ad buys.
According to financial disclosures reported by The New York Times at the time, Bloomberg—who ran as a Republican—spent $8.4 million on television ads during the final leg of the campaign alone. The cost per vote during his first mayoral run, according to the Times, was $92.60, a figure that included all campaign expenditures.
''He bought it fair and square, and by spending a historic amount on television ads he controlled the airwaves and altered people's perception of reality,'' the campaign manager for his Democratic opponent told the Times at the time.
For his presidential campaign, Bloomberg spared no expense. He invested more than half a billion dollars of his own money into his 2020 bid. In the fourth quarter of 2019 alone, he shelled out more than $188 million, shattering all previous spending records for this period, according to Bloomberg News, which he owns.
The sheer volume of Bloomberg's spending is perhaps best understood when viewed in the context of the entire field. Throughout the campaign, Bloomberg spent more on advertising than all of his primary opponents combined.
For example, FiveThirtyEight estimates that Bloomberg spent $407 million on television advertisements across the country, which is around $250 million more than was spent by the next-highest ad buyer, billionaire Tom Steyer, who bowed out of the race days ago.
When you compare with other presidential campaigns, Bloomberg, who didn't make it past the primary, still stands out. Trump, who clinched the Electoral College, spent about $334 million, Cato figures showed. His cost per vote: $5.32. As for Clinton, who won the popular vote, the libertarian think tank showed that she spent more than $632 million on her campaign, bringing her total cost per vote to $9.46.
What that shows, said Matt Bennett, co-founder of centrist think tank Third Way who worked on both of Bill Clinton's presidential campaigns, is that "money does not necessarily buy success."
"It's just a very unsure bet to dump a ton of money into a campaign if you don't have the other elements of success, which are: some sense of mission and purpose, name identification and a compelling narrative," he said. "If you don't have those things, no matter how much you spend it's not going to work. Money is important, but it's not determinative of the way many people think it is. If he turns over that huge set of resources to take on Trump, that can even the playing field. It may not guarantee a win for Democrats, but it can certainly help."
Still, as money becomes an increasingly central part of political life, advertising surges have their benefits.
"I think in the vein of no news is bad news, you want people talking about you," Krumholz explained. "To get the name recognition and cachet, or just to be considered a player in the field of candidates, there are definitely advantages."