Michael Bloomberg Ties Biden to Beat Trump by Widest Margin of Anyone in Democratic Primary, New Poll Shows
Former New York City Mayor Michael Bloomberg would beat President Donald Trump in the popular vote by nine points, according to a head-to-head match-up surveyed in a new CNN poll. Tied with former Vice President Joe Biden, this represents the highest margin of victory of any candidate measured in CNN's poll.
Released Wednesday, the survey found that registered voters currently prefer Bloomberg to Trump by 52 percent to 43 percent. Biden earned a similar nine-point spread in the survey.
Senator Bernie Sanders topped Trump by seven points, followed by Senator Elizabeth Warren with a five-point margin, former South Bend, Indiana, Mayor Pete Buttigieg with a four-point margin and Senator Amy Klobuchar with a three-point margin.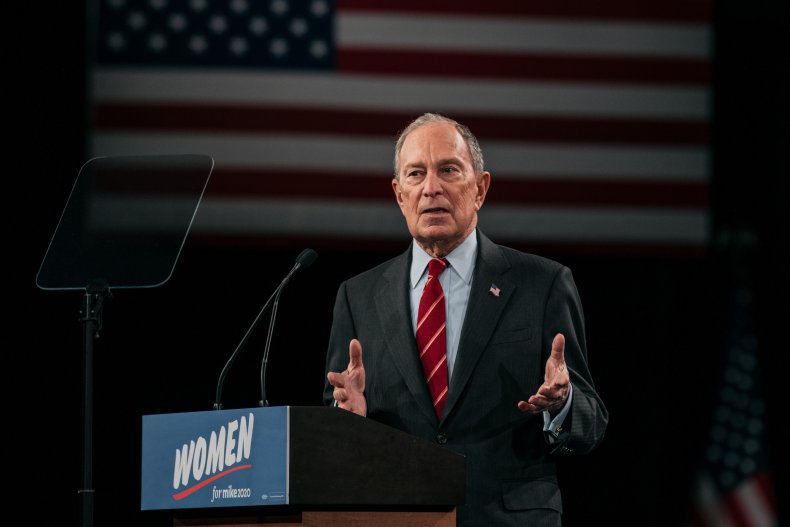 Bloomberg's lead is among his most significant polling achievements to date. However, the former mayor faces greater skepticism from members of his own party, whom he must court in order to first clinch the nomination.
Bloomberg performs similarly well in other head-to-head trials as well. A SurveyUSA poll released Tuesday found that he would best Trump by seven points, also in a tie with Biden. However, Sanders placed first in this poll with a nine-point advantage.
And news of the former mayor's perceived success against Trump might snowball into further advantages for him in the Democratic primary. CNN's survey found that 57 percent of Democratic voters believe the party should nominate someone with a strong chance of beating the incumbent president, the highest share to back this approach since June 2019.
Only 7 percent of Democrats feel Bloomberg is most equipped to beat Trump in the general election, according to CNN's poll. And more Democrats would be "upset" if Bloomberg won the nomination than any other candidate.
When ranked against the entire line-up, he is earning the support of just 5 percent of the Democratic primary electorate.
Part of the reason why it may be difficult to expand on his greater general electorate favorability and make inroads with Democratic voters is that Bloomberg has forgone campaign donations. The Democratic National Committee, which sets debate rules, has thus far required all debate stage participants to meet some sort of unique donor threshold, effectively shutting Bloomberg out of the party's debates, which offer candidates an opportunity to spread their messages to a wide and largely supportive audience.
If Democrats increasingly prioritize electability, Bloomberg's head-to-head match-ups against Trump in general election polling could provide him with a substantial advantage over other primary candidates.