Former New York mayor Michael Bloomberg has fueled speculation he will confirm his intention to run for president in 2020 with his promotion for his new documentary on climate change.
Bloomberg, who is said to be considering running as a Democrat having toyed with the idea of running as an independent in 2012 and 2016, is due to attend three premiers for his movie Paris to Pittsburgh in New York, Iowa and London ahead of its screening on the National Geographic channel on December 12.
The movie is described as a celebration of how Americans are "demanding and developing real solutions in the face of climate change." The title is a play on President Donald Trump's explanation as to why the U.S. is pulling out of the Paris Agreement.
"I was elected to represent the people of Pittsburgh, not Paris," Trump said in January 2017.
As noted by CNN, Blomberg's decision to have one of the premieres in Iowa, a key early presidential voting state, will further spread the theory he will put himself down a potential candidate.
Last month, the billionaire also spent an estimated $5 million to appear in a "Vote Democratic" national TV ad campaign in an apparent move to raise his profile outside of New York, where he was elected mayor three times.
Ahead of the premiere, Bloomberg wrote an op-ed about climate change in for the Des Moines Register newspaper entitled "Why I'm Coming to Iowa."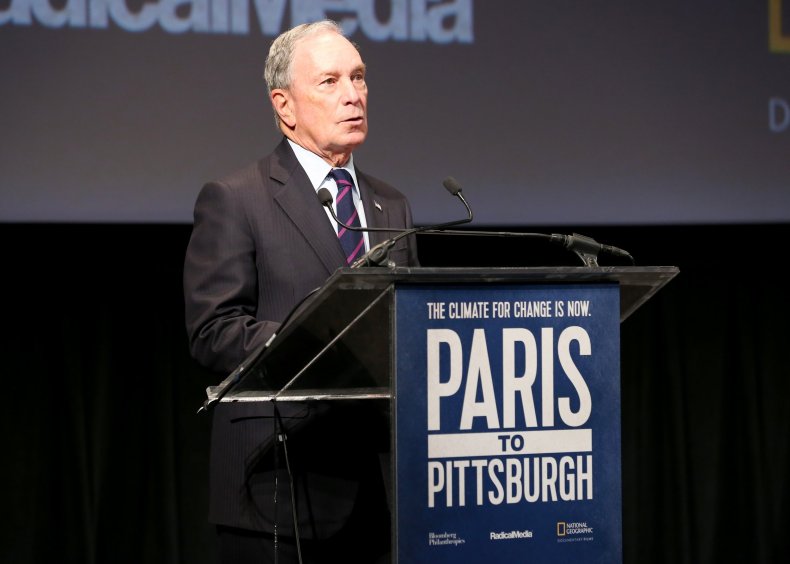 "Iowa gets more than a third of its energy from wind power, the most of any state. If every state got as much of its power from clean sources as Iowa does, America would already be nearly all the way to the goal we set under the Paris Climate Agreement of cutting carbon emissions 26 percent by 2025," Bloomberg wrote.
"Iowans understand what too many leaders in Washington don't: Fighting climate change is good for our health and our economy."
Bloomberg also appeared to fuel speculation further about his 2020 plans in his final paragraph.
"A recent op-ed in the Des Moines Register called for aspiring presidential candidates to present a bold vision for taking on climate change. I couldn't agree more: We need stronger leadership in Washington on this issue," Bloomberg said. "But Americans aren't waiting around for it."
Paris to Pittsburgh is directed by Sidney Beaumont and Michael Bonfiglio and narrated by Golden Globe award-winning actress and activist Rachel Brosnahan.