Michael Bloomberg Vows to Pursue Contested Convention, Says He Doesn't Need to Win Super Tuesday States
Billionaire presidential candidate Michael Bloomberg said Tuesday he doesn't think he can win the Democratic Party's July nomination without a contested convention.
The former New York City mayor told reporters in his Miami campaign office that he's unsure if he can win any of the fourteen Super Tuesday states, adding that he doesn't need to win them if the party holds a contested convention. "You don't have to win states, you have to win delegates," Bloomberg said according to the Associated Press, also pointing to his ability to win delegates in the numerous races after "Super Tuesday" in states such as Florida, where he has campaigned heavily.
Bloomberg's comments follow up a statement made during a Monday Fox News town hall where he said that even a third-place candidate with "a small number of delegates" could still be given the party's nomination under a brokered convention.
On Tuesday, Bloomberg said critics who suggest he's taking away votes from former Vice President Joe Biden, a fellow moderate, are actually getting the scenario backwards.
"Joe's taking votes away from me," he said, NBC News reported.
Bloomberg acknowledged that his projected delegate shortfall will mean a brokered Democratic convention in Milwaukee, Wisconsin this summer is his only route toward securing the party's nomination. He said it's "offensive" to him that Vermont senator and current delegate frontrunner Bernie Sanders is now opposed to a contested convention despite supporting the scenario in 2016.
"Well, I don't think that I can win any other ways," Bloomberg told reporters Tuesday in response to a question about moving forward should he not pick up enough delegates after Super Tuesday.
"But a contested convention is a democratic process," Bloomberg continued. "There are rules in the Democratic Party of how you go about this. And I did see Bernie Sanders said all of a sudden, he didn't want to follow the rules...I find it offensive that Bernie Sanders, who the last time he ran was in favor of that kind of a convention, and now was opposed to it. I guess where you stand depends on where you sit."
The Associated Press notes that Sanders has wavered on his views of a contested Democratic convention since his race against Hillary Clinton in 2016 - a fact hammered upon by Biden and his rivals during a February debate. But Sanders highlights that rules surrounding superdelegates - which were changed in the last four years by the DNC - are the cause behind his differing opinions.
"I'm not being inconsistent with what I said in 2016. ...If we go into Milwaukee, into the Democratic Convention with a lead, having won many, many states, having won the people's vote, and that is reversed at the convention, how do you think people all over this country are going to feel?" Sanders said at the February 24 debate.
Per Democratic National Committee rules, candidates need 1,991 of the 3,979 pledged delegates to win the Democratic nomination on the first ballot. Roughly one-third of all delegates are up for grabs on Super Tuesday. Speaking in Miami, Bloomberg conceded he is unsure if he can win any of the fourteen states casting votes today, including two of the largest, Texas and California.
DNC officials, including chairman Tom Perez and members of the Biden and Bloomberg campaigns, have tossed around discussion of a potential contested convention after Sanders - a long-serving Independent senator - won the popular vote in the first three primary contests. A January 31 Politico report said some DNC leadership members were privately meeting to discuss how to push for a contested convention, angering the Sanders campaign and his supporters.
In Monday's Fox News town hall, Bloomberg touted the concept that Democrats could use "horse-trading" as a means of hashing out who takes the nomination even if he can't win the needed delegates at the end of the primary process.
"[I]t doesn't even have to be one of the two leading candidates," he told reporters Tuesday. "It could be somebody that had only a small number of delegates."
Bloomberg has spent more than a half-billion dollars of his own financial resources in the four months since he entered the 2020 race -- far more than all other Democratic candidates.
The touchy topic of a contested convention erupted once again Tuesday on Fox News, where former interim DNC chairwoman Donna Brazile responded to current Republican National Committee Chairwoman Ronna McDaniel's suggestion of a potential standoff in July.
"First of all, stay the hell out of our race, stay the hell out of our race! ... We're not trying to prevent anyone from becoming the nominee. If you have the delegates and win, you will win," Brazile said.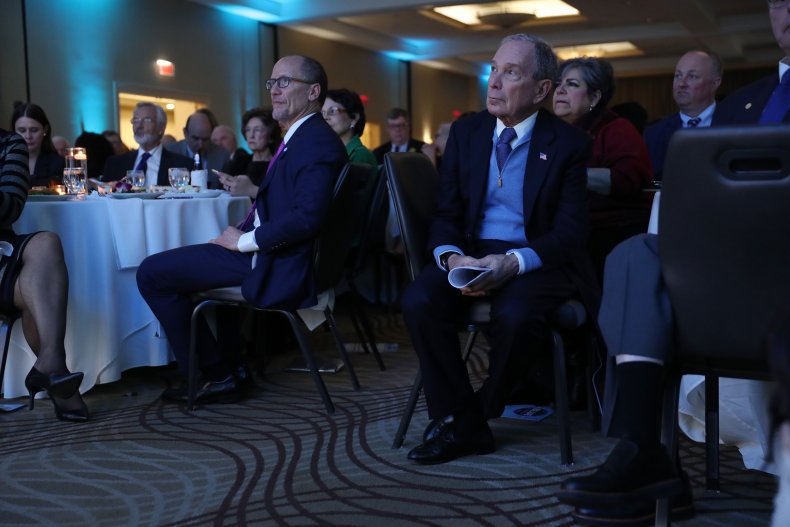 The Bloomberg campaign did not immediately return Newsweek's Tuesday afternoon request for additional context regarding his comments.