From Michael Brown to George Floyd: Why Video Footage Wouldn't Have Changed Perception of Ferguson Shooting
"Hands up, don't shoot."
Nationwide protests against police brutality following George Floyd's death still use the rallying cry born out of the 2014 fatal shooting of Michael Brown. But would Americans have shared in the collective, overwhelming outrage over Floyd's death if Brown's final moments were filmed? Experts say no.
Officer Darren Wilson shot 18-year-old Brown on August 9, 2014, at least six times, according to an official autopsy, and his death sparked weeks of protests and unrest in Ferguson, Missouri. Constructing what happened relied on accounts from Wilson and the few people who bore witness to it, including Brown's friend Dorian Johnson, and a video may have helped uncover the truth that often falls somewhere between individual perspectives.
It wouldn't have sparked the same nationwide condemnation of the officers as the video of Floyd's death, though, because it wouldn't eliminate the usual defense people rely on. Additionally, America wasn't in a pandemic six years ago.
"For those people who are police apologists and side more with law enforcement, they can fall back on the split-second rationale but you can't really do that with George Floyd," said John Shjarback, assistant professor in the department of law and justice studies at New Jersey's Rowan University. "It was unambiguous with George Floyd, the overwhelming public perception was that there's no place for that in American policing."
With Floyd handcuffed on his stomach with an officer's knee on his neck for several minutes, experts said officers had time to think about their reaction. The length of the video—coupled with the lack of confusion as to whether officers were being threatened— took away the typical explanations that support absolving officers of wrongdoing in the court of public opinion, and pushed people who would have normally given the officers the benefit of the doubt to say "that's not right," said David Hooker, associate professor of peacebuilding and conflict transformation at the University of Notre Dame.
Whereas in the case of an officer-involved shooting, decisions are made in an instant. Even if people thought Brown's death was tragic, those outside of the affected community could have rationalized that, rightfully or wrongfully, Wilson made a split-second decision that's required of law enforcement.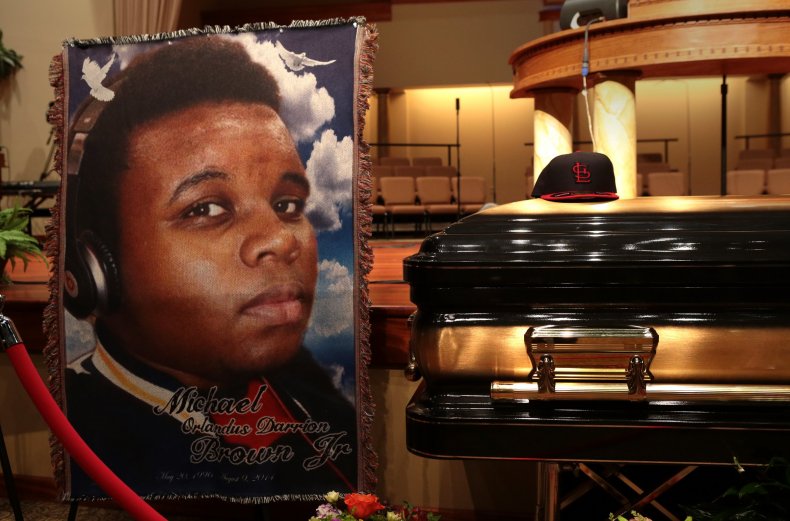 Aside from differences in the altercations, which Shjarback likened to comparing apples to oranges, "context is always decisive," Hooker said. And America in August 2014 wasn't the same as it was in May 2020, and the current state of affairs was more conducive to galvanize a broader awareness outside the community of concern.
"It was George Floyd in the immediate aftermath of Ahmaud Arbery at a time when everything was shut down. So it wasn't just one social media thread or a few social media threads, but also a heavy nation news cycle," Hooker said. "It was the cumulative effect ... that produced the response we're seeing with George Floyd and I'm not sure we had the same circumstances in the Michael Brown case."
Schedule changes from the pandemic coupled with health and economic insecurities and constant political upheaval gave people the time and need to be more attentive to the world around them. It was as if a "path had cleared to allow people to see what was going on," Hooker said.
In the months leading up to Brown's death, a group of researchers conducted a study where a group of people were exposed to a police shooting either by watching a video, listening to audio or reading a transcript of the event. Results of the study found those who watched the video of the shooting were more likely to justify the officer's actions than if they listened to audio or read a transcript. After Brown was shot, researchers replicated the study in October 2014 and found a "sudden and drastic" change in people's perceptions of officer-involved shootings. Having watched the same video as Study 1, participants of Study 2 were less likely to think the shooting was justified, a result Shjarback said showcased the influence public backlash against law enforcement had on perception of use of force.
A grand jury's decision not to indict Wilson sparked protests in cities nationwide and on Sunday, protesters gathered to demonstrate against St. Louis County Prosecuting Attorney Wesley Bell's decision not to charge Wilson. Bell's office reopened the case about five months ago, but announced on Thursday there wasn't sufficient evidence to charge Wilson.
"Although this case represents one of the most significant moments in St. Louis' history, the question to this office is a simple one: Could we prove beyond a reasonable doubt that when Darren Wilson shot Michael Brown he committed murder or manslaughter under Missouri law? After an independent and in-depth review of the evidence, we cannot prove that he did," Bell said.
Brown's death prompted law enforcement agencies around the United States to implement body camera policies and Floyd's death caused Congress to take up the issue of police reform and some local governments to rethink the role law enforcement plays. Experts told Newsweek they're hopeful that change will continue.
Floyd's death and the other events surrounding it are shifting the narrative, so Hooker sees the movement having a durable impact on change. Some reforms, such as banning chokeholds, requiring body cameras and taking away qualified immunity, could be done immediately. But, others, including redirecting funds from police departments to social services and other areas, take about 10 years to have a "fully appreciative impact."
A Washington Post/ABC News poll in June showed 69 percent of U.S. adults saw the recent killings of unarmed Black people by police as indicative of broader problems, a 26 percentage increase from December 2014. However, by July that support started to dwindle, dropping to 55 percent.
Shjarback, who called the drop "upsetting in a way," said the "window of opportunity" to create substantive change is "small and fleeting" because politicians are driving division among the American public in terms of race and policing. Attention is turning to rising crime rates, shootings in cities with some people pegging it to anti-police rhetoric, and discussions about de-policing.
"We're repeating the same things that happened after Ferguson and I'm fearful those types of discussions and framing will take wind out of the sails of police reform talks," Shjarback said. "But, given the nature of the video and the fact that there's less to justify the officer's decision in the Floyd case, I'm hoping the push will remain a little bit longer in order to effect some type of reform."