Michael Bublé Announces Celebrity Cameos for His Christmas Special on NBC
Michael Bublé is spreading Christmas cheer with a holiday special on NBC this festive season—and the crooner has invited a team of celebrity guests to join him.
The star-studded one-hour show—Michael Bublé's Christmas in the City—will offer a mix of musical performances, comedy sketches and cameos. The special also marks the 10th anniversary of Bublé's holiday album, simply titled Christmas.
Who Stars in Michael Bublé's Christmas in the City?
Stars of stage and screen will be joining Bublé for his special, filmed at the famous Studio 8H in Rockefeller Center, New York City.
The Tonight Show host Jimmy Fallon works in the same building and will be moving floors to join Bublé for his Christmas in the City. Another famous comedian—Kermit the Frog—will also be joining the singer for some festive fun.
Cinderella star Camila Cabello will be collaborating with Bublé throughout the evening while "Coming Home" singer Leon Bridges will also drop by. British stage star and Emmy winner Hannah Waddingham (Ted Lasso) is scheduled to appear too.
Bublé and his guests' performances of beloved holiday songs will be accompanied by a 48-piece orchestra.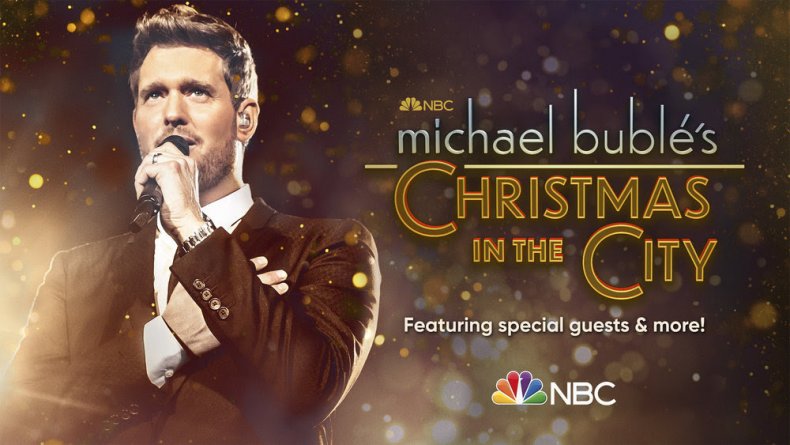 After announcing his guest stars, Bublé said: "I'm especially excited about this year's show and our phenomenal guests. It will be a night to remember and I can't wait to celebrate with everyone."
Michael Bublé's Christmas in the City is executive produced by Saturday Night Live creator Lorne Michaels, Bublé, Bruce Allen, Erin Doyle and Tom Corson.
The Christmas special will air on Monday, December 6, at 10 p.m. ET/PT on NBC.
Michael Bublé's Christmas Album Anniversary
Bublé's festive album Christmas hit the No 1 spot in charts around the world when it was released in 2011 and it remains popular to this day.
The album offers more than a dozen holiday classics, including "Jingle Bells," "Santa Baby" and "White Christmas."
Over the years since 2011, the singer has added bonus tracks and released special editions of the album. For 2021, a 10th anniversary Christmas (Deluxe Edition) of the album is being launched, with a bonus disc that includes more festive covers, duets with Rod Stewart and the Puppini Sisters, and two originals from Bublé.
The 10th anniversary edition is available to pre-order now and will be released on December 3.
There's more good news for Bublé fans. Once Christmas is out of the way, the singer will be bringing out a new studio album in spring 2022.