Michael Cohen Documents Suggest 'Significant Threat' of Donald Trump's Inner Family Being Indicted, Legal Experts Say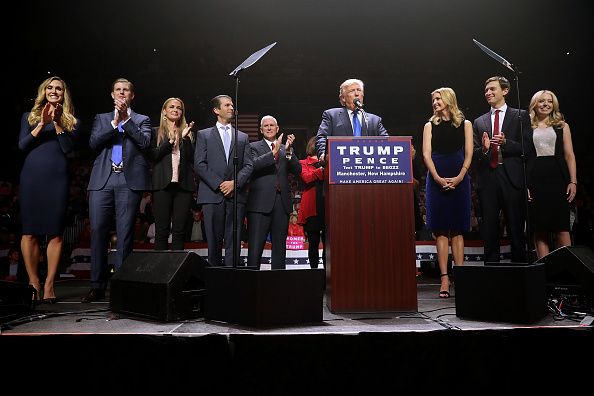 Federal prosecutors unsealed hundreds of pages of documents on Tuesday related to the FBI's 2018 raid on Michael Cohen, and legal experts say that their redaction of all information regarding illegal hush money payments spells trouble for President Donald Trump and his inner circle.
"The threat of additional indictments hitting the president's inner family or business circle from the Southern District of New York, rather than [Robert] Mueller's team, is real, and it is significant," Bradley Moss, a national security lawyer, told Newsweek.
The trove of documents includes search warrants and supporting affidavits from the FBI's raid on Cohen's hotel room, home and office last April. The warrants reveal that special counsel Mueller began collecting Cohen's emails in July 2017—far earlier than previously thought and only weeks after Mueller's appointment as special counsel in the Russian election-meddling investigation. Cohen was Trump's longtime personal lawyer and fixer.
But the biggest revelation, according to experts, is the nearly 20 pages of redacted material relating to Cohen's hush money payments to two women before the 2016 election.
"Virtually all of the details on Michael Cohen's financial crimes independent of that matter were disclosed in today's production," Moss said. "That there are 19 pages of substantive details outlining the conspiracy to commit at least two [if not more] campaign finance felonies in the final weeks of the 2016 election—[which] the government still needs to keep under wraps even after Cohen's guilty plea and allocution—is bad news for President Trump and his associates."
Nick Akerman, a former federal prosecutor who worked on the Watergate investigation, told Newsweek that the redactions make it clear that the probe by the Southern District feds is still continuing and that the "prime target" is likely President Trump.
Asked if Trump, members of his family or his business associates could wind up being indicted as a result of the investigation, Akerman said, "Absolutely." He added, "Because you know [Donald Trump Jr.] signed one of those checks."
In his congressional testimony last month, Cohen told lawmakers that he was reimbursed for the hush money payments with checks signed by Donald Trump Jr. and Trump Organization Chief Financial Officer Allen Weisselberg. It was the first time that the president's son was named in the alleged conspiracy.
Akerman also noted that the information in these search warrants provide only a "snapshot in time" of what prosecutors knew in the summer of 2017. Since that time, investigators have collected even more information from Cohen and other cooperating witnesses.
U.S. District Judge William Pauley III ordered the release of the documents after receiving significant pressure from news organizations, including the Associated Press and The New York Times, to make them public. In his 30-page ruling, Pauley wrote that he ordered the release due to "substantial" public interest in the matters regarding "the integrity of the 2016 presidential election."
Last year, Cohen pleaded guilty to federal charges involving tax fraud, bank fraud and lying to Congress. He has been sentenced to three years in prison and is scheduled to report to jail in May.
But before serving his sentence, Cohen agreed to testify on Capitol Hill before three congressional committees. In his prepared testimony before the House oversight committee, which was broadcast live, Cohen accused his former boss of being a "racist" and a "con man."
In his hearing, Cohen alleged that Trump knew in advance about the WikiLeaks release of damaging information about Hillary Clinton, as well as the 2016 Trump Tower meeting involving Donald Trump Jr., members of the Trump campaign and a Kremlin-linked Russian lawyer.
Cohen also repeated his claim that Trump directed him to make hush money payments to porn actress Stormy Daniels (real name Stephanie Clifford) and Playboy model Karen McDougal to remain silent about their alleged affairs with the president so as to not jeopardize his chances in the 2016 election. Trump responded to Cohen's allegations by calling his testimony a "fake hearing" that was "95 percent lies."
The president also unleashed on Cohen in a Twitter post, writing: "Michael Cohen was one of many lawyers who represented me (unfortunately). He had other clients also. He was just disbarred by the State Supreme Court for lying & fraud. He did bad things unrelated to Trump. He is lying in order to reduce his prison time. Using Crooked's lawyer!"