Michael Cohen Will Provide 'Damaging Information' on Donald Trump, '100 Percent,' Michael Avenatti Says
Michael Avenatti, the lawyer for Stormy Daniels, said Tuesday that he is "100 percent" sure that Michael Cohen will provide "damaging information" on President Donald Trump. Avenatti's comments came as news broke that Cohen, the president's former long-term personal lawyer and self-described "fixer," was set to take a plea deal Tuesday afternoon in New York City.
"I'm not surprised by the news, the only thing I'm surprised about is that it took this long," Avenatti said on MSNBC. "For the first time on MSNBC back in early April I stated that ultimately he was going to be charged and he was going to roll over on the president. And I'm going to maintain that position. I know the likelihood of him providing information damaging about the president is 100 percent."
Asked how he could be sure of that, Cohen responded: "I've been active in connection with the case on behalf of my client. I've been active in communicating with people in law enforcement and there's no question that he's going to be providing and has provided information that's damaging to the president."
Avenatti has been representing Daniels, an adult film star whose real name is Stephanie Clifford, in multiple legal cases against Cohen and the president.
Avenatti claimed that Cohen would dish the dirt on "information relating to the financial dealings that have gone on between him and the president during the 10-12 year time period for which Michael Cohen served as the president's personal counsel."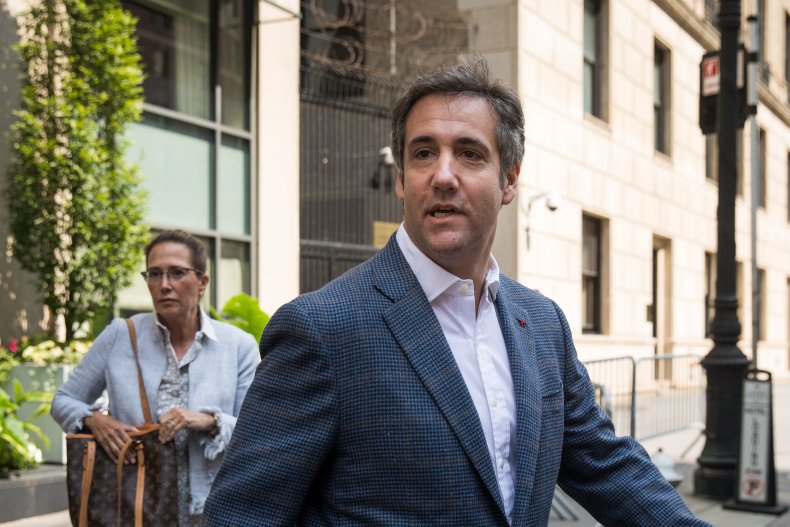 Reports have suggested that the charges would include campaign finance violations. Cohen arranged a $130,000 nondisclosure agreement with Daniels shortly before the 2016 election over her claims of an affair with Trump.
Cohen once said he would take a bullet for Trump, but their relationship has very publicly soured in recent weeks, with the president's new personal lawyer Rudy Giuliani describing Cohen as a "pathological liar." Cohen, meanwhile, has said that his loyalty to his family and country come first.
"Of all the people that the president should have shown loyalty to beyond Vladimir Putin, Michael Cohen should have been second on the list, some would argue he should have been first on the list," Avenatti said. "You don't put a guy who has your innermost secrets on an island and treat him the way Donald Trump has treated Michael Cohen. And ultimately its going to come back and bite him."
Avenatti concluded: "There is zero doubt in my mind that Michael Cohen is cooperating and is going to further cooperate in connection with information that is going to be damaging to this president. There is no doubt in my mind."