Is Michael Cohen About to Flip on Donald Trump? Former Fixer Possibly Facing Imminent Charges, Talking to Watergate 'Rat'
The pressure is mounting on President Donald Trump's former "fixer" Michael Cohen to cooperate with special counsel Robert Mueller's investigation into Russian interference in the 2016 election and possible collusion with the Trump campaign.
Federal investigators could file charges against Cohen by the end of August, having narrowed in on over $20 million in loans obtained by his tax businesses and possible campaign finance law violations, The New York Times reported Sunday.
Separately, Cohen's lawyer, Lanny Davis, has revealed that he has been speaking to John Dean, the former White House counsel who helped bring down Richard Nixon, over recent months. There has long been speculation that Cohen, who once said he would take a bullet for Trump, could flip on the president.
Cohen Distances Himself From Trump
Cohen worked as a lawyer for the Trump Organization for more than a decade and also helped arrange hush-money agreements with women claiming to have had affairs with Trump. The New York attorney is facing serious personal jeopardy, according to The Times, with investigators looking into whether he misrepresented the value of his assets to obtain millions in loans. The FBI raided Cohen's office, home and hotel room in April, a move Trump described as "disgraceful."
But since that time, cracks have begun to appear in the pair's formerly close relationship.
"I put family and country first," Cohen said last month on Good Morning America. "To be crystal clear," he added, "my wife, my daughter and my son, and this country, have my first loyalty."
Later that month, reports surfaced that Cohen was willing to tell Mueller that the president knew about a heavily scrutinized Trump Tower meeting involving high-ranking members of the Trump campaign, including Donald Trump Jr., and a Kremlin-connected lawyer. The meeting was convened into order to obtain "dirt" on Hillary Clinton, but both Trump Jr. and his father, Donald Trump, have claimed that the president was unaware of the meeting until reports about it surfaced last year.
Despite the prospect of imminent charges, it is not too late for Cohen to plead guilty and cooperate with prosecutors rather than face an indictment, The Times reported. But, according to the report, any deal would likely require Cohen to also provide information to Mueller.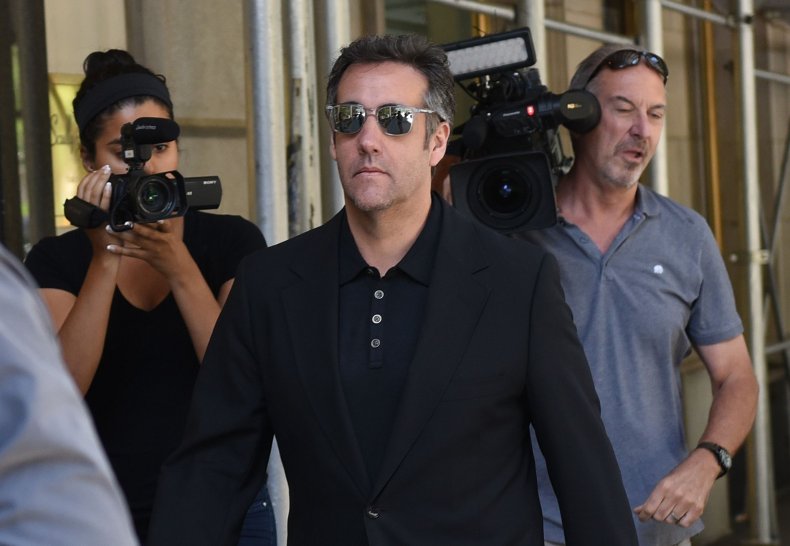 Reaching Out to Nixon's Foe
Cohen's lawyer has further signaled that he is considering his options regarding dishing the dirt on Trump. Davis, who served in the White House of President Bill Clinton during an impeachment investigation, said he has been in contact with John Dean, who famously gave vital testimony that helped topple Nixon more than 40 years ago.
"I reached out to my old friend John Dean because of what he went through with Watergate, and I saw some parallels to what Michael Cohen is experiencing. I wanted to gain from John's wisdom," Davis told Politico.
"I certainly don't want to raise expectations that Mr. Cohen has anything like the level of deep involvement and detailed knowledge that John Dean had in the Nixon White House as a witness to Nixon's crimes, but I did see some similarities and wanted to learn from what John went through."
Trump evidently has a very different impression of Dean's value. In a tweet Sunday following a report that White House counsel Don McGahn had been talking with special counsel Mueller, Trump referred to Dean as a "rat."