Donald Trump Likely Has More Hidden 'Dealings' With Russia After Michael Cohen Bombshell, Says Leading Democrat
Michael Cohen's admitted lies to Congress about President Donald Trump's potential real estate project in Moscow during the 2016 campaign could mean the president had more "hidden" dealings he does not want the public to know about, said the House Democrat expected to take over the committee that could begin the process of impeaching Trump.
Representative Jerry Nadler of New York, who is likely to take over the House Judiciary Committee when Democrats take control in January, was reacting to Cohen's plea deal Thursday with special counsel Robert Mueller over lying to Congress last year about how long a Trump Tower in Moscow deal was under consideration by then-candidate Trump.
"He lied to Congress apparently about dealings between Trump and Russia, that leads me to suspect that there are more dealings that the president wanted hidden. And this raises all kinds of questions...whether the Russian government has any kind of hold over the president," Nadler told CNN after reports of Cohen's deal with Mueller.
Nadler, however, recently downplayed talk of Democrats attempting to impeach Trump and suggested such proceedings could "tear apart" the country unless the president's most ardent supporters agreed his potential crimes warranted an impeachment trial.
Cohen pleaded guilty to making false statements during testimony before the House and Senate Judiciary Committees over a year ago, and told a federal court in New York he did so out of loyalty to Trump.
Cohen originally stated he stopped pursuing the project, which included reaching out to Russian President Vladimir Putin's spokesperson, in January 2016.
"I knew at the time in that I asserted that all efforts had ceased in January 2016, when in fact they continued until June 2016," Cohen said before the court Thursday.
Trump stated in July 2016 that he had no business dealings with Russia, and has repeatedly said his campaign did collude to win the White House.
Cohen had also informed Trump, who is named as "individual 1" in the charging documents filed against Cohen, and members of the president's family about the potential Moscow deal. Cohen told the court he also discussed traveling to Russia for the deal with Trump.
"In fact, I took steps to and had discussions with individual 1 about travel to Russia," Cohen said.
President Trump reacted to Cohen's plea deal when he spoke to reporters just before heading off to Argentina for the Group of 20 summit.
The president called Cohen a "weak person" several times and described him as "not smart." Trump also defended the consideration of the Moscow project during the campaign, stating he was still running the Trump Organization and had every right to do "whatever" he wanted.
"When I run for president, that doesn't mean I'm not allowed to do business," Trump told reporters. "I often joked about the fact I was the only person who campaigned and simultaneously ran a business."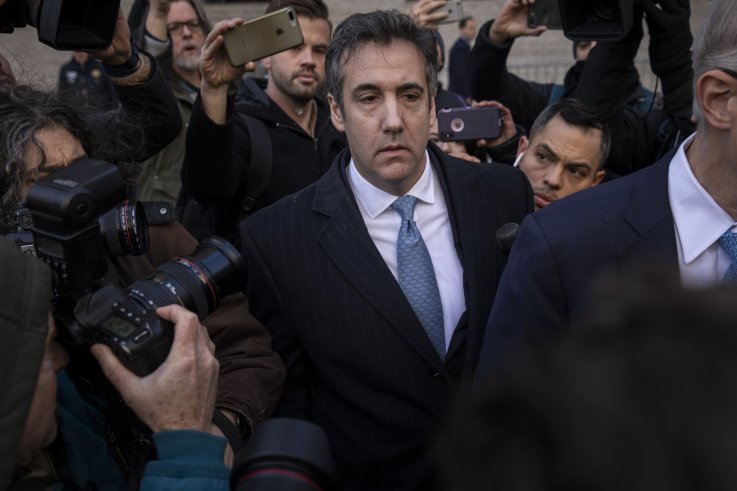 Donald Trump Likely Has More Hidden 'Dealings' With Russia After Michael Cohen Bombshell, Says Leading Democrat | U.S.