The president's loyal, longtime personal attorney, Michael Cohen, will eventually turn on his most prized client as he potentially faces "decades" of prison time, according to the attorney representing adult film star Stormy Daniels.
Michael Avenatti, Daniels's lawyer in the case against Cohen, made his prediction Monday night just hours after a federal judge appeared to indicate she would not allow President Donald Trump's legal team to first vet documents and files seized by the FBI in a raid of Cohen's office eight days ago.
Avenatti said he had little doubt that Cohen would eventually be charged.
"I think Michael Cohen is going to be indicted in the next 90 days," Avenatti told MSNBC. "There's little to no question in my mind that's going to happen."
Avenatti continued: "I think those charges are going to be serious. They're going to potentially carry decades in a federal penitentiary. I also predict within six months thereafter, maybe sooner, he's going to flip on the president."
Cohen has long defended and praised Trump and the pair are friends. But reports have indicated that the president's advisers are more worried about Cohen's predicament, and the potential damage it could do to Trump, than the special counsel's investigation into Russia's interference in the 2016 election.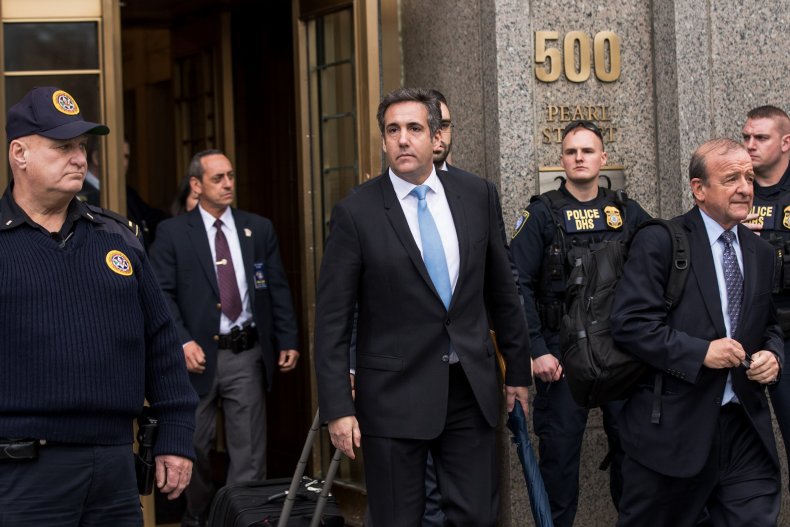 Cohen appeared at New York's Southern District court Monday afternoon for a hearing after his office and residence were raided. His attorneys, and those representing Trump, argued to view the seized materials before federal prosecutors to determine if any were covered by attorney-client privilege. The judge assigned to the case, Kimba M. Wood, did not make an official ruling but said Cohen would have the opportunity to review materials seized.
Following the raid of Cohen's office last week, Trump tweeted that such attorney-client privilege was "dead."
Cohen has represented Trump for years and faced scrutiny for his work while the president was on the campaign trail. Cohen had reached out to Russian President Vladimir Putin's spokesperson in January 2016 for help on potentially building a Trump Tower in Moscow, The Washington Post reported in August.