Michael Cohen Recorded Donald Trump for 'Insurance' Should President Turn on Him, Legal Expert Says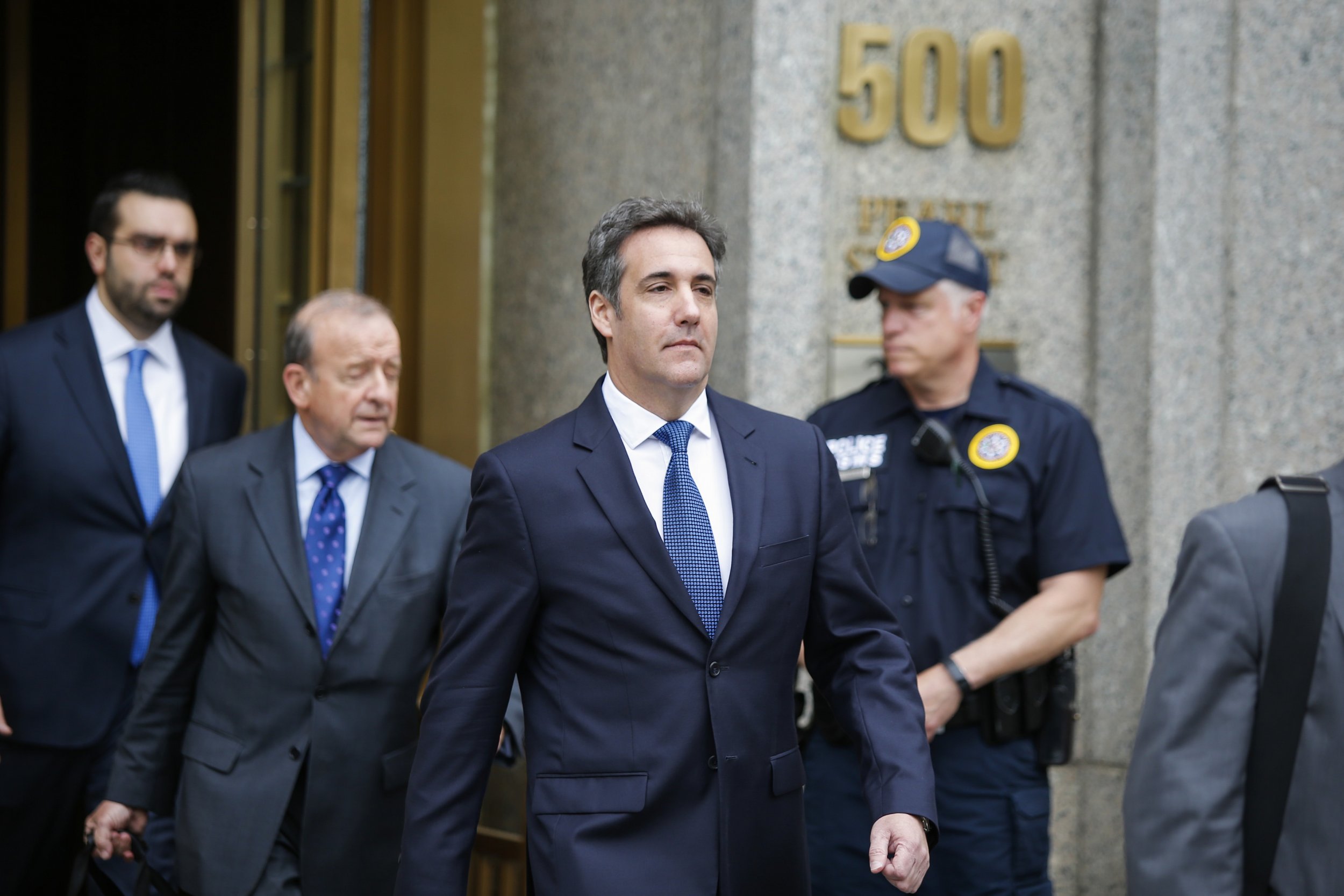 Michael Cohen's apparent recording of former client President Donald Trump is certainly "frowned upon" in legal circles, though not illegal, and his endgame in possibly revealing the recording's existence remains unclear, according to legal experts.
Cohen secretly recorded Trump while they spoke about a potential payment being made to former Playboy model Karen McDougal, The New York Times reported Friday, citing attorneys and others familiar with the recording.
Though it's presently unknown how knowledge got out, the recording was unearthed following FBI raids of Cohen's office, hotel room and residence in April and subsequent digging by federal prosecutors.
Jeffrey Cohen, a New York family law attorney, told Newsweek Friday that it was not illegal for Cohen to record Trump due to New York's one-party consent rule about recordings, but ethically Cohen may have crossed a line.
As to why Michael Cohen would even record his client, Jeffrey Cohen explained the man who famously said he would take a bullet for the president might have believed he needed "insurance" should Trump ever turn on him.
"The reason is that he must have smelled that he would need some cover at some point. Probably just dealing with Trump, seeing how he twists and turns, and how he turned on people, I guess [the recording was] some sort of insurance for himself if Donald Trump turned on him," Jeffrey Cohen said.
He added that it was possible Trump's attorney-client privilege with Michael Cohen could have been waived if the president had spoken to someone else about the payment to McDougal. The one glaring example being Trump friend and American Media Inc. chairman David Pecker, whose National Enquirer paid McDougal $150,000 for her story about an alleged months-long affair with Trump between 2006 and 2007.
By recording Trump possibly without his knowledge, Cohen may have violated ethics rules in New York City. Bruce Green, a professor of law at Fordham University, pointed to an opinion handed down by the New York City Bar's ethics commission in 2003 that found "undisclosed taping as a routine practice is ethically impermissible. We further believe that attorneys should be extremely reluctant to engage in undisclosed taping and that, in assessing the need for it, attorneys should carefully consider whether their conduct, if it became known, would be considered by the general public to be fair and honorable."
Green further noted an opinion from the American Bar Association in 2001 that stated a client can assume their lawyer is keeping records of their information but recordings greatly stretch the boundaries.
"The relationship of trust and confidence that clients need to have with their lawyers...likely would be undermined by a client's discovery that, without his knowledge, confidential communications with his lawyer have been recorded by the lawyer," the ABA opinion read.
"A reasonable client does not believe that when they are talking to their lawyer, even if the lawyer is giving business assistance, that the lawyer is tape-recording them for no apparent reason," Green told Newsweek, while noting Cohen would not lose his legal license over recording a client without their knowledge.
Because the exact conversation that Cohen recorded has not been heard by anyone outside of his legal team and federal prosecutors, there remain several unanswered questions. Chief among them: Does the recording show Trump may have violated the law or committed a campaign finance violation?
Former federal prosecutor Renato Mariotti took to Twitter Friday to state it was "never a good thing" to be recorded with a person currently facing a federal investigation, but that simply having the conversation does not equal anything nefarious or illegal.