Michael Cohen Investigators Considering Imminent $20 Million Bank Fraud Charges, Report Claims
President Donald Trump's former lawyer Michael Cohen is being investigated for alleged bank and tax fraud regarding loans of more than $20 million, according to a breaking news report.
Federal prosecutors are focusing on loans obtained by taxi businesses that Cohen and his family own, according to The New YorK Times.
The Times reported that investigators were looking into whether Cohen "misrepresented the value of his assets" to obtain the multimillion-dollar loans.
Investigators were also scrutinizing whether Cohen violated campaign finance laws by helping to arrange payments to two women—former Playboy model Karen McDougal and porn star Stormy Daniels—in exchange for their silence after they claimed to have had affairs with Trump.
The newspaper named the two banks that are said to have given Cohen the loans as Sterling National Bank and Melrose Credit Union, both of which do business with the New York taxi industry.
The banks were cited in the search warrants in the raids earlier this year on Cohen's office, home and a hotel room where he had been staying.
The Times story said there was no indication that either bank lost money because of the loans or that Cohen failed to make payments—both important aspects with regards to bank fraud allegations. Cohen could face bank fraud charges in connection with other alleged crimes, according to The Times reported.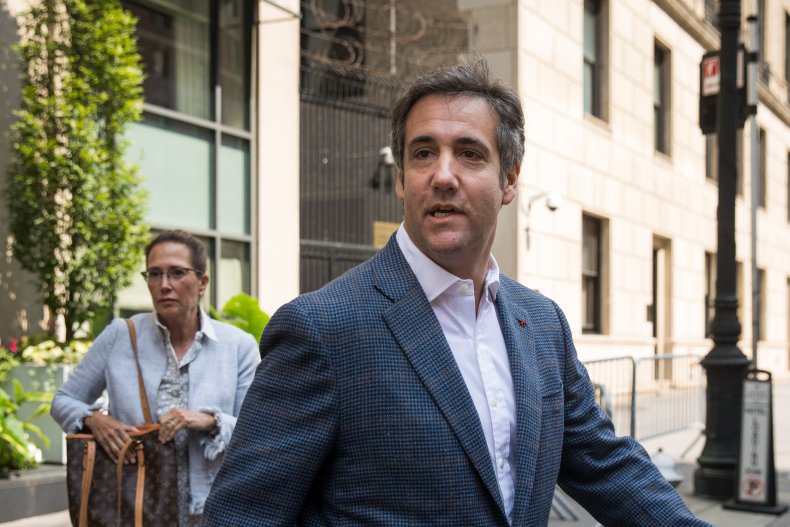 The Times also reported that investigators were looking into how Cohen failed to report the income to the Internal Revenue Service.
The Cohen investigation is in its final stages and prosecutors could file charges by the end of August, according to The Times report. Cohen might also plead guilty rather than face a possible indictment, and has previously suggested he would cooperate with prosecutors in exchange for leniency.
Such a deal would likely include him providing information to special counsel Robert Mueller's investigation into alleged coordination between Russia and the Trump campaign during the 2016 presidential election.
If no plea deal is reached before the end of August, charges against Cohen would likely be brought "well before the midterm elections" on November 6, people familiar with the inquiry told The Times.
Trump has has continued to rail against the Mueller probe as a "witch hunt," denying allegations that his campaign "colluded" with Russia to sway the 2016 U.S. presidential election.
"Study the late Joseph McCarthy, because we are now in period with Mueller and his gang that make Joseph McCarthy look like a baby! Rigged Witch Hunt!," Trump tweeted on August 19.