'Shame on You': Trump Ally Jim Jordan Berated by Michael Cohen in Heated Testimony Clash
As Democrats pressed Donald Trump's former longtime personal lawyer Michael Cohen on his damaging claims about the president, Republicans—and Representative Jim Jordan of Ohio in particular—determinedly tried to shred the character of the onetime deputy finance chairman of the Republican National Committee.
In a series of clashes, Republican members of the committee labeled Cohen a "fake witness," a "travesty" and not credible, while prior statements by Republican lawmakers and the White House called Cohen a "liar" and a "disgraced felon."
Jordan, co-founder of the conservative House Freedom Caucus and top Republican member of the Oversight Committee, took the lead on his party's opposition Wednesday by questioning Cohen's remorse for his prior illegal actions.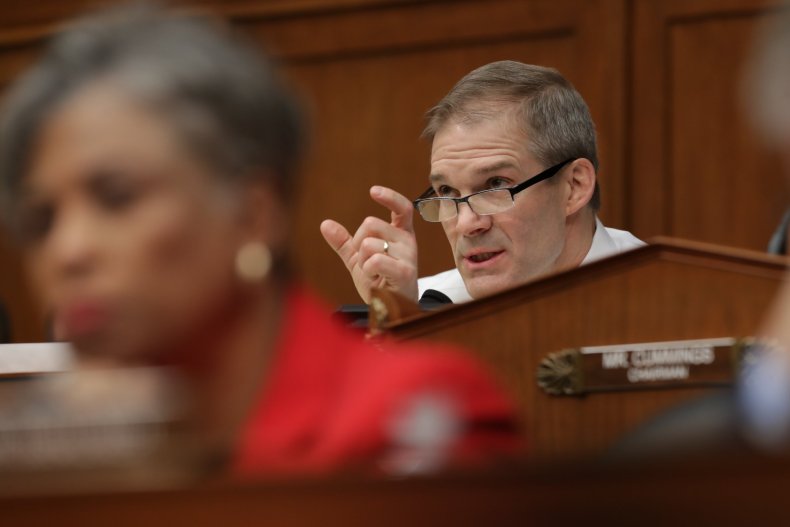 "His remorse is nonexistent," Jordan said. "He just debated a member of Congress, saying 'I really didn't really do anything wrong with the false bank things that I'm guilty of and going to prison for.'"
The former Trump fixer has pleaded guilty to lying to Congress, campaign finance violations and tax and bank fraud. He will begin his three-year prison sentence starting May 6.
Cohen rebuked Jordan's accusations and said he had cooperated with prosecutors and owned up to his wrongdoings.
"Shame on you, Mr. Jordan. That is not what I said. Shame on you," Cohen said. "I took responsibility, and I take responsibility.… I am remorseful, and I am going to prison. I will be away from my wife and family for years, so before you turn around and cast more aspersions, there are people watching you today that know me a whole lot better."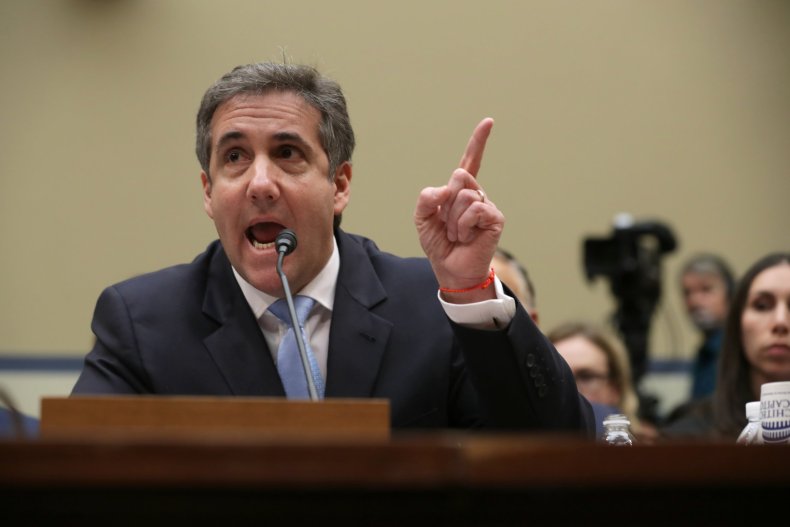 In a USA Today op-ed this week, Jordan and Republican Representative Mark Meadows of North Carolina, also a member of the Oversight Committee, categorized the public hearing as "[rolling] out the red carpet" for an "admitted liar." White House press secretary Sarah Sanders said it was "laughable that anyone would take a convicted liar like Cohen at his word, and pathetic to see him given yet another opportunity to spread his lies."
Democrats have pushed back against Republican's questioning and denigration of Cohen's credibility, defending the longtime Trump ally for being willing to come forward and tell his story.
"We don't have to be naïve, but neither do we have to buy the proposition that because of his past, all future testimony, including this one, is discredited," Democratic Representative Gerry Connolly of Virginia, a member of the committee, told reporters during a brief hearing recess. "That's a false premise, and it's a deliberate one to slander the ability of this witness to come clean and tell us what he knows. The Republicans need to tread lightly because they are accusing this witness of prevarication, ironically, while protecting somebody else that's been accused of a similar thing."
Republican Representative Ralph Norman of South Carolina told Newsweek that Cohen's testimony was "obvious for what it is: It's an effort to discredit the president."
In another clash, Republican Representative Mark Green of Tennessee labeled Cohen a "fake witness" as the congressman inquired why the committee was even bothering to hear from Cohen after he admittedly lied to Congress in past testimony.
"With all the lies and deception, the self-serving fraud. It begs the question: What is the majority party doing here?" Green said. "No one can see this guy as credible. He will say whatever he wants to accomplish his own personal goals. He's a fake witness. His presence here is a travesty."
Green pressed Cohen on any book deals he may have been offered in exchange for his testimony against the president. In his response, the former attorney, who confirmed he's been officially disbarred from practicing law, said he has not accepted any deals, including those involving movies.
"I have no book deal right now," Cohen told Green. "I have been contacted by many, including for television, a movie. If you want to tell me who would like to play you, I'm more than happy to write the name down."
This story has been updated with comments from Representatives Gerry Connolly and Ralph Norman.