Michael Cohen's Lawyers Cite DMX in Effort to Avoid Prison Time
The cloud of controversy surrounding President Donald Trump—the investigations, the insults, the truly weird headlines—is a sprawling, whirling squall picking up people and things as it goes. Like an odd version of six degrees of Kevin Bacon, somehow Trump seems to touch everything these days.
Anyways: Enter DMX.
When the lawyers for Michael Cohen—Trump's former lawyer and so-called fixer—filed a sentencing submission last week (and added to the docket again Wednesday) they mentioned the rapper formally known Earl Simmons in an effort to get a reduced sentence.
Cohen pleaded guilty to campaign finance violations as well as bank and tax fraud and, in the document, his lawyers argued DMX's tax evasion was much more complicated and he served only a year.
Cohen's attorney's wrote in the DMX portion of the document:
"For example, in United States v. Earl Simmons, the defendant, a recording artist known as 'DMX,' engaged in a 'brazen, multi-year scheme to fraudulently conceal millions of dollars in income . . . and avoid paying $1.7 million in taxes' by, among other things, (1) '[a]rrang[ing] for hundreds of thousands of dollars of musical royalties to be deposited into the bank accounts of his managers, and then had portions of that money disbursed to himself in cash or used to pay personal expenses,' (2) '[r]eceiv[ing] half of concert performance fees into the bank accounts of his managers, who then distributed cash to [him], and then typically receiv[ing] the other half himself in cash,' (3) demanding payment for his participation in a reality television show without withholding taxes, (4) failing entirely to file personal tax returns during a period when he earned more than $2.3 million, and (5) filing a false personal bankruptcy petition understating his income."
Cohen's lawyers argued his tax evasion was far less complicated than that of DMX, while noting: "In [DMX's] case, the Court imposed a one-year prison term where the advisory Guidelines range was 57 to 60 months."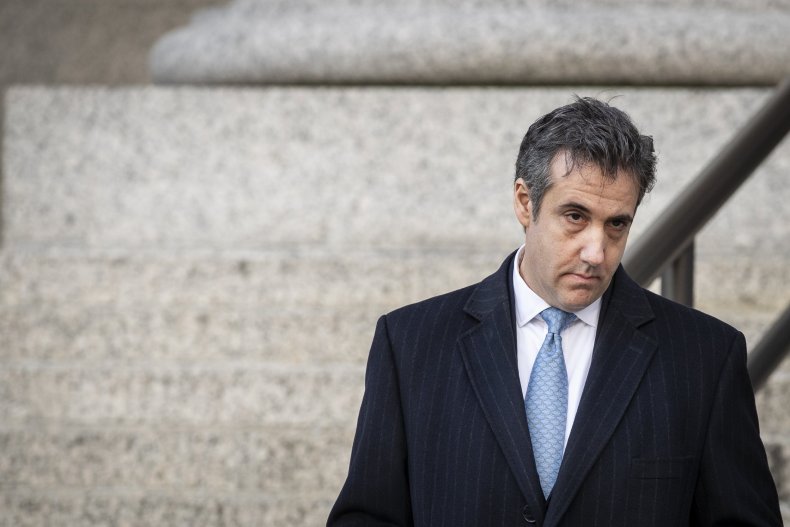 For good measure, Cohen's attorneys then cited tax cases of music producer Kaseem "Swizz Beatz" Dean, boxer Floyd Mayweather Jr., musician Willie Nelson, actor Chris Tucker and actor John Travolta. But while these other famous people didn't face prison time for their tax cases, they also didn't plead guilty to campaign finance violations and bank fraud.
Attorneys for Cohen—who also pleaded guilty to lying to Congress about a Trump real estate project in Moscow—have pushed for no prison time, which seemingly enraged Trump, considering his former lawyer has opted to cooperate with special counsel Robert Mueller.
"'Michael Cohen asks judge for no Prison Time.' You mean he can do all of the TERRIBLE, unrelated to Trump, things having to do with fraud, big loans, Taxis, etc., and not serve a long prison term?" the president tweeted this week. "He makes up stories to get a GREAT & ALREADY reduced deal for himself, and get...his wife and father-in-law (who has the money?) off Scott Free. He lied for this outcome and should, in my opinion, serve a full and complete sentence."