Michael Cohen Says He Will 'Tell It All' to Help Fill In Mueller Report Redactions for the American People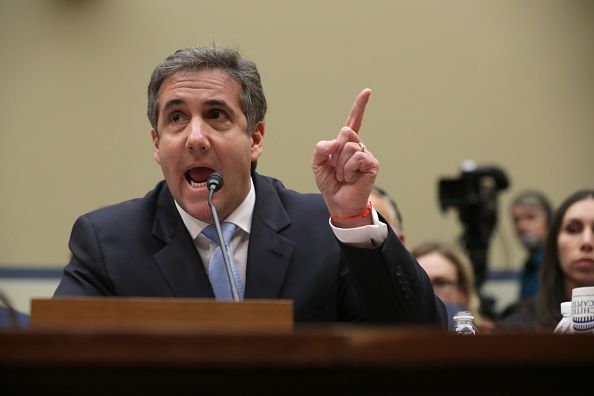 President Donald Trump's former personal attorney Michael Cohen said he would fill in the holes of Attorney General William Barr's redacted version of the special counsel's report on Russian interference in the 2016 election.
"Soon I will be ready to address the American people again… tell it all…and tell it myself!" Cohen tweeted on Thursday morning. The social media post came just hours before Barr was expected to release a redacted report of Robert Mueller's findings.
Cohen's attorney, Lanny Davis, also tweeted that his client was in possession of information known by the special counsel's office and could help "fill in the bulk of the redactions" made by the attorney general.
"As the #Country waits for the #MuellerReport, know this…it does not matter how #Barr #RedactedMuellerReport. @MichaelCohen212 has 7 days, 70 hours, + 100 pages of what #TeamMueller knows and can fill in the bulk of the redactions. Nice try Mr. @POTUS. #Truth We will tell it all," Davis wrote.
The report is expected to reveal what the special counsel found about the ties between the Trump campaign and Russia during the 2016 election. But Mueller's near 400-page document will be redacted, reportedly "lightly," to protect sensitive and classified information.
Barr has been working with the special counsel's office to redact four type of information: grand jury material, foreign intelligence, facts relating to ongoing investigations and information about people who were not charged with a crime.
Redactions are to be expected for such a high-profile legal report, but allegations that Barr misrepresented the conclusions drawn by Mueller and his team have guaranteed that they will be examined with a fine-tooth comb.
Congressional Democrats have railed against the Justice Department's insistence that portions of the Mueller report would be redacted. The House Judiciary Committee has already authorized a subpoena for the entire report should its members believe they need more information than what was provided in the released version.
House Speaker Nancy Pelosi and Senate Minority Leader Chuck Schumer released a joint statement on Thursday morning calling for Mueller to provide public testimony in the wake of Barr's "regrettably partisan" handling of the report.
Cohen has been sentenced to three years in prison for charges involving tax fraud, bank fraud, lying to Congress and campaign finance violations. He is scheduled to start serving his sentence in May.
But before serving his sentence, the president's once-loyal "fixer" provided damning testimony to lawmakers about his former boss. In the live hearing, Cohen told Congress that Trump was a "racist" and a "cheat."
In the testimony, Cohen said that Trump knew in advance about the WikiLeaks release of damaging information about Hillary Clinton, as well as the 2016 Trump Tower meeting between Donald Trump Jr., members of the Trump campaign and a Kremlin-linked Russian lawyer.
He also repeated his claim that the president had directed the hush money payments to Stormy Daniels and Karen McDougal during the 2016 election, to keep they quiet about their alleged affairs with Trump.
The president quickly unleashed on Cohen following the testimony, calling the episode a "fake hearing" and insulting his former attorney as a liar and a "fraud."