Michael Cohen Sentencing Memo: SDNY Recommends Trump Lawyer Serve 'Substantial' Prison Time, Says He's 'Not a Hero'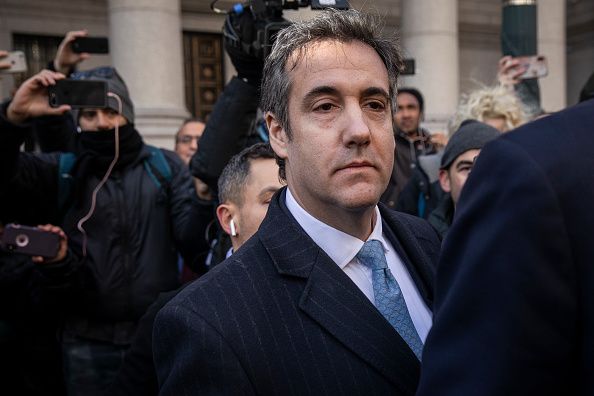 Special counsel Robert Mueller said he will not "take a position with respect to a particular [prison] sentence" for Donald Trump's former personal attorney Michael Cohen, who pleaded guilty last week to lying to Congress about a Trump Tower project in Moscow. It was a far harsher message from federal prosecutors in the Southern District of New York, however, which recommended he serve a "substantial" prison term of 51 to 63 months.
"Cohen repeatedly declined to provide full information about the scope of any additional criminal conduct in which he may have engaged or had knowledge," the 40-page filing read.
Mueller's team, meanwhile, praised Cohen's cooperation in their investigation.
"The government does not take a position with respect to a particular sentence to be imposed but submits that it is appropriate for any sentence of incarceration to be served concurrently to any sentence imposed by the Court in United States v. Cohen," the government memorandum reads.
Cohen will be formally sentenced by a judge on Wednesday, December 12.
Cohen admitted that he made false statements to the Senate Intelligence Committee in 2017 when he claimed that negotiations between Trump's company and Russia ended in January 2016. In reality, he told the court, active discussions about the real estate project were still going on as late as June 2016, just one month before Trump received the Republican Party's nomination.
Cohen said that he lied to Congress "out of loyalty" to the president and his "political messaging."
It was the second time Cohen pleaded guilty in federal court in the past four months. In August, Cohen confessed to several federal crimes, including campaign finance violations, bank fraud and tax evasion as part of an investigation by prosecutors in the Southern District of New York. During this first plea, Cohen dropped the bombshell that he made campaign finance violations, which involved making hush money payments to Stormy Daniels and Karen McDuggal, at the direction of then-candidate Trump.
Trump has repeatedly attacked Cohen, who was once dubbed the president's "fixer," for his statements in court. Trump told reporters shortly after news broke of Cohen's agreement with Mueller last week that his former personal attorney was a "weak person" and a liar.
"'Michael Cohen asks judge for no Prison Time.' You mean he can do all of the TERRIBLE, unrelated to Trump, things having to do with fraud, big loans, Taxis, etc., and not serve a long prison term? He makes up stories to get a GREAT & ALREADY reduced deal for himself, and get," Trump wrote on Twitter, adding that "his wife and father-in-law (who has the money?) off Scott Free. He lied for this outcome and should, in my opinion, serve a full and complete sentence."
Mueller's sentencing recommendation for Cohen is his second memo of the week as he is reportedly "tying up loose ends" of the investigation before releasing his final report.
On Tuesday evening the special counsel released his sentencing memo for Trump's former national security adviser Michael Flynn, in which he recommended that Flynn serve no prison time after providing "substantial assistance" to the Russia probe.
"The defendant deserves credit for accepting responsibility in a timely fashion and substantially assisting the government," the 13-page, heavily-redacted memo read.
The special counsel's team was also expected to explain on Friday why it accused Trump campaign chairman Paul Manafort of breaching his plea deal with Mueller by lying to investigators. In late November Mueller scrapped the plea deal, stating that Manafort lied on a "variety of subject matters" but did not elaborate further.
As Mueller has continued to make advancements in the Russia probe, President Trump has only increased his attacks on the special counsel and the so-called "Witch Hunt."
"We will be doing a major Counter Report to the Mueller Report. This should never again be allowed to happen to a future President of the United States!" Trump wrote on Twitter on Friday morning.