Michael Cohen Hits Back at Republican Calling Him a 'Pathological Liar,' Asks, 'Me or the President?'
In testimony on Wednesday in front of Congress, Michael Cohen—a former lawyer and fixer for President Donald Trump—suggested his old boss was a "pathological liar."
Representative Paul Gosar, the Republican from Arizona, initially lobbed the accusation at Cohen.
"You're a pathological liar," he said to Cohen. "You don't know truth from falsehood."
Cohen responded to Gosar with an insult intended for Trump: "Are you referring to me, sir, or the president?"
During Cohen's testimony Gosar also pointed to a sign placed behind Republican lawmakers displaying the "old adage that our moms taught us, 'Liar, liar, pants on fire,'" while saying nobody should trust Cohen.
Cohen was sentenced in December to three years in prison for multiple crimes, including lying to Congress. He is scheduled to report to prison in May.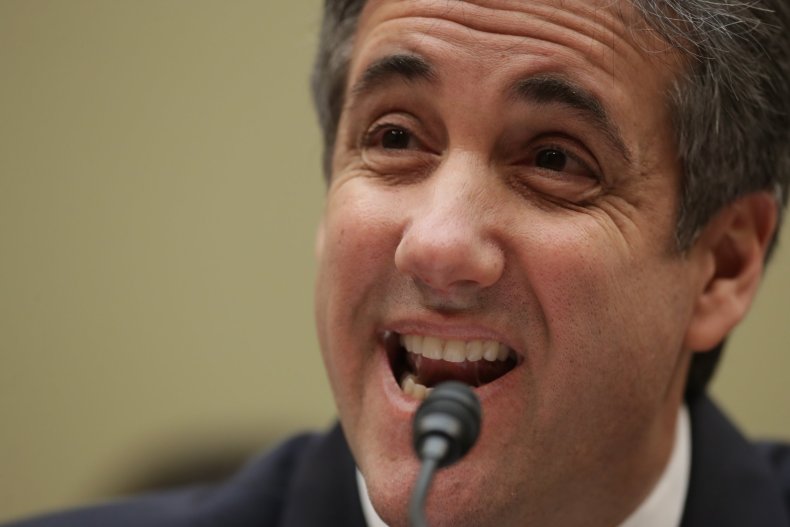 Cohen's testimony has been, at times, quite blunt. "I am ashamed of my weakness and my misplaced loyalty—of the things I did for Mr. Trump in an effort to protect and promote him," he said, for instance. "I am ashamed that I chose to take part in concealing Mr. Trump's illicit acts rather than listening to my own conscience. I am ashamed because I know what Mr. Trump is. He is a racist. He is a con man. And he is a cheat."
Republican lawmakers have spent a fair bit of time going after Cohen. The White House did the same this week, attacking the character of Cohen, who worked for Trump for about a decade.
"Disgraced felon Michael Cohen is going to prison for lying to Congress and making other false statements," White House press secretary Sarah Sanders said in a statement. "Sadly, he will go before Congress this week and we can expect more of the same. It's laughable that anyone would take a convicted liar like Cohen at his word, and pathetic to see him given yet another opportunity to spread his lies."