Michael Cohen's Transactions During the 2016 Campaign Are Being Investigated
President Donald Trump's personal lawyer is under review after federal prosecutors found he gained at least $774,000 from two financial transactions during the 2016 campaign in an effort to help Trump, according to public records reviewed by The Wall Street Journal.
Michael Cohen's transactions could be part of a much larger investigation by the Manhattan federal prosecutors and the FBI, who are looking into Cohen to see if he violated laws in raising money for the campaign and hiding information about Trump, The Wall Street Journal reported.
Real-estate records cited by the Wall Street Journal found that Cohen almost doubled the amount on a bank credit line linked to his apartment in Manhattan and was able to increase the amount to borrow by $245,000. Another real-estate record found that Cohen accessed $529,000 three months earlier from a new mortgage cosigned on a new condo at Trump World Tower in New York.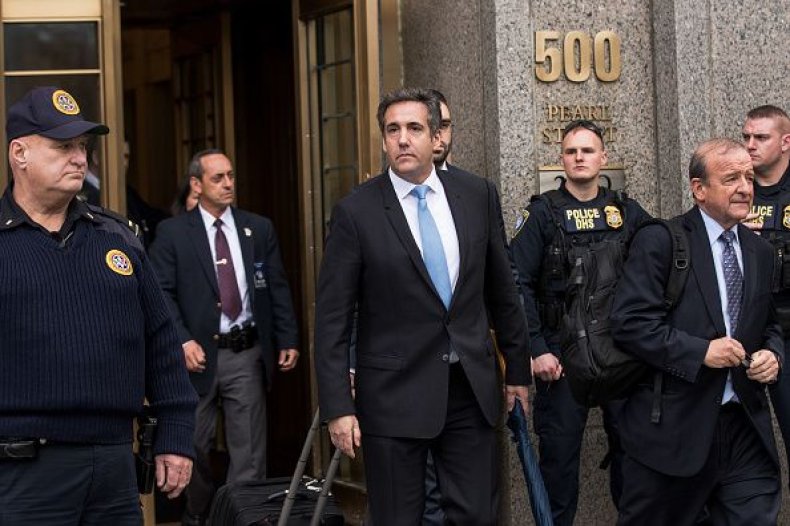 Rudy Giuliani, another one of Trump's lawyer's, announced on Wednesday that Cohen had done this before in an effort to resolve problems for Trump. He also said that Trump had reimbursed Cohen for the $130,000 payment over a series of months he made to adult film actress Stormy Daniels as hush money for their alleged affair.
"It's not campaign money. No campaign finance violation. They funneled through a law firm and the president repaid it," Giuliani said to Sean Hannity during an interview.
Trump took to Twitter on Wednesday to defend Cohen in a series of tweets and said the transactions that were made were legal.
"Mr. Cohen, an attorney, received a monthly retainer, not from the campaign and having nothing to do with the campaign, from which he entered into, through reimbursement, a private contract between two parties, known as a non-disclosure agreement, or NDA. These agreements are very common among celebrities and people of wealth. In this case it is in full force and effect and will be used in Arbitration for damages against Ms. Clifford (Daniels)," Trump tweeted.
"The agreement was used to stop the false and extortionist accusations made by her about an affair despite already having signed a detailed letter admitting that there was no affair. Prior to its violation by Ms. Clifford and her attorney, this was a private agreement. Money from the campaign, or campaign contributions, played no roll in this transaction," he continued.
Cohen's office and hotel room in New York City were raided by federal authorities back in April. Trump called the raid a "total witch hunt."