Michael Cohen Says Trump's Tax Return Release Would Result in 'Penalties, Fines and Possibly Even Tax Fraud'
President Donald Trump's ex-lawyer and fixer Michael Cohen said that his former boss is afraid for his tax returns to be released publicly, as he is concerned this would likely result in financial penalties and possibly even show tax fraud.
Cohen worked for Trump from 2006 until 2018, and served as the deputy finance chairman for the Republican National Committee from 2017 to 2018. He is currently under home confinement as he continues to serve a three-year federal prison sentence from his house due to the pandemic. His August 2018 guilty plea came as the result of his connection to Trump, including campaign finance violations for paying off adult film star Stephanie Clifford (known professionally as Stormy Daniels).
Speaking to CNN from his home on Wednesday morning to promote his new memoir Disloyal, Cohen said that Trump doesn't want his tax returns released publicly because they will show "his wealth is not as significant" as he claims. The disgraced lawyer said that he also suspects "they were probably lenient in how they took deductions."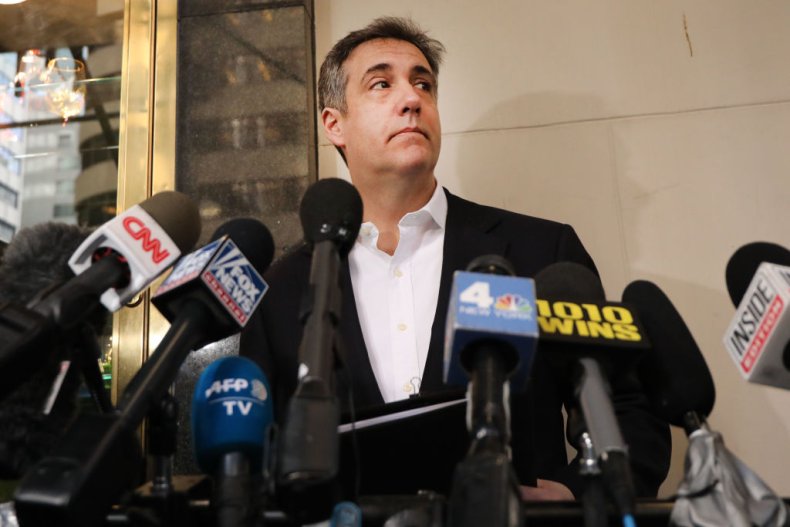 "His biggest fear is, if that tax return was released, there's a whole slew of accountants and forensic accountants that will rip through it and he will end up with a massive tax bill, penalties, fines and possibly even tax fraud," Cohen said.
Newsweek reached out to the Trump Organization—the president's company of which he remains the sole owner—for comment on Cohen's claims, but it did not respond by the time of publication. White House Press Secretary Kayleigh McEnany has previously dismissed claims made by Cohen in his new book.
"Michael Cohen is a disgraced felon and disbarred lawyer, who lied to Congress. He has lost all credibility, and it's unsurprising to see his latest attempt to profit off of lies," McEnany said.
Trump has been fighting a long legal battle to keep his tax returns from the public. Before his election in 2016, he dismissed the longstanding tradition of presidential candidates releasing their tax returns publicly, claiming he could not because he was under audit by the Internal Revenue Service (IRS). Financial and legal analysts quickly pointed out that an audit would not prevent a presidential candidate or anyone from making their tax returns public.
The Supreme Court ruled in July that the president was not immune from a subpoena to turn over his tax records to New York prosecutors for an ongoing probe of possible campaign finance violations and tax law violations. Despite the Supreme Court ruling, the president's lawyers have continued to pursue other legal avenues to prevent the records from being handed over. However, even if they were given to the New York prosecutors now, it is highly unlikely they would be made public prior to the November 3 election.