12:30 p.m.
12:20 p.m.
In addition to three years in prison, Michael Cohen will be required to pay a forfeiture of $500,000, restitution of $1.4 million and a fine of $50,000.
12:10 p.m.
Cohen will be allowed to voluntarily surrender by March 6. U.S. District Judge William Pauley said he would recommend that Cohen serve his term in Otisville, New York, which is less than two hours from where his family lives.
12:05 p.m.
Cohen is sentenced to 36 months in federal prison.
12:00 p.m.
Pauley said that Cohen cooperated around "core topics under investigation" and provided "relevant and useful" information. "Our system of justice would be less robust without the use of cooperating agreements with law enforcement," the judge said. But his participation "does not wipe the slate clean," and the court "believes a significant term of imprisonment" is justified.
11:55 a.m.
Pauley is now speaking. He said Cohen pleaded guilty to a "veritable smorgasbord of fraudulent conduct."
"Taxes are the price we pay for a civilized society," he says.
11:50 a.m.
Cohen began by taking "full responsibility for each act that I pleaded guilty to," including those that implicate the "president of the United States of America."
He said that his "weakness was a blind loyalty to President Trump" but that "today is the day that I am getting my freedom back."
His hits on Trump continued: "I have been living in a personal and mental incarceration ever since the day that I accepted the offer to work for a real estate mogul whose business acumen that I deeply admired." He now sees, he said, "the unbearable pain that my associations and my actions brought to my entire family."
Cohen said he "felt it was [his] duty to cover up [Trump's] dirty deeds." He opted out a plea deal, he explained, because "I do not need a cooperation agreement in place to do the right thing."
He then claimed that the president, "the most powerful man in the world," mocked him and called him "a rat." Trump, he claimed, tried to influence the trial and "implicate him."
Cohen began crying and apologized. "You deserve to know the truth, and lying to you was unjust," he said.
11:45 a.m.
Cohen is now approaching the podium to deliver a prepared speech.
11:40 a.m.
Nicolas Roos, an assistant U.S. attorney for the Southern District of New York, is up.
He defended his treatment of Cohen. "For all the hypothesizing that [Cohen lawyer Guy Petrillo] has done, Mr. Cohen can't have it both ways," he said. "There is a standard way this office conducts cooperation. We've treated Mr. Cohen just the way we treat every other defendant that deals with the U.S. attorney's office."
Cohen's charges, Roos said, "portray a pattern of deception, of brazenness and of greed," and were "serious because of the tremendous societal costs."
Cohen's actions, he said, hurt "free and transparent elections, and in committing these crimes, Cohen has eroded faith in the electoral process."
11:35 a.m.
Jeannie Rhee, representing special counsel Robert Mueller, delivered a short speech summarizing her earlier memo. She called Cohen "credible" and said he delivered "valuable information" about "any links between a campaign and a foreign government." She said that she believes Cohen "told the truth" but that she couldn't say much because of the "ongoing investigation."
11:25 a.m.
Petrillo told the Pauley that his client has not been treated like other defendants because "Mr. Cohen had the misfortune to have been counsel to the president."
"This is a man whose first instinct is to help," he said. Cohen does not "engage in sharp business practices" and has not hurt any financial institutions. "No bank has ever lost money dealing with Michael Cohen. I'll say that again: No bank has ever lost money dealing with Michael Cohen. No friend in need has ever been turned away," he said.
Cohen, he said, wanted to fully cooperate but is "wary of a long-term cooperation agreement for personal reasons and because he wants both to remove himself and remove his family from the glare of the cameras."
Finally, Petrillo took a dig at the Southern District of New York, saying it was upset at the spotlight the Mueller investigation had gained. "Power to the Southern District," he said. "They want to make a bigger case than they've already made. And maybe there's a little pride involved here in not being at the center of attention."
11:10 a.m.
Petrillo is now speaking on Cohen's behalf. He introduced Cohen's family, his children, wife, mother and father, cousin and in-laws who all came out to show their support.
Petrillo said that Cohen knew he would "face a barrage of attacks by the president," when he offered his help to Mueller. "He knew that the president might shut down the investigation."
Petrillo also said that his client offered evidence against "the most powerful person in our country" without knowing what the results would be. He called this Mueller probe the most important "since the days of Watergate."
11:02 a.m.
Pauley has calculated sentencing guidelines for Cohen to be between 51 to 63 months, but he is not bound to those and can go above or below, depending on the hearing's outcome.
Also, Stormy Daniels lawyer Michael Avenatti is said to be in attendance.
11 a.m.
Cohen is seated in the 20-floor courtroom between his two attorneys. Representatives from the Southern District of New York have also arrived. The courtroom is at full capacity, and two overflow rooms have been set up on the 15th floor to accommodate the media.
10:45 a.m.
Cohen has arrived at the Manhattan federal courthouse with his children and wife. His sentencing hearing is expected to begin at 11 a.m.
Original story:
Michael Cohen, President Donald Trump's former lawyer and "fixer," will be sentenced by a federal judge Wednesday afternoon for multiple crimes, including lying to Congress about a Trump project in Russia and purchasing the silence of adult film star Stormy Daniels, who allegedly had an affair with Trump, during the 2016 presidential campaign.
Cohen's lawyer has asked the judge for no jail time because, he said, his client's misdeeds were caused by his "fierce loyalty" to the president. He placed the blame instead on Trump and his advisers. Cohen was in "close and regular contact with White House-based staff and legal counsel" while he falsely testified to Congress about Russia, his lawyer alleged, and it was Trump who asked Cohen to pay off Daniels (real name Stephanie Clifford) and former Playboy model Karen McDougal.
Cohen has pleaded guilty in two cases, one brought by special counsel Robert Mueller for lying to Congress and the other by prosecutors from the Southern District of New York (SDNY) for campaign finance violations, tax evasion and making false statements to a bank. But Cohen has cooperated with both Mueller and federal prosecutors, which could lessen the time he has to serve.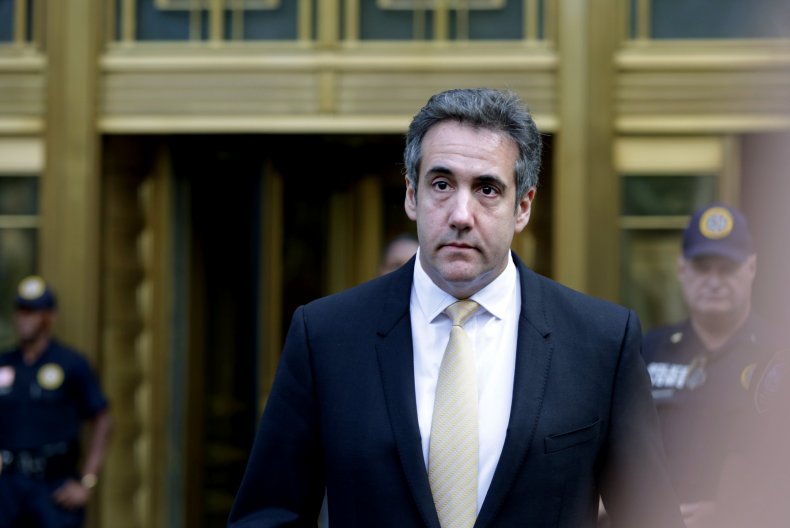 Mueller last week said he did not want to sentence Cohen to any jail time beyond what he gets for his charges from the SDNY. In the New York case, he could face up to five years and three months in prison but will likely get a lesser sentence.
New York prosecutors have argued that Cohen receive a "substantial term of imprisonment" but have recommended a sentence of three years and six months.
Trump, however, has made it known that he wants his former employee to be prosecuted to the full extent of the law. "'Michael Cohen asks judge for no Prison Time.' You mean he can do all of the TERRIBLE, unrelated to Trump, things having to do with fraud, big loans, Taxis, etc., and not serve a long prison term?" the president tweeted last week. "He makes up stories to get a GREAT & ALREADY reduced deal for himself, and get his wife and father-in-law (who has the money?) off Scott Free. He lied for this outcome and should, in my opinion, serve a full and complete sentence."
He later tweeted: "Cohen just trying to get his sentence reduced. WITCH HUNT!"
Trump likely takes offense at Cohen working with Mueller in his investigation into Russian meddling in the 2016 election. Mueller has said that Cohen provided "useful" and "relevant" information to his probe.
Cohen will address U.S. District Judge William Pauley and plead for leniency during his 11 a.m. sentencing hearing Wednesday.