Michael Cohen Says Trump Organization Stopped Paying His Legal Fees When He Began Cooperating With Mueller, SDNY
Donald Trump's former personal attorney Michael Cohen, who turned on his boss in a theatrical congressional testimony earlier this month, is now suing the Trump Organization for allegedly not paying his legal fees as he cooperated with prosecutors.
The lawsuit, filed in New York Supreme Court on Thursday, accuses the Trump Organization of breaching contract by stopping payments for Cohen's legal defense.
"The Trump Organization agreed to indemnify Mr. Cohen and to pay attorneys' fees and costs incurred by Mr. Cohen in connection with various matters arising from Mr. Cohen's work with and on behalf of the Organization," the complaint read. "These matters included multiple congressional hearings, Special Counsel Robert S. Mueller III's investigation, and others."
Cohen claims that the Trump Organization owes him $1.9 million in unpaid legal fees and costs. The former attorney also claims that the organization owes him another $1.9 million that he was forced to give up "as part of his criminal sentence arising from conduct undertaken" at the request of the Trump Organization.
The payments allegedly ended when Cohen began working with special counsel Robert Mueller and prosecutors in the Southern District of New York, both of which are actively investigating the president.
According to the complaint, the Trump Organization began refusing compensation "only after it became clear that Mr. Cohen would cooperate in ongoing investigations into his work for the Trump Organization and it's principals, directors, and officers."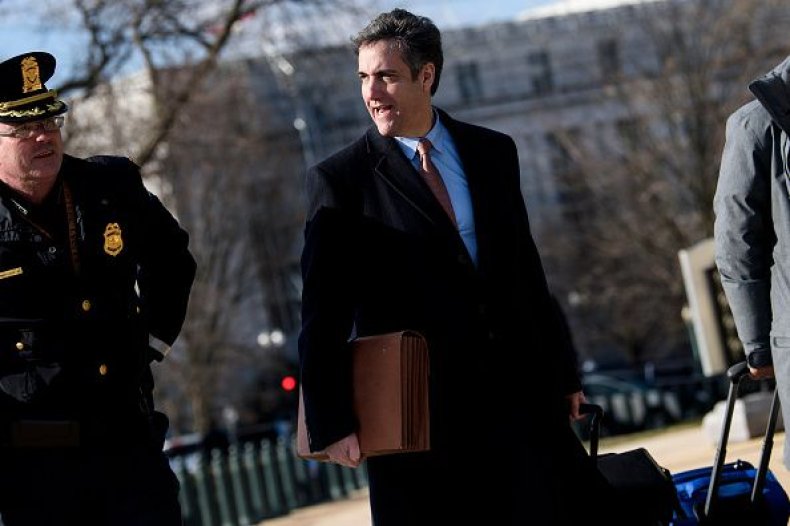 Last year, Cohen pleaded guilty to tax evasion and campaign finance violations related to illegal hush-money payments made to two women during the 2016 election. Cohen admitted in federal court that he made these payments "at the direction of" then-candidate Trump.
The confession landed Cohen a three-year sentence in federal prison, which he is scheduled to begin in May.
But before heading to jail, Cohen agreed to testify in front of Congress about his work with Trump before and after the 2016 presidential election. During his three days of testimony, Cohen blasted his former boss as a "racist" and a "cheat." He also accused Trump of regularly engaging in tax fraud and insurance fraud while running his businesses.
"I am ashamed of my weakness and misplaced loyalty—of the things I did for Mr. Trump in an effort to protect and promote him," Cohen told the House Oversight Committee in his opening statement. "I am ashamed that I chose to take part in concealing Mr. Trump's illicit acts rather than listening to my own conscience."
Trump slammed his former "fixer" after the public testimony, calling Cohen's hearing "fake" and "shameful."
"He lied a lot but it was very interesting, but he didn't lie about one thing, he said no collusion with the Russian hoax, and I said I wonder why he didn't just lie about that too, he lied about everything else. I mean he lied about so many different things," Trump told reporters at the time.