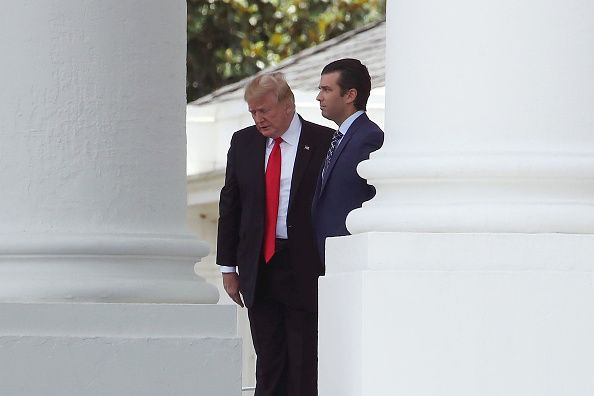 President Donald Trump's former personal attorney Michael Cohen will testify before Congress on Wednesday, where he is expected to share why he suspects Donald Trump Jr. told his father about his infamous Trump Tower meeting with a Kremlin-linked lawyer.
In his prepared testimony widely circulated on Tuesday night, Cohen recalls reading "all over the media" about the June 2016 meeting involving members of Trump's campaign and Russian officials.
"Something clicked in my mind," Cohen is expected to tell the House Committee on Oversight and Government Reform. "I remember being in the room with Mr. Trump, probably in early June 2016, when something peculiar happened."
Cohen then goes on to describe how Donald Trump Jr. came into the room and walked behind his father's desk, which Cohen described as "unusual" since no one would go behind the desk to talk to the then-candidate.
"I recalled Don Jr. leaning over to his father and speaking in a low voice, which I could clearly hear, and saying, 'The meeting is all set.' I remember Mr. Trump saying, 'OK, good…let me know,'" Cohen will say, according to prepared remarks.
The president's former "fixer" goes on to say that the exchange struck him because Trump had frequently told people that "his son Don Jr. had the worst judgment of anyone in the world."
Trump also allegedly told those in his inner circle that "Don Jr. would never set up any meeting of any significance alone—and certainly not without checking with his father."
For those reasons, Cohen concluded that the two men must have been referring to the June 2016 meeting in Trump Tower between campaign officials and a group of Russians who offered damaging information about Hillary Clinton.
President Trump has repeatedly denied having any prior knowledge about the meeting. After CNN published a report about Cohen's allegation that Trump knew about it in July 2018, the president tweeted that he "did NOT know of the meeting with my son."
"Sounds to me like someone is trying to make up stories in order to get himself out of an unrelated jam," Trump added.
Cohen, who served as Trump's personal attorney for over a decade, pleaded guilty last year to charges involving tax fraud, lying to Congress and campaign finance violations. In December, he was sentenced to three years in prison.
But before he begins serving his sentence in May, Cohen has agreed to testify before lawmakers on Capitol Hill. This week, Cohen will answer questions before three congressional committees including the Senate intelligence committee, the House oversight committee and the House intelligence committee.
Ahead of Wednesday's public hearing, the White House issued a statement slamming Cohen as a "disgraced felon."
"Sadly, he will go before Congress this week, and we can expect more of the same. It's laughable that anyone would take a convicted liar like Cohen at his word, and pathetic to see him given yet another opportunity to spread his lies," White House press secretary Sarah Sanders wrote in a statement on Tuesday.