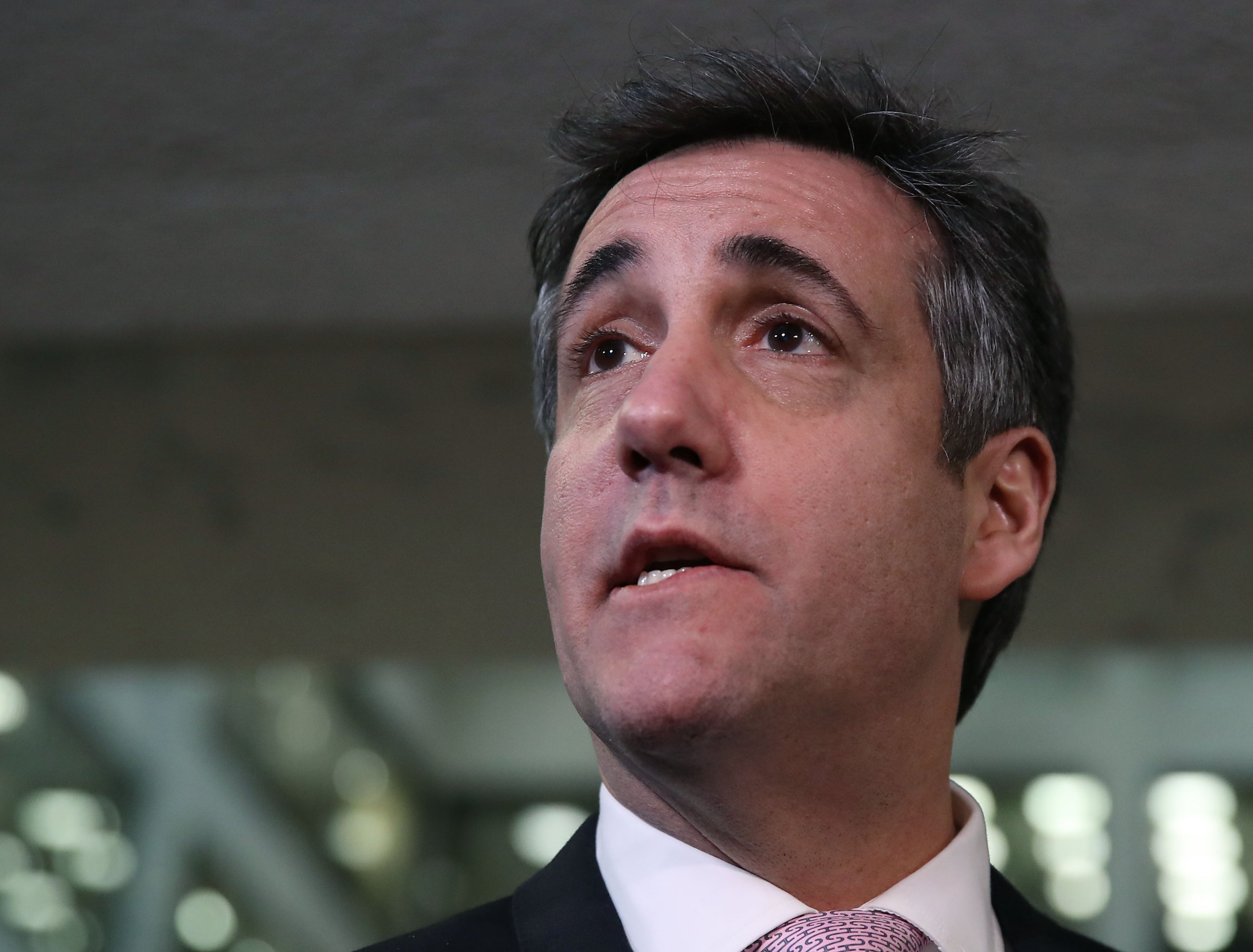 President Donald Trump's former lawyer and "fixer" Michael Cohen testified to the House Oversight and Reform Committee Wednesday morning about his interactions with his former boss.
The public hearing has been fiery—Cohen worked at Trump's side for 10 years before the FBI caught him paying off the adult film actress Stormy Daniels, real name Stephanie Clifford, in exchange for her silence about an alleged affair with Trump. Cohen had also pleaded guilty to lying to Congress about attempting to make a business deal with Russia on behalf of the Trump Organization. Cohen, who expected judicial leniency, was sentenced to three years in prison for campaign finance crimes. He is expected to report to prison in early May.
Since his trial, Cohen has fallen out of favor with the president. The president and his supporters have repeatedly tweeted insults at Cohen, and vaguely threatened his step-father. "He should give information maybe on his father-in-law, because that's the one that people want to look at," the president said during a Fox News interview with Jeanine Pirro in January.
These personal attacks have made Cohen understandably angry, and his testimony on the Hill today has reflected that. Cohen called the president a "con man," "racist" and a "cheat," and also testified that the president was aware of Roger Stone's interactions with WikiLeaks founder Julian Assange about releasing Democratic National Committee emails. He'll also said that the payment to Stormy Daniels was made at the president's direction, that "Individual-1" was Trump.
He did not, nor was he expected to present direct evidence of the president colluding with Russia to win the 2016 election.
We will be here fact-checking Cohen's claims against what the president has already said. Follow along!
10:30 a.m.
Michael Cohen claims that President Donald Trump "was a presidential candidate who knew that Roger Stone was talking with Julian Assange about a WikiLeaks drop of Democratic National Committee emails."
During his prepared testimony, Cohen said that he had been in the president's office when former adviser Roger Stone called and, on speakerphone, said that he had spoken with Assange and that "within a couple of days, there would be a massive dump of emails that would damage Hillary Clinton's campaign." The president, Cohen claimed, responded with "wouldn't that be great."
President Donald Trump said in writing to special counsel Robert Mueller that he did not know of the DNC emails before they were leaked, according to NBC News. Trump's attorney, Rudy Giuliani has told the Washington Post that the president did not recall speaking with Stone about WikiLeaks. In a 2017 Associated Press interview, the president said that he had "never heard of WikiLeaks, never heard of it."
10:50 a.m.
"There were at least half-dozen times between the Iowa caucus in January 2016 and the end of June when he would ask me "How's it going in Russia?" -- Referring to the Moscow Tower Project."
Michael Cohen claims that the president repeatedly indirectly directed him to lie about dealings with Russia during the 2016 presidential elections. The president denied any business relations while Cohen was actively trying to negotiate deals with Moscow, he said.
"I mean, I have nothing to do with Russia. I don't have any jobs in Russia. I'm all over the world but we're not involved in Russia," the president told in July of 2016 CBS4.
During the second presidential debate in October of 2016, Hillary Clinton accused the president Russia of trying to help Trump "maybe because he wants to do business in Moscow." The president called the claims "so ridiculous," and that, "I know nothing about Russia ... I don't deal there."
In January of 2017, the president tweeted that "Russia has never tried to use leverage over me. I HAVE NOTHING TO DO WITH RUSSIA - NO DEALS, NO LOANS, NO NOTHING!"
11:00 a.m.
President Donald Trump "told me that black people would never vote for him because they were too stupid," and "we were once driving through a struggling neighborhood in Chicago, he commented that only black people could live that way."
In his testimony, Cohen claimed that President Donald Trump was racist in public and even worse behind closed doors, he gave various examples of private things the president had said to him.
During a November press conference, the president told a room full of reporters that he had "never used racist remarks." In January of 2018, he told reporters that "I am not a racist. I'm the least racist person you have ever interviewed."
11:20 a.m.
"Mr. Trump is a conman. He asked me to pay off an adult film star with whom he had an affair, and to lie to his wife about it, which I did. Lying to the First Lady is one of my biggest regrets...Mr. Trump directed me to use my own personal funds from a Home Equity Line of Credit to avoid any money being traced back to him that could negatively impact his campaign...I am providing a copy of a $35,000 check that President Trump personally signed from his personal bank account on August 1, 2017, when he was President of the United States."
Michael Cohen himself, while employed by President Trump denied this affair. "President Trump once again vehemently denies any such occurrence as has Ms. Daniels. This is now the second time that you are raising outlandish allegations against my client," Cohen told the Wall Street Journal in January of 2018. "You have attempted to perpetuate this false narrative for over a year; a narrative that has been consistently denied by all parties since at least 2011."
By February, Cohen had admitted that he paid Daniels himself, but that the president was not involved. "Neither the Trump Organization nor the Trump campaign was a party to the transaction with Ms. Clifford, and neither reimbursed me for the payment, either directly or indirectly," Cohen told the New York Times. "The payment to Ms. Clifford was lawful, and was not a campaign contribution or a campaign expenditure by anyone."
In April, the president also denied any involvement in payments. "Mr. President, did you know about the $130,000 payment to Stormy Daniels?" asked a reported, he said no. When the reporter asked the president if he knew where the money came from, he said he did not. "No, I don't know. No," he said.
By May of 2018, Trump's new personal lawyer, Rudy Giuliani admitted that the president had paid Cohen back, but that it was legal. A few days later, the president changed his tune and said he was only paid a monthly retainer.
"Mr. Cohen, an attorney, received a monthly retainer, not from the campaign and having nothing to do with the campaign, from which he entered into, through reimbursement, a private contract between two parties, known as a non-disclosure agreement, or NDA. These agreements are very common among celebrities and people of wealth," he tweeted.
12 p.m.
"The president directed us to inflate his net worth and inflate his assets. These documents were provided to Deutsche Bank."
President Donald Trump, while refusing to release his tax returns, has repeatedly told Americans how rich and successful he is. While campaigning in June of 2015, the president said "I have total net worth of $8.73bn. I'm not doing that to brag. I'm doing that to show that's the kind of thinking our country needs." That same month, he told the Des Moines Register that "I'm the most successful person ever to run for the presidency, by far. Nobody's ever been more successful than me. I'm the most successful person ever to run. Ross Perot isn't successful like me. Romney – I have a Gucci store that's worth more than Romney."
The Trump administration often points to the personal sacrifices the president made by giving up some of his great wealth to take on the role of President of the United States. When gold-star father Khizr Khan accused Trump of slacking on the job, the president responded that "I think I've made a lot of sacrifices. I work very, very hard...I think those are sacrifices, I think when I can employ thousands and thousands of people, take care of their education, take care of so many things."
3:00 p.m
Michael Cohen did not want a White House job
House Oversight Committee ranking member, Jim Jordan accused Cohen of speaking out against President Trump because "I see a guy who worked for 10 years and trashing the guy he worked for for 10 years, didn't get a job in the White House," he said. "And now you're behaving just like everyone else who got fired or didn't get the job they wanted."
Cohen denied this account, and said he had gotten exactly what he wanted and had turned down a number of White House roles.
"I was extremely proud to be personal attorney to the president of the United States of America. I did not want to go the White House," Cohen said Wednesday. "I was offered jobs. I can tell you a story of Mr. Trump reaming out" former chief of staff Reince Priebus, "because I had not taken a job where Mr. Trump wanted me to, which is working with Don McGahn at the White House general counsel's office," Cohen said.
Donald Trump Jr. immediately took to Twitter to call Cohen out, and offered to testify under oath that this statement was not true. Eric Trump wrote that, "Michael was lobbying EVERYONE to be 'Chief of Staff.' It was the biggest joke in the campaign and around the office. Did he just perjure himself again?"