In his testimony before Congress Wednesday, former Trump attorney Michael Cohen accused the president of being a "racist" and a "conman" who engaged in a "criminal scheme to violate campaign finance laws."
Still, seasoned Democrats believe Cohen's remarks should not immediately lead the party to move to impeach Trump, maintaining the notion that their congressional oversight and investigative power into the president's alleged misdeeds has only just begun.
"I don't think we're there yet," Illinois Democratic Congressman Raja Krishnamoorthi told Newsweek. "I personally think that's way too premature, and we should be investigating and then seeing what the conclusion of the investigation is."
That conclusion includes waiting for special counsel Robert Mueller's report, said to be near completion and due to be submitted to Attorney General William Barr in the near future. Barr will then determine what, if any, of the information is provided to Congress.
"I need to study the transcripts and see what we have," House Oversight Committee Chairman Elijah Cummings told reporters following the hearing. "I want to proceed very cautiously, but isn't it interesting that not one [Democrat] even mentioned the word impeachment? Not one. Not one. [Republicans] did, but not us."
The cautious approach by more experienced lawmakers is in contrast to younger, more liberal members of the Democratic Party, who continue to say impeachment is inevitable.
Democrat Jamie Raskin of Maryland, also a member of the Judiciary Committee where articles of impeachment would originate, noted that these types of hearings should not be viewed as a precursor for future impeachment hearings.
"We're going to have to lot more hearings about what's been taking place," Raskin said. "There are entire categories of crimes that haven't even been mentioned today, like the emoluments clause and the continuing collection of money from foreign governments by the Trump enterprises, so this is a good beginning in terms of pulling the curtain back about what's been taking place."
Cohen provided documents to the committee to support his claims that Trump committed campaign finance violations regarding hush-money payments to two women. He showed some of the personal reimbursement checks that Trump, who was president at the time, gave him for fronting the $130,000 payment in the run-up to the 2016 election over an alleged affair with adult film star Stormy Daniels. Cohen has also said he arranged for the National Enquirer to "catch-and-kill" the story of Playboy model Karen McDougal for another alleged affair with Trump.
Although not exactly certain what Democrats' next move will be, Cummings did say he "probably will" want to hear from Trump Organization Chief Financial Officer Allen Weisselberg and Trump's eldest son Donald Trump, Jr. regarding the hush-money payments, leaving open the possibility for subpoenas. The two men's signatures appeared on one of the checks that Cohen provided to the committee. Weisselberg reportedly received immunity to cooperate with prosecutors about the matter last summer.
"Are you telling us, Mr. Cohen, that the president directed transactions in conspiracy with Allen Weisselberg and his son Donald Trump, Jr. as part of a criminal conspiracy of financial fraud, is that your testimony today?" Democratic Congressman Ro Khanna asked.
"Yes," Cohen responded. He added that Weisselberg was one of several Trump associates who could corroborate and provide more information on his claims that Trump inflated his assets to Deutsche Bank in order to obtain a loan and bid on the Buffalo Bills.
Republicans brushed off the photocopies of Trump's reimbursement checks as "retainer fees" for future legal work, but Cohen testified that was not the case.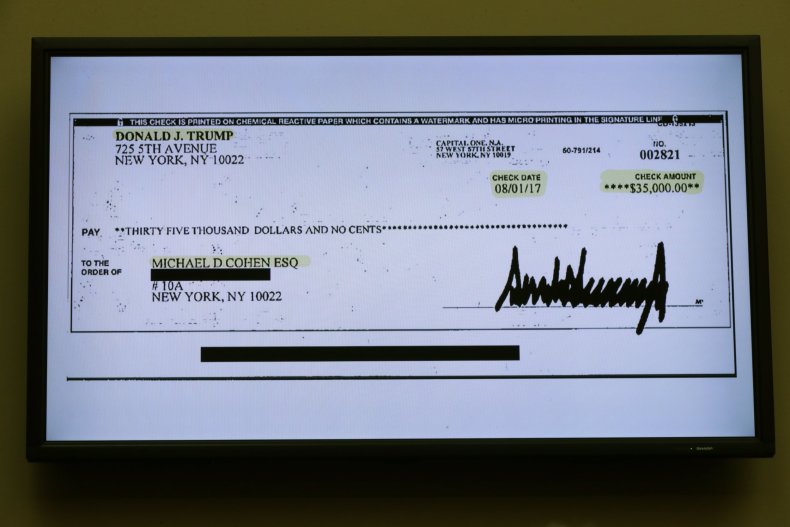 "You can't believe a thing [Cohen] says. He's delusional," GOP Congressman and Trump loyalist Jim Jordan, who suggested the retainer fee theory, told reporters Wednesday. "It's news we knew about."
In his testimony, Cohen also alleged that longtime Trump adviser and political operative Roger Stone told then-candidate Trump that WikiLeaks would release tens of thousands of stolen emails from the Hillary Clinton campaign and the Democratic National Committee before it occurred. He also testified it was likely that Donald Trump Jr. advised his father of the 2016 Trump Tower meeting with a Russian lawyer to obtain dirt on Clinton, based on a conversation Cohen overheard between the father and son. As his personal attorney, Cohen said Trump had him threaten people or organizations with legal action approximately 500 times over the course of his 10 years working for him.
Cohen went on to suggest prosecutors with the Southern District of New York, with whom he has been cooperating with following his guilty plea, are currently investigating other wrongdoing or illegal acts committed by the president.
"I don't know what he was referring to," Krishnamoorthi said, who posed a question about the matter to Cohen. "But it's new news."
The Illinois congressman said Cohen confirming to him that the president's non-disclosure agreements were used to "prevent people from coming forward with claims of wrongdoing" could open up a separate can of worms.
"Those non-disclosure agreements are going down. That can't be why you ask people to sign non-disclosure agreements," Krishnamoorthi said. "I think that what [Cohen] said today will be powerful testimony to striking down those NDAs. If that happens, you could have all kinds of people coming out to talk about illegal activity."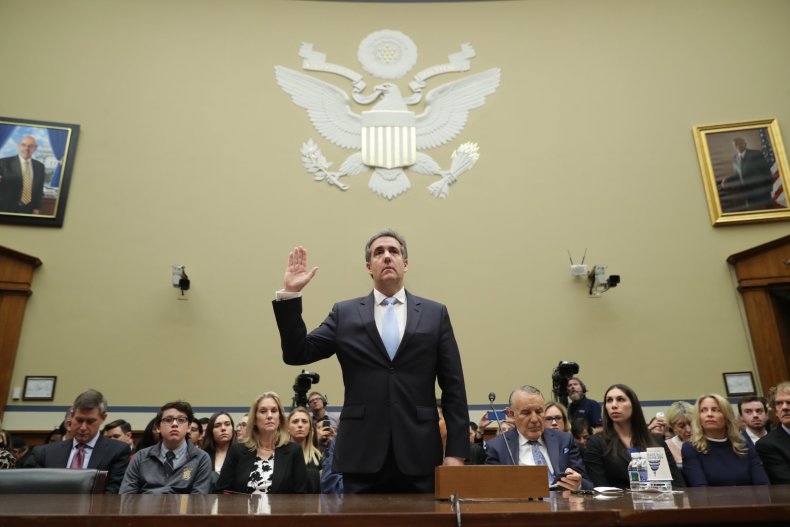 Congressional Republicans and the White House have continued to label Cohen a "liar," "convicted perjurer," "fake witness" and a "disgraced felon," calling his credibility into question. Beginning May 6, Cohen will serve three years in prison for campaign finance violations, lying to Congress and tax and bank fraud.
"It's obvious for what it is: It's an effort to discredit the president," Republican Congressman Ralph Norman told Newsweek.
Cohen warned Republicans about protecting Trump, saying he did so regrettably for 10 years. "I can only warn people: the more people that follow Mr. Trump as I did blindly are going to suffer the same consequences that I'm suffering," he said.
But Democrats have taken the former lawyer at his word, who told members of the House Oversight Committee he is "no longer your 'fixer,' Mr. Trump." After all, Krishnamoorthi noted, "if there's anybody who knows the consequences of lying to Congress, it's Michael Cohen."
"We don't have to be naïve," Virginia Democrat Gerry Connolly told reporters. "But neither do we have to buy the proposition that because of his past, all future testimony, including this one, is discredited."
This story has been updated with comments from Congressman Elijah Cummings and additional remarks from Michael Cohen.