Michael Cohen Testimony Live Stream: Time, How to Watch Ex-Trump Lawyer Hearing Before House Committee
President Donald Trump's former "fixer" Michael Cohen will give his first public testimony on Capitol Hill on Wednesday, during which he is expected to accuse the president of engaging in criminal activity while in office.
Cohen, who served as Trump's personal attorney for over a decade, is in Washington D.C. this week to testify before three congressional committees. Cohen's cooperation with lawmakers comes just months after he was sentenced to three years in prison on charges of tax fraud, lying to prosecutors and campaign finance violations.
Wednesday's televised hearing is likely to be dramatic as Cohen has agreed to talk about Trump's "debts and payments relating to efforts to influence the 2016 election." Last year, Cohen said that he made hush money payments to two women before Election Day at the direction of then-candidate Trump.
The hearing will be live-streamed below and is expected to be broadcast live on cable news channels beginning at 10 a.m. ET. It can also be viewed on the House Oversight Committee's website.
The Wall Street Journal reported on Tuesday that Cohen will provide members of the committee with evidence that the president was involved in the illegal payments made to Stormy Daniels, who alleges that she had an affair with Trump.
In another report published Tuesday by The New York Times, a person familiar with the testimony plans said that Cohen would describe in "granular detail" how Trump had helped to plan the payments.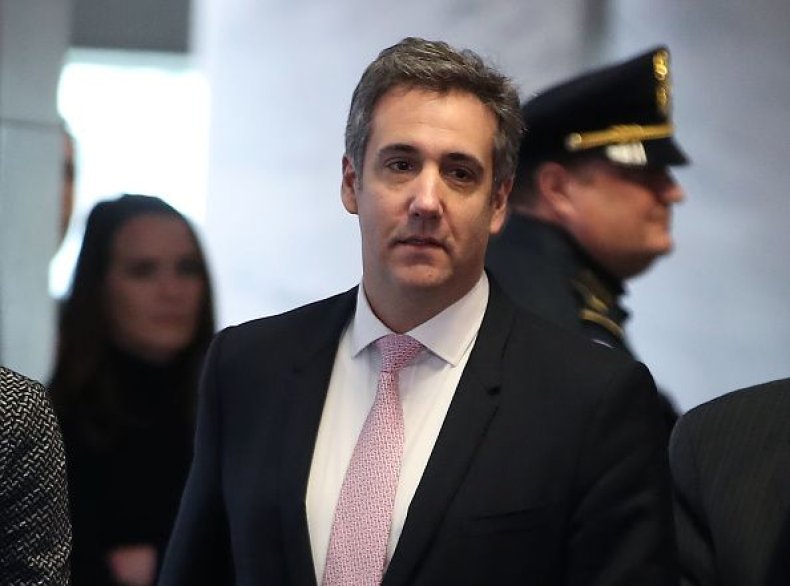 The House Oversight Committee wrote in a memo that Cohen will also discuss any possible conflicts of interests regarding Trump and his family-run businesses, including the Trump Foundation and the Trump International Hotel.
One of the only issues that will be off-limits for Wednesday's hearing will be the Russia investigation, as special counsel Robert Mueller continues his probe into election meddling and possible collusion.
Representative Val Demings told Newsweek on Tuesday that Democrats are "anxiously waiting to hear what information Cohen brings to the table that's not already out there."
Cohen will go before lawmakers on the same day that Trump will meet with North Korean leader Kim Jong Un in Vietnam for their second summit. Trump has railed against Cohen for turning against him, slamming his former personal attorney as "very weak" and a liar.
White House press secretary Sarah Sanders issued a statement ahead of Wednesday's public testimony, slamming Cohen as a "disgraced felon."
"Sadly, he will go before Congress this week and we can expect more of the same. It's laughable that anyone would take a convicted liar like Cohen at his word, and pathetic to see him given yet another opportunity to spread his lies," she wrote.