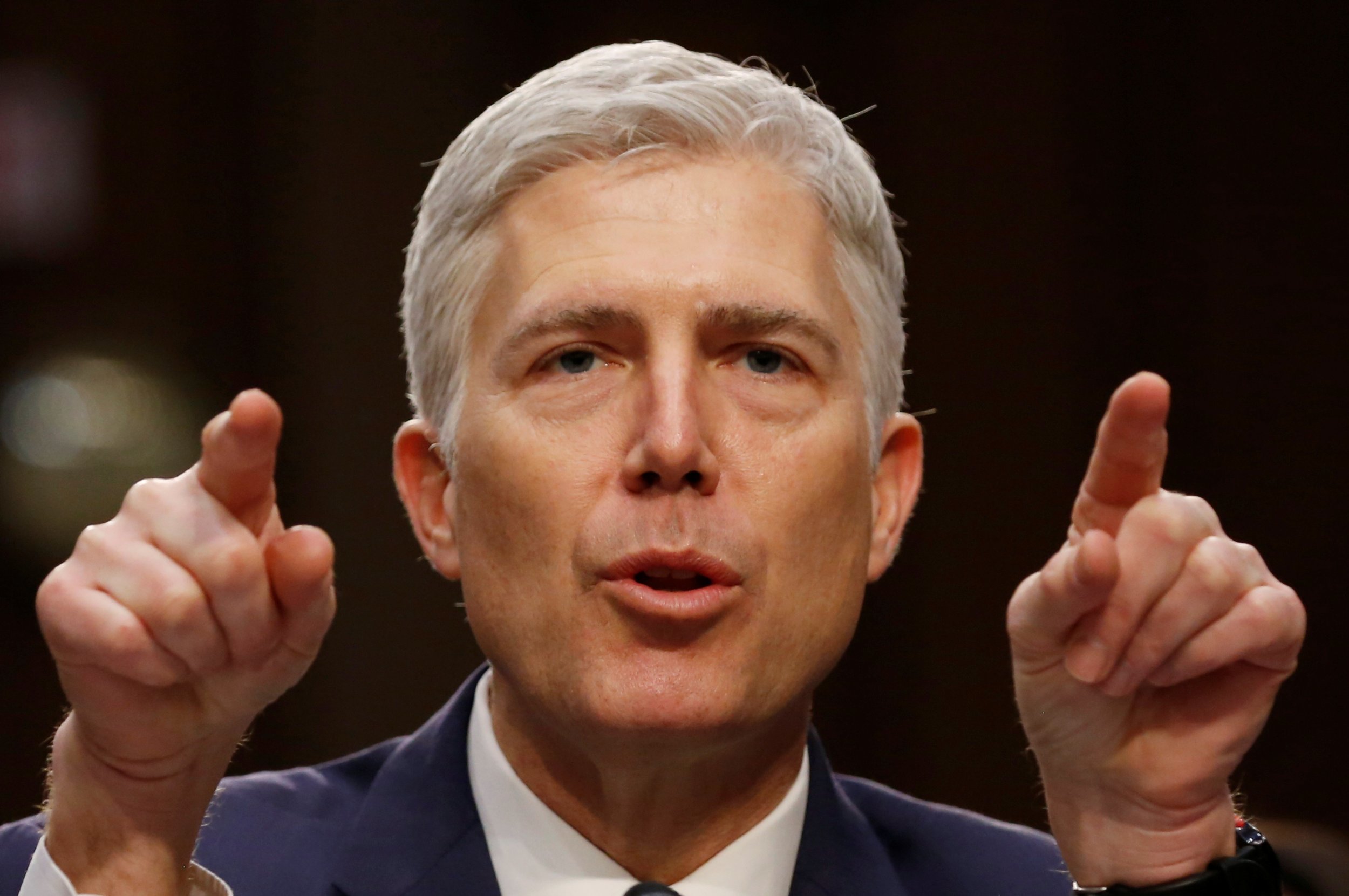 The confirmation of Neil Gorsuch brings the Supreme Court back to full strength for the first time since the death of Justice Antonin Scalia last February.
Gorsuch's record provides strong evidence that he will fit comfortably in the conservative wing of the high court. Had the Senate confirmed Merrick Garland instead of Gorsuch, we might have witnessed a sea change, but replacing Scalia with Gorsuch implies a return to the prior status quo, does it not?
Not entirely. Justice Byron White, for whom Gorsuch served as a law clerk, used to say that whenever a new justice is named to the Supreme Court, the replacement creates "a different court."
Gorsuch may be as conservative as Scalia was, but he is not Scalia. Consider that Gorsuch is a leading critic of judicial deference to administrative agencies, which Scalia championed. That difference could ultimately herald a deregulatory turn by the court, but in the short run it could place Justice Gorsuch in opposition to the president who appointed him.
Moreover, Gorsuch joins a court that has had to function shorthanded for over a year. During that time, the justices learned to come together where they might have previously split along a left-right axis.
For example, one of the most controversial cases of last term presented the question whether religiously affiliated nonprofit organizations were exempt from the obligation to give formal notice to the federal government that they would not provide their employees with health insurance covering contraception.
The oral argument revealed that the justices were sharply divided along predictable lines. Yet rather than deadlocking 4-4, the court took a creative turn. It produced a unanimous opinion pointing to the common ground between the parties and urging them to settle their remaining differences amicably.
Related: John Dean: Supreme Court pick Gorsuch is no Scalia
Another instance of apparent compromise came last August, when Justice Stephen Breyer revived the practice of casting a "courtesy" fifth vote to stay the decision of a federal appeals court in order for the Supreme Court to consider the case on the merits—even though Breyer probably thought that the appeals court decision was correct and therefore did not warrant review.
Might the recent experience of working together across ideological divisions lead to a new spirit of consensus that persists even though the court is back to full strength? The stylistic difference between Scalia the bomb thrower and Gorsuch the gentleman suggests that it might.
Scalia was often caustic in criticizing those of his colleagues with whom he disagreed. In a 1989 abortion case, he called the views of Justice Sandra Day O'Connor "irrational." Dissenting from the court's recognition of a right to same-sex marriage in 2015, Scalia likened the language of Justice Anthony M. Kennedy's majority opinion to "the mystical aphorisms of the fortune cookie," adding that if he ever joined such an opinion, he "would hide [his] head in a bag."
It is nearly impossible to imagine the courtly Gorsuch aiming such barbs at his colleagues. And with the justices getting along interpersonally, they may find it relatively easy to work cooperatively.
Nonetheless, any shift towards consensus will likely be marginal.
For one thing, Scalia's acid pen did not appear to alienate his colleagues, who typically dismissed his excesses as Nino (Scalia's nickname) just being Nino. Although biting in print, Scalia was charming in person. His long-running friendship with liberal icon Justice Ruth Bader Ginsburg even inspired an opera.
Further, there is no statistical evidence of a "no Scalia" effect. Last term, when only eight justices participated in most rulings, the percentage of unanimous decisions was in line with that of the prior years.
Meanwhile, cross-ideological cooperation was the exception, not the norm. On abortion and affirmative action, the court divided ideologically, while it deadlocked 4-4 on key cases involving immigration and labor unions. The hot-button issues stayed hot, even without Scalia stoking the fire.
Accordingly, even if Gorsuch's ascension to the high court lowers the rhetorical temperature, the familiar divisions will remain. Those divisions will likely be apparent sooner rather than later.
Related: Michael Dorf: What we are learning about Judge Gorsuch
Gorsuch will participate in cases to be argued later this month, including one involving church-state separation and another that poses the question what it takes to strip a naturalized citizen of her citizenship. The docket for next term, which begins in October, includes cases involving the scope of arbitration, the Clean Water Act, and class actions.
Higher-profile cases loom. A challenge to President Donald Trump's executive order limiting travel to the United States by nationals of six majority-Muslim countries could make it to the high court in the coming months.
Next term, the court could be asked to decide whether a federal law that forbids sex discrimination in the workplace thereby forbids discrimination on the basis of sexual orientation, as a federal appeals court ruled last week.
Cases involving gun rights, transgender rights and the numerous other subjects Gorsuch declined to address during his confirmation hearing will come knocking before too long.
Justice White was right. A new justice creates a new court. But no one should expect a substantially less polarized one.
Michael C. Dorf is the Robert S. Stevens professor of law at Cornell University. He blogs at DorfOnLaw.org.