What Did Michael Flynn Lie About? Everything to Know About the Biggest Robert Mueller Charge Yet
Updated | Michael Flynn, President Donald Trump's former national security adviser, pleaded guilty on Friday to lying to federal agents. The office of special counsel Robert Mueller had announced the charge against Flynn earlier in the day. Mueller is investigating Russian meddling in the 2016 presidential election and possible coordination with the Trump campaign.
The announcement came just over a month after Mueller's team filed its first charges in its investigation. On October 30, the special counsel's office announced indictments against Paul Manafort, Trump's former campaign chairman, and Rick Gates, who was also involved in the Trump campaign. Those men later pleaded not guilty.
The office also charged George Papadopoulos, who was a foreign policy adviser to the Trump campaign, with lying to federal agents, the same charge that Flynn now faces. Papadopoulos pleaded guilty.
Related: Has Michael Flynn flipped?
Flynn, a retired Army general, was long reported to be of interest to the FBI and Mueller. In February, he resigned as Trump's national security adviser amid reports about undisclosed conversations he had with then-Russian Ambassador Sergey Kislyak. The FBI was investigating Flynn before Mueller began overseeing the Russia probe, and former FBI Director James Comey testified to Congress that Trump asked him to back off from the Flynn investigation.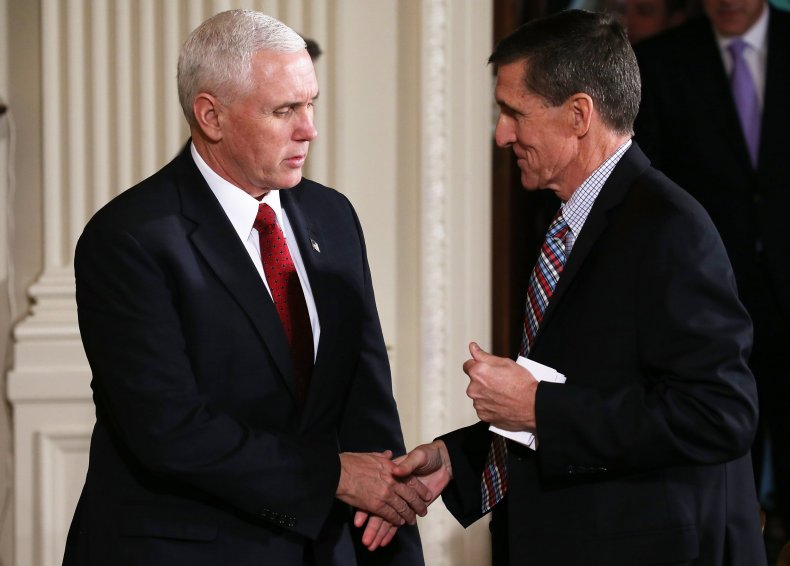 According to the charge announced Friday and a court filing dated November 30, Flynn made false statements to FBI agents on January 24. During that meeting, he lied about a conversation he had with the Russian ambassador on December 22, 2016. He told the agents that he "did not ask the Russian Ambassador to delay the vote on or defeat a pending United Nations Security Council resolution," and that the ambassador didn't tell Flynn about Russia's response to the request. The Washington Post reported in February that Flynn denied discussing sanctions against Russia with the ambassador.
The federal prosecutors also said that Flynn lied about a second conversation with the ambassador, which took place on December 29, 2016. He told the agents that he did not ask the ambassador "to refrain from escalating the situation in response to sanctions that the United States had imposed against Russia that same day." He also told them he did not recall the ambassador's then agreeing "to moderate its response to those sanctions as a result of his request."
In a statement on Friday, Flynn said, "After over 33 years of military service to our country, including nearly five years in combat away from my family, and then my decision to continue to serve the United States, it has been extraordinarily painful to endure these many months of false accusations of 'treason' and other outreageous acts. Such false accusations are contrary to everything I have ever done and stood for."
He continued, "But I recognize that the actions I acknowledged in court today were wrong, and, through my faith in God, I am working to set things right. My guilty plea and agreement to cooperate with the special counsel's office reflect a decision I made in the best interests of my family and our country. I accept full responsibility for my actions."
Following initial reports in October that Mueller was planning to indict someone or some people in the case, legal analysts had floated Flynn's name in their speculation about who would be targeted. NBC News had reported on November 5 that Mueller's team had enough evidence to bring charges against Flynn and his son.
On November 23, The New York Times reported that Flynn's lawyers had left their agreement to share information with Trump's legal team. Days later, ABC News said that Flynn's lawyer met with Mueller's team on November 27.
Bill Mateja, a former Justice Department prosecutor, has told Newsweek that pulling out from such an agreement "is a clear sign that Michael Flynn is negotiating with the special counsel." Such agreements typically involve sharing information, "as long as the interests are aligned," he said. "The reason why you would pull out of that is because your interests are no longer aligned."
Flynn is also a focus of congressional investigators, who are overseeing probes separate from Mueller's. The former national security adviser denied a request to appear before the Senate Intelligence Committee, and the Senate Judiciary Committee has asked the Justice Department for information about Flynn's resignation. After the Mueller team announced the charges against Manafort, Gates and Papadopoulos, Representative Denny Heck, a Democrat on the House Intelligence Committee, told Newsweek, "Where's the Flynn piece?"
Following the news of the guilty plea, Democratic National Committee Chairman Tom Perez said in a statement, "This time, the president can't get away with claiming these charges aren't about his inner circle's contacts with Russia, and he can't dismiss Michael Flynn as some low-level aide. This development should serve as a clear signal to Republicans in Congress that it is time to take this investigation seriously and stop making excuses for the president's attempts to interfere with it."
In a statement on Friday, Ty Cobb, Trump's lawyer, appeared to try to distance the president from the Flynn news. "Today, Michael Flynn, a former national security advisor at the White House for 25 days during the Trump administration, and a former Obama administration official, entered a guilty plea to a single count of making a false statement to the FBI." He added, "Nothing about the guilty plea or the charge implicates anyone other than Mr. Flynn."
Trump has called the Russia investigation a "witch hunt." In late October, the president tweeted, "It is now commonly agreed, after many months of COSTLY looking, that there was NO collusion between Russia and Trump. Was collusion with HC [Hillary Clinton]!"
This article has been updated to reflect Michael Flynn's guilty plea and to include statements by Flynn and Ty Cobb.