Michael Flynn Could Commit Murder And Still Keep Military Rank, Experts Say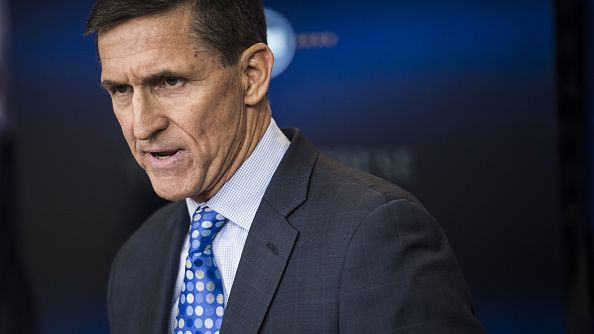 After admitting to lying to the FBI while he was President Donald Trump's national security advisor on Friday, Michael Flynn will not lose his military rank and pension.
Despite his tarnished relationship with the military and never being able to hold a position in office ever again, Flynn will be able to keep his lieutenant general rank and his $10,000 pension he's been receiving since 2014, the Huffington Post reported.
This is because Flynn is not obligated to give up those privileges, despite pleading guilty to a crime stemming from interactions with Russia.
"Flynn could commit murder today, and be convicted in federal court, and still retain his retired general status with a pension," Rachel VanLandingham, a Southwestern Law School professor, and a retired military lawyer told the Huffington Post.
According to VanLandigham, if Flynn is proven guilty of any kind of small subset of national security crimes, it could lead to an immediate pay cut. But, that has not been discussed in regards to Flynn's current situation.
Some prominent military officers have chosen to cut their ties during legal troubles. Lt. Oliver North, an aide to President Ronald Reagan, resigned in 1988 from the Marine Corps during the Reagan administration's Iran-Contra scandal.
But, Flynn is already retired. Currently, he is not bound to the rules affecting Army officers who are serving with Trump as their commander in chief. Investigations other than Mueller's charges could still affect Flynn and his status.
"If you look at his plea, this does not preclude the Army from prosecuting if it were determined that some purpose would be served by that," Eugene Fidell, a lecturer at Yale Law School and former president of the National Institute of Military Justice told the Huffington Post. "The Army, of course, works for President Trump."
The prosecution of military retirees is disapproved of internationally and it is uncommon, except in the U.S and a few other countries.
"While I think he is guilty of both conduct unbecoming an officer and gentlemen as well as service discrediting conduct, it's incredibly rare for retirees to be court-martialed and even rarer for general officers ever to be held accountable for their criminal acts," VanLandingham told the Huffington Post.
Flynn might be fined between $500 and $9,500, but could ask the court to waive the fine, which is common with plea deals. He could end up with no jail time or spend up to six months in prison.
Michael Flynn Could Commit Murder And Still Keep Military Rank, Experts Say | U.S.