Devin Nunes Says General Michael Flynn Should Sue the Government for Millions After Accusations of FBI Entrapment
Rep. Devin Nunes has said that unsealed FBI documents outlining discussions of how the agency would approach an interview with former National Security Adviser, retired Lt. Gen. Michael Flynn, showed investigative misconduct and could result in a court case that may cost the government millions of dollars.
Flynn pleaded guilty in late 2017 to lying to the FBI about conversations with Russian ambassador Sergey Kislyak in a case central to the investigation by special counsel Robert Mueller into claims Moscow interfered in the 2016 election. He has not been sentenced yet but has since decided to try to withdraw his guilty plea.
In the handwritten notes dated January 24, 2017, provided to Flynn's defense attorneys and released on Wednesday, one entry states: "What's our goal? Truth/Admission or to get him to lie, so we can prosecute him or get him fired?"
"If we get him to admit to breaking the Logan Act, give facts to DOJ & have them decide. Or, if he initially lies, then we present him [redacted] & he admits it, document for DOJ, & let them decide how to address it."
The Logan Act is a statute intended to stop people from falsely claiming to represent the United States government abroad.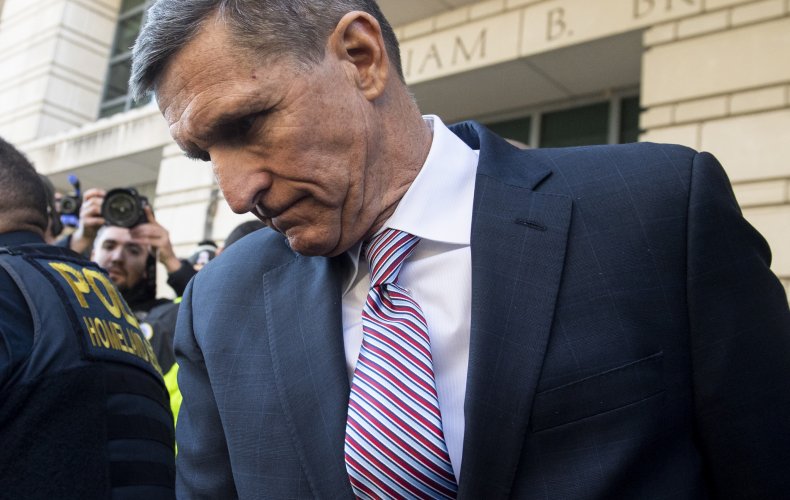 Nunes, a California Republican who was the chair of the house intelligence committee until 2019, told Fox News that the notes showed that Flynn had been "set up."
"Clearly General Flynn is going to have a civil rights case" he told Laura Ingraham, referring to a potential civil case, adding, "I think it is going to cost the government millions of dollars. Secondly, hopefully, there is going to be some prosecutions for this matter and the judge really has an opportunity here to step in and sanction these lawyers."
Another note states: "If we're seen as playing games, WH (the White House) will be furious. Protect our institution by not playing games."
Nunes went on: "The evidence is continuing to pile up in General Flynn's favor, which is what we told you and what most of us knew. I have known General Flynn for nearly 15 years and the idea that he would be a Russian agent is preposterous."
During the segment, The Ingraham Angle host introduced a clip from 2018 in which the former FBI director James Comey said that Flynn had admitted he did not know what the interview with him at the White House was for.
Nunes went on to say this, along with the notes, showed that Flynn "did not have legal counsel and they set him up, the whole thing was a set up."
However some have cast doubt on the significance of the notes and whether they showed the FBI had acted unethically or tried to entrap Flynn.
Greg Brower, a former U.S. attorney and the FBI's chief congressional liaison until 2018 said, according to CNN: "To the extent this is being advertised as evidence of something nefarious, I certainly don't see it in that way. I don't know what this means and I don't know that it's important at all."
The former U.S. Attorney Barbara McQuade told Politico: "Flynn told the Russian ambassador to ignore U.S. sanctions, for goodness sake," and that the "FBI had a legitimate purpose and even a duty to question Flynn."
"This is not a Brady violation. A Brady violation requires suppression of material evidence that tends to negate guilt or punishment. The strategy of the agents does not negate Flynn's lies," McQuade said.
On Wednesday night, Trump retweeted a video that Flynn had shared on social media of a U.S. flag flying.
The president followed this up by stating his support for Flynn, tweeting: "@CNN doesn't want to speak about their persecution of General Michael Flynn & why they got the story so wrong. They, along with others, should pay a big price for what they have purposely done to this man & his family. They won't even cover the big breaking news about this scam!"
Newsweek has contacted the White House for comment.