Footage of the former national security adviser Michael Flynn seemingly forgetting the words to the Pledge of Allegiance has gone viral, sparking much mockery at the apparent own goal.
Flynn tried pulling at the patriotic heart strings of those gathered at the Honkeytonk Saloon in Ladson, South Carolina on Sunday.
He was appearing at a campaign event in support of Lin Wood who is bidding to become the South Carolina GOP chairman. Wood is an ally of former President Donald Trump.
But after telling attendees to "hear, not just listen" to "every single word," of the 31-word paean to American liberty and justice, it seemed that Flynn could not quite deliver on what he was asking other people to do.
In the clip shared by Florida attorney Ron Filipkowski, Flynn urged people to put their hands over their hearts and take their hats off in reciting "our pledge to each other, our pledge to this country."
The full Pledge of Allegiance is: "I pledge allegiance to the flag of the United States of America, and to the republic for which it stands, one nation under God, indivisible, with liberty and justice for all."
Flynn nails the first 12 words, but after saying, "America," he appears to come unstuck on the next word by saying, "indivi—" before trailing off. The next word is "and."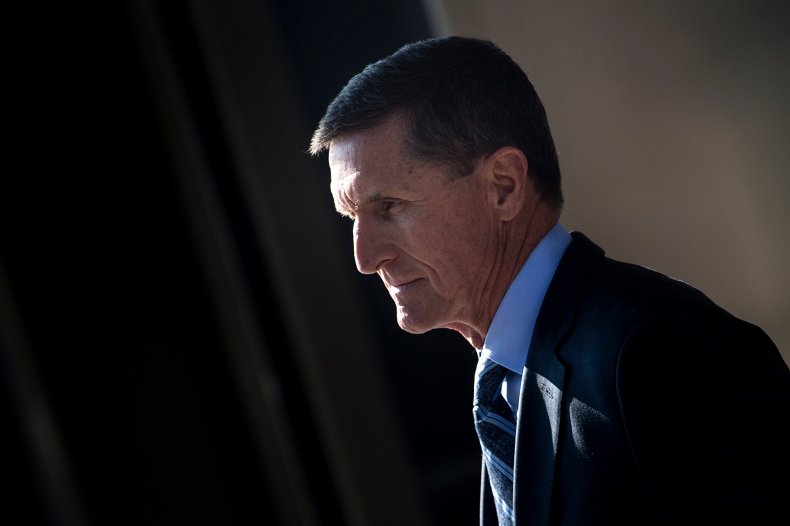 The crowd, consisting of the group Bikers for Trump, picked up where he left off before Flynn rejoined the group in the final nine words of the pledge without fluffing anything. The pledge is followed by cheers from all present.
In sharing the video, Filipkowski wrote "what kind of 'Patriot' General doesn't know the Pledge!" As of Monday morning, it had been viewed 1.2 million times, liked 18,000 times and retweeted more than 5,600 times.
It prompted a strong response on Twitter, such as Chris Hahn who tweeted:" Of course Mike Flynn doesn't know the words to the Pledge of Allegiance. Most traitors to our republic have blocked them from their mind."
Flynn was national security adviser under Trump before stepping down in February 2017 over reports he had lied about his contact with a Russian official.
In December 2017, he admitted to lying to the Federal Bureau of Investigations (FBI) about his contact with Sergey Kislyak, the then Russian ambassador to the U.S.
He later tried to withdraw his plea and was pardoned by Trump in November 2020 and has become a key figure in the QAnon conspiracy theory, which Wood also promotes.