What Do Michael Flynn and Martha Stewart Have in Common? A List of People Charged With Lying to the FBI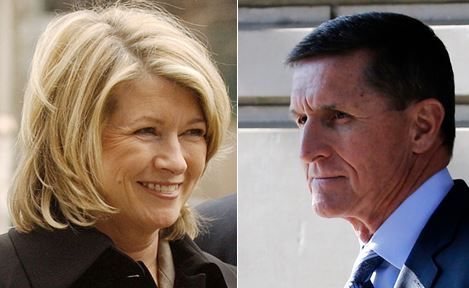 When Michael Flynn walked into a federal courthouse in Washington, D.C. on Friday morning and pleaded guilty to one count of lying to the FBI, he joined a long line of high-profile defendants charged with 18 US Code 1001, commonly known as "making false statements."
Federal prosecutors have also brought false statement cases against lifestyle tycoon Martha Stewart, Ponzi scheme mastermind Bernie Madoff, ex-Illinois Governor Rod Blagojevich, onetime vice presidential adviser Scooter Libby and former Enron Chief Executive Jeffrey Skilling, among others.
"It's a pretty easy charge," white collar defense attorney Solomon Wisenberg told Newsweek, explaining why a false statement rap is so useful to prosecutors: "All you have to prove is that they lied to a federal agent about a material matter. It doesn't have to be under oath."
He added, "They didn't charge Martha with insider trading, that's a hard thing to prove. It's a lot easier to say she came in and lied to us."
Stewart, who rose to prominence with cookbooks and then expanded into all aspects of domestic life, was convicted in 2004 of lying about personal stock trades she made a few years earlier.
"This criminal case is about lying. Lying to the FBI, lying to the SEC and lying to investors," James Comey, then the U.S. attorney in Manhattan, said at a 2003 press conference. "That is conduct that will not be tolerated by anyone. Martha Stewart is being prosecuted not because of who she is, but because of what she did."
Stewart lied to federal investigators about her decision to sell shares of ImClone Systems after the founder, a friend of hers, sold his stock in the company.
Defense attorney Wisenberg, who was Ken Starr's deputy in the Monica Lewinsky investigation and questioned President Bill Clinton in a grand jury, criticized the false statement charge. He said that prosecutors can use the charge to prosecute someone who misremembers a small detail in an interview with FBI agents.
Flynn pleaded guilty Friday morning to lying to FBI agents about requests he made to the Russian ambassador in late December 2016.
The false statement charge is a good deal for Flynn because it carries a maximum prison sentence of just five years, Wisenberg said.
"There's not too many federal fraud charges with a five-year statutory cap," the lawyer said. "He's getting a good deal. It means he's got good information to give."