Michael Flynn Sentencing: Robert Mueller Could Recommend Prison Term for Former Trump Aide
The office of U.S. special counsel Robert Mueller is set to make a sentencing recommendation on Tuesday for former national security adviser Michael Flynn.
The court filing will suggest a punishment for Flynn, who admitted lying to the FBI about his contact with Russia, and may offer clues about how well the former Trump administration official cooperated with the special counsel's investigation.
Flynn is the only Trump administration official to have admitted to a crime in Mueller's investigation into Russian interference in the 2016 election and possible collusion between the Trump campaign and Russian government. He held his post at the White House for only 24 days and pleaded guilty in December 2017.
He admitted that he had lied to the FBI about conversations he had with then–Russian ambassador Sergei Kislyak. Prosecutors said Washington's sanctions against Moscow were among topics discussed.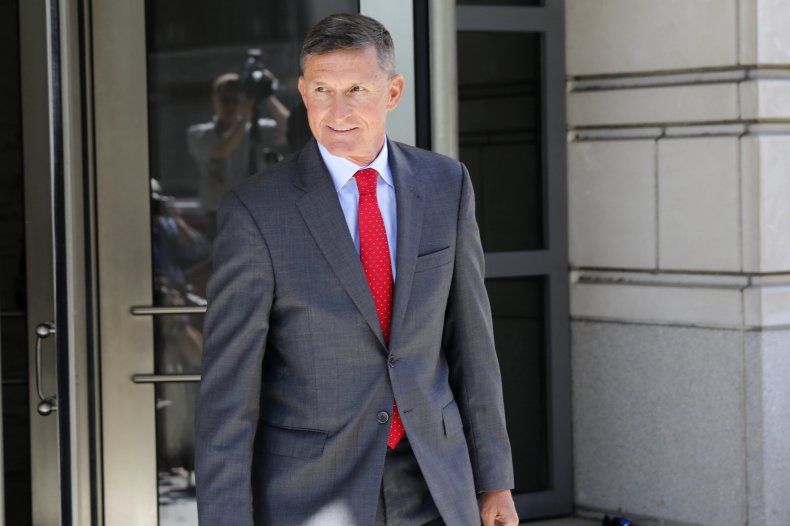 There is a maximum five-year sentence for Flynn's crime of lying to the FBI, but a plea agreement means he could face a sentence of zero to six months and no fine, Reuters reported.
Flynn will be sentenced in the U.S. District Court for the District of Columbia on December 18.
The Mueller investigation has also seen charges laid against the president's former campaign manager Paul Manafort and campaign deputy Rick Gates, as well as Trump's former lawyer Michael Cohen, who last week admitted to lying to Congress about a proposed Trump Organization skyscraper in Moscow.
Trump says Mueller's probe is a witch hunt and has denied colluding with Russia. Moscow also denies interfering in the elections.
CNN reported that the court filings on Flynn and Manafort could offer new details into Mueller's investigation.
The network said that Flynn's conduct could bring others to Mueller's attention, including Trump's son-in-law Jared Kushner, Vice President Mike Pence and former deputy national security adviser K.T. McFarland.
"In the year since he was charged, Flynn has been a recluse, and mystery surrounds the scope of his cooperation with Mueller. Some of that intrigue could begin to clear on Tuesday," CNN reported.
Correction: The headline of this article has been updated to better reflect the possible sentence for Flynn.