Has Michael Flynn Flipped? Special Counsel Robert Mueller's Team Reportedly Met With His Lawyer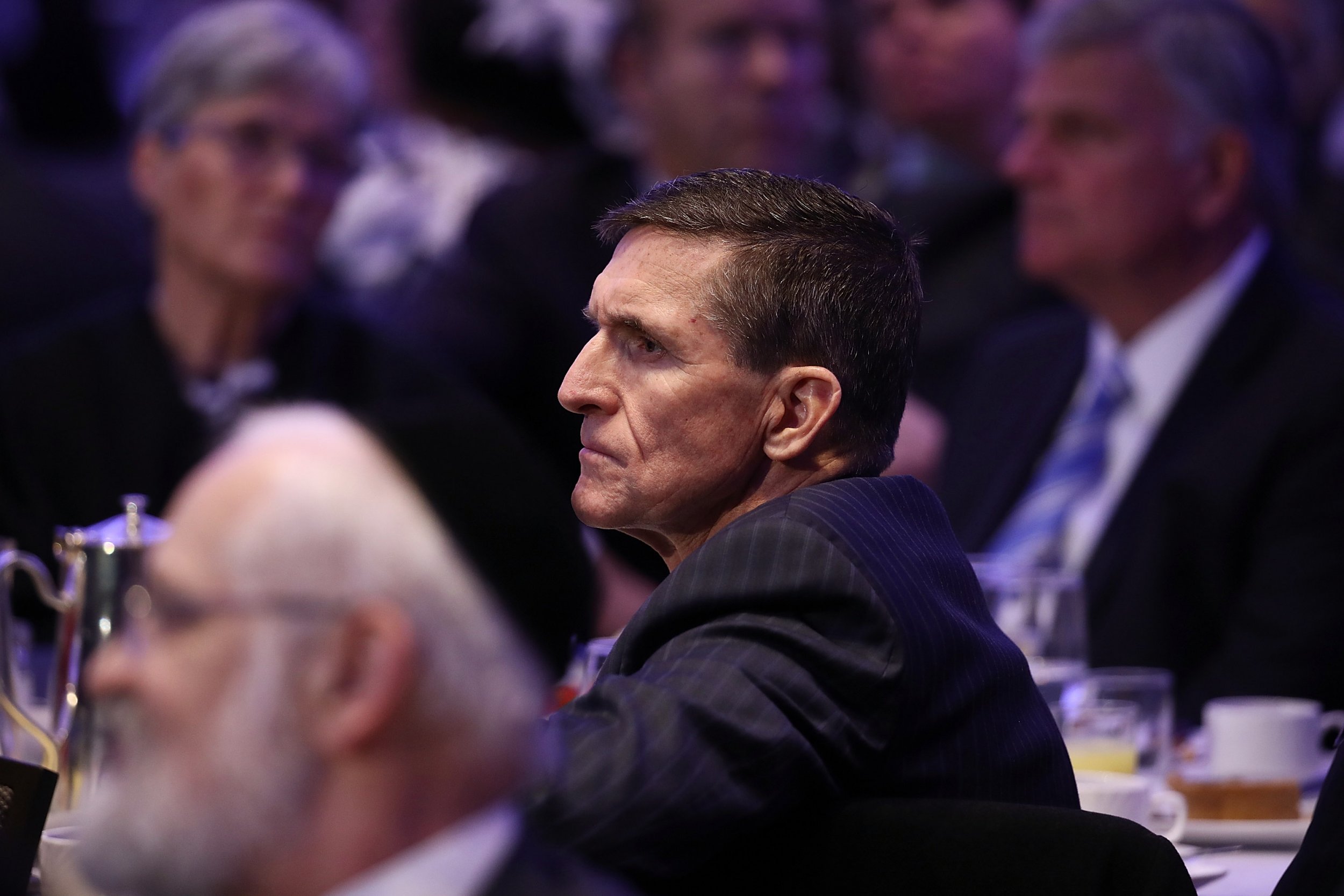 A lawyer for former national security adviser Michael Flynn reportedly met with special counsel Robert Mueller's team on Monday, days after a report that Flynn's lawyers were no longer sharing information with lawyers for President Donald Trump.
The earlier report raised speculation that Flynn was working with the special counsel investigating allegations of collusion between Trump's campaign and Russia, perhaps to arrange a deal. ABC News first reported about Monday's apparent meeting.
Flynn, a retired Army general, has long been of interest to the FBI and Mueller, the Department of Justice special counsel. Flynn resigned as national security adviser in February amid reports about previously undisclosed conversations he had with then–Russian Ambassador Sergey Kislyak. The FBI had been looking into Flynn before the appointment of Mueller, and former FBI Director James Comey testified that President Donald Trump asked him to back off from the Flynn investigation.
Related: Why Did a DOJ Official Resign Before Mueller Charges?
On October 30, Mueller's team announced the first charges in its probe, against three people who had been involved in Trump's presidential campaign: Paul Manafort, Rick Gates and George Papadopoulos. Analysts have speculated that Flynn and his son, Michael Flynn Jr., could also face charges, and NBC News reported on November 5 that Mueller's team had enough evidence to bring charges against the pair. Federal investigators could be interested in the lobbying work that the men did in Turkey and in a December 2015 paid speech the elder Flynn gave in Moscow at an event celebrating the Kremlin-funded television network RT.
The elder Flynn has also been of interest to congressional investigators, who are running their own probes into the Russian meddling and possible collusion. He denied a request to appear before the Senate Intelligence Committee, and the Senate Judiciary Committee has sought information from the Justice Department about his resignation. On October 31, the day after the Mueller team announced its charges, Representative Denny Heck, a Democrat on the House Intelligence Committee, told Newsweek that the charges left him curious about the fate of the former national security adviser. "Where's the Flynn piece?" he said.
The New York Times first reported on November 23 that Flynn's lawyers had in previous days pulled out of their agreement to share information with the legal team for Trump. "No one should draw the conclusion that this means anything about General Flynn cooperating against the president," Trump lawyer Jay Sekulow told reporters in a statement.
But the departure from the agreement, according to Bill Mateja, a former Justice Department prosecutor, "is a clear sign that Michael Flynn is negotiating with the special counsel." Such agreements generally involve sharing information, "as long as the interests are aligned," he said. "The reason why you would pull out of that is because your interests are no longer aligned."
Preet Bharara, whom Trump fired as U.S. attorney for the southern district of New York, tweeted about the Times report, "If you're dead to rights, flipping on others and cooperating with the prosecution is the only sane and rational move. Also, prosecutors accept cooperation only if you can provide 'substantial assistance.'"
Mateja said that given the report about the defense agreement, it was no surprise that Flynn's lawyers reportedly met with the special counsel team.
Robert Kelner, a lawyer for Flynn, was unavailable to comment. Peter Carr, a spokesman for the special counsel, declined to comment on the ongoing investigation.