Michael Flynn's Twitter Account 'Hacked,' Son Says, After Tweeting Photo of Harvey Weinstein and Hillary Clinton
The Twitter account of disgraced former national security adviser Michael Flynn tweeted Friday for the first time since he released a statement in the wake of his guilty plea for lying to the FBI about his conversations with a Russian ambassador. The account's silence was broken with a photo of former Hollywood producer Harvey Weinstein sitting between Hillary Clinton and her former top campaign aide Huma Abedin, along with the mysterious message "Dgfffcf."
Shortly after that tweet, Michael Flynn Jr., who also has been linked to the investigation by special counsel Robert Mueller, tweeted that his father's account had been "hacked" and that they were "currently addressing."
Flynn's tweet came just hours after Weinstein turned himself in to police in Manhattan and was charged with rape, committing a criminal sex act, sexual abuse and sexual misconduct. Weinstein has denied the charges.
Since a series of allegations emerged against Weinstein last year, helping spark the #MeToo movement, Weinstein's ties to Democrats have been attacked by Republicans. Weinstein was a major Democratic donor who made sizable contributions to Clinton's campaigns over the years. In the wake of the allegations against Weinstein, Clinton condemned the man who had become one of the most powerful figures in the movie industry.
"I was shocked and appalled by the revelations about Harvey Weinstein," Clinton said in a statement through her spokesman, Nick Merrill. "The behavior described by women coming forward cannot be tolerated. Their courage and the support of others is critical in helping to stop this kind of behavior."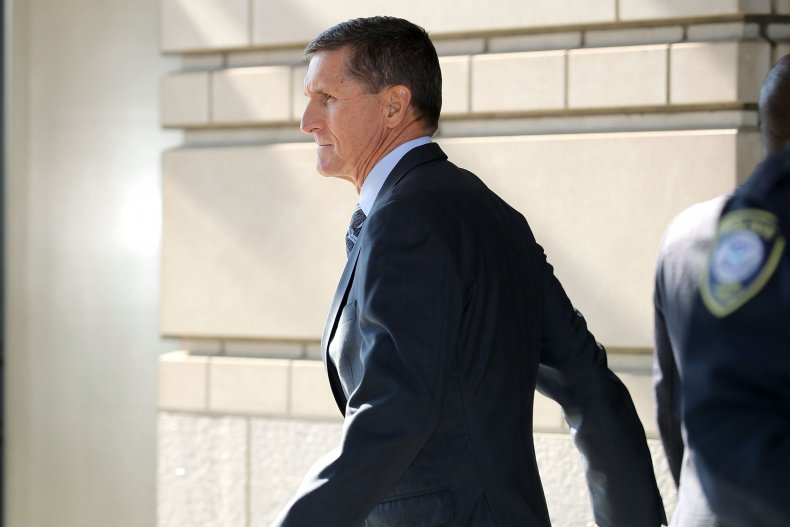 Just a few months after the Weinstein furor, reports emerged detailing a number of sexual assault allegations against the chairman of the Republican National Committee, Steve Wynn. While Wynn subsequently resigned, the RNC said it would not return his donations until any legal process had played out.
"Steve has denied these allegations," RNC chair Ronna McDaniel said in February. "Unlike Harvey Weinstein and Al Franken and others, Steve has denied them."
Flynn was forced to resign from his White House role last February after reports surfaced that he had misled Vice President Mike Pence over his conversations with then-Russian ambassador Sergey Kislyak.