Michael Flynn, Top White House Officials Ignored Ethics Warnings to Push Saudi Nuclear Power Deal: Report
Top White House political appointees, including disgraced former national security adviser Michael Flynn, "repeatedly" ignored warnings from legal and ethics advisers that pushing a private industry plan to sell nuclear power plants to Saudi Arabia was riven with conflicts of interest and lacked proper safety controls, according to a report released Tuesday by the House Committee on Oversight and Reform.
The report also revealed a memo that said President Donald Trump had appointed his longtime friend Thomas Barrack, a major Republican donor, "as a special representative to implement the plan and [directed] agencies to support Mr. Barrack's efforts." Nearly a quarter of the $7 billion in investments raised by Barrack's global real estate and investment management firm, Colony Capital, Inc., since Trump won the nomination "has come from the Persian Gulf—all from either the U.A.E. or Saudi Arabia," the committee noted, citing a New York Times report.
A spokesman for Barrack told the Times on Tuesday that he had never taken a job in the administration.
The private nuclear power effort was being pushed by a consortium of private energy interests led by two former U.S. generals, an admiral, and former Reagan administration national security adviser Robert "Bud" McFarlane. The consortium had retained Flynn in 2015 to sound out Saudi and other Middle Eastern governments on the plan, which Flynn continued to push when he entered the White House. Although Flynn is long gone, Trump and Jared Kushner, his son-in-law and top adviser, are still pursuing the plan, the committee said.
The proposed deal surfaces amid worries that Saudi Arabia will pursue nuclear weapons to counter its archenemy Iran.
"The committee is now launching an investigation to determine whether the actions being pursued by the Trump Administration are in the national security interests of the United States or, rather, serve those who stand to gain financially as a result of this potential change in U.S. foreign policy," the report said.
Flynn, who pleaded guilty in late 2017 to lying to the FBI about his conversations with Russian Ambassador Sergey Kislyak on lifting sanctions on Moscow, pushed the nuclear plan while hiding his prior employment by the private nuclear energy consortium behind the deal, the report says. Flynn, who was serving as an adviser to the nuclear consortium during the presidential transition period after the November 2016 elections, was aided in the scheme by another senior Trump national security council official, Derek Harvey, who was forced to resign in July 2017 over policy disagreements with Flynn's successor, H.R. McMaster. An Arabic-speaking former Army intelligence officer, Harvey then joined the staff of Representative Devin Nunes, the Republican chairman of the House Intelligence Committee at the time.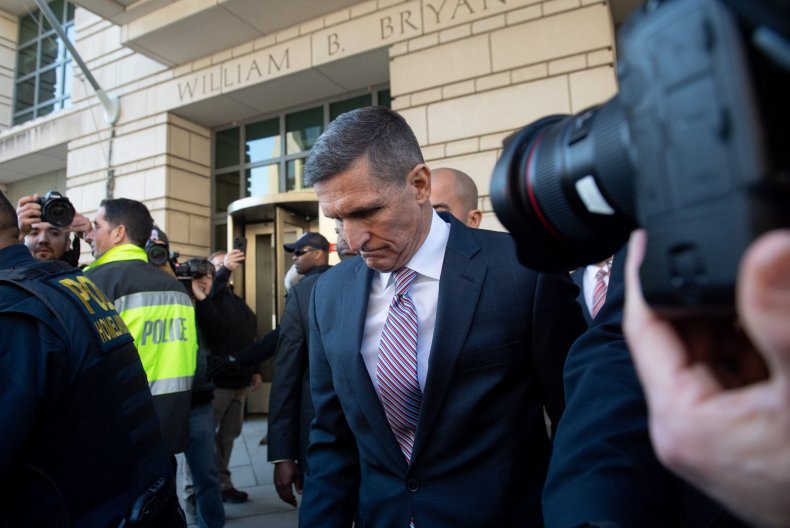 The House Oversight Committee, chaired by Representative Elijah Cummings, D-Md., expressed worry that "strong private commercial interests have been pressing aggressively for the transfer of highly sensitive nuclear technology to Saudi Arabia—a potential risk to U.S. national security absent adequate safeguards." The nuclear consortium, which calls itself IP3 (standing for peace, power and prosperity) was co-founded by McFarlane, former U.S. Army generals John "Jack" Keane and Keith Alexander and former Admiral Michael Hewitt.
Only seven days after Trump was sworn in, Harvey invited Keane and McFarlane to the White House to discuss the plan, the report says, after which "Harvey directed the NSC staff to add information about IP3's 'plan for 40 nuclear power plants' to the briefing package for President Trump's scheduled call with [Saudi] King Salman."
To the Cummings committee investigators, the proposed deal smacked of special interests trading on their White House connections.
"These commercial entities stand to reap billions of dollars through contracts associated with constructing and operating nuclear facilities in Saudi Arabia—and apparently have been in close and repeated contact with President Trump and his Administration to the present day," the committee said. One unnamed senior official told the committee that IP3's proposal was "not a business plan," but rather "a scheme for these generals to make some money."
Career White House ethics and legal advisers, including John Eisenberg, the Trump national security council's legal adviser, repeatedly advised White House officials that Flynn's involvement represented "a potential conflict of interest that could violate the criminal conflict of interest statute," but the proposal has continued to the present day, the committee says.
The involvement of Kushner also presented a conflict of interest, the report stated. One of the power plant manufacturers involved in the deal, Westinghouse Electric, is a subsidiary of Brookfield Asset Management, the company that provided financial relief to the Kushner family by taking a 99-year lease on its financially struggling property at 666 Fifth Avenue in New York City. Next week Kushner "is embarking on a tour of Middle Eastern capitals—including Riyadh—to discuss the economic portion of the administration's Middle East peace plan," the committee noted.
The committee says "multiple whistleblowers" have come forward to express their concerns about the nuclear proposal.
McFarlane drafted memos mimicking White House official stationery for Flynn or Kushner to present to Trump stating "the President had appointed Mr. Barrack as a special representative to implement the plan and directing agencies to support Mr. Barrack's efforts," the committee found. Barrack, a billionaire financier who chaired the president's inaugural committee, has close business ties to Saudi Arabia and the United Arab Emirates, according to multiple news accounts. In 2017, Barrack hired Rick Gates, Trump's former deputy campaign manager and deputy chairman of the inaugural committee, to the Washington, D.C. office of his company. A former business partner of onetime Trump campaign manager Paul Manafort, Gates pleaded guilty in 2018 to felony charges of conspiracy and making false statements to special counsel Robert Mueller's office as part of his "Russiagate" probe.
In March 2017, Harvey, then the senior NSC aide for Middle East and North Africa issues, convened a conference call with Gates and Barrack to discuss the plan. An NSC staffer who joined the call later told colleagues that Harvey was trying to promote the IP3 plan "so that Jared Kushner can present it to the president for approval," the committee said.
General H.R. McMaster, who succeeded Flynn as national security adviser, got wind of the IP3 proposal and, briefed on the potential conflicts of interests of Flynn, Gates and Barrack, told NSC staff that "they should cease working on" it, the committee found. But "officials inside the White House continued to move forward on the IP3 nuclear plan," with Flynn continuing to push the effort with the administration after his firing in February 2017, the committee report said. It added that "more than five individuals separately confirmed that Mr. Harvey stated during a meeting on March 2, 2017: 'I speak with Michael Flynn every night.'"
The committee's interest in Flynn's involvement was sparked by a June 9, 2017, Newsweek story revealing that the national security adviser had failed to fully disclose his work on behalf of a previous iteration of the nuclear consortium on his financial disclosure form. As then conceived, the project included "a U.S.-Russian partnership to build and operate plants and export the dangerous spent fuel under strict controls."
In December 2017, Newsweek also exclusively reported that Flynn was texting with one of the executives involved in the nuclear project, Alex Copson, even as Donald Trump delivered his inauguration address. Sources told Newsweek that Russian interests are no longer involved in the plan.
But the Cummings committee expressed worry that the IP3 proposal represents "a potential risk to U.S. national security absent adequate safeguards."
"Several NSC officials" warned Harvey that the plan appeared to "circumvent" Section 123 of the Atomic Energy Act, which prohibits any transfer of nuclear technology to a foreign country without the approval of Congress. The rule is designed to ensure that nuclear power projects will not be turned into bomb programs, and experts are alarmed that Saudi Arabia plans to do so, especially if Iran follows Trump's lead and scraps the agreement negotiated by the Obama administration and five other powers to cap its nuclear weapons program for 10 years. In 2018, Saudi Crown Prince Mohammed bin Salman said that, "Without a doubt, if Iran developed a nuclear bomb, we will follow suit as soon as possible."
The committee report said that "whistleblowers who came forward have expressed significant concerns about the potential procedural and legal violations connected with rushing through a plan to transfer nuclear technology to Saudi Arabia," which it said is compounded by "a working environment inside the White House marked by chaos, dysfunction, and backbiting."
None of the participants could be immediately reached for comment. In May 2017, McFarlane told Newsweek in a brief telephone interview that "he couldn't comment on its status right now." He also maintained that he didn't know about Flynn's involvement. "I know he was concerned" about nuclear proliferation, McFarlane said. Just last week, Keane organized a White House meeting of nuclear industry executives with Trump to discuss the proposal, Bloomberg reported.